Two weeks ago, this appeared like a collision course for all the marbles. Upon winning 17 of 18 after the All-Star break, the Lakers were poised to snatch the Western Conference's #1 seed away from the Spurs, who'd entered a mini-free fall. But the times, as Bob Dylan famously noted, have a tendency to change. Since then...
- The Spurs got their act together and clinched the top seed on April 6.
- The Lakers dropped five straight, two of those games inexplicably (or predictably, depending on your cynicism) against non-playoff teams. As a result, the Lakers are now battling Dallas and Oklahoma City for the second seed, and a tumble to the fourth spot remains a possibility.
- I've been left to wonder if the Lakers' problems are somehow related to my daughter, whose birth coincided with the five game skid. Brian continually frames the issue as me not being in attendance for the games, and while it's common knowledge Kobe Bryant draws most of his confidence from my presence, I've been wondering if the issue is more sinister. Perhaps my child was put on this Earth to derail the Lakers. It's like Rosemary's Baby, but instead of the devil being the child's real father, she was somehow the spawn of Red Auberbach. (These are the thoughts running through your head when your Laker universe suddenly turns "up is down/black is white" and you're operating on 4-6 hours of continuously interrupted sleep.)
In any event, the game isn't quite the anticipated showdown, but with both teams battling for as much home court as possible, stakes still exist. Plus, it's a potential playoff preview. Plus, it's Lakers-Spurs, and the NBA by-laws explicitly state these teams squaring off will always matter on some level.
For more Spurs insight, we turn as always to Tim Varner of 48 Minutes of Hell (True Hoop network). Check out his thoughts, plus mine regarding his question of whether the Spurs would be better off losing this game to put off a potential meeting with the Lakers for as long as possible. "Tanking," as the kids day.
K Bros: The Spurs have the conference all sewn up and Pop has been known for resting his vets. On the flip side, They're still fending off Chicago for best overall record and home court throughout. How "pedal to the metal" do you expect the Spurs to be in this game?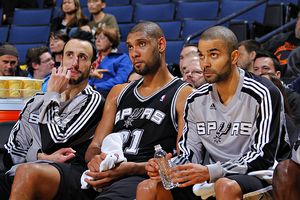 Rocky Widner/Getty Images
How often will the Big Three take in the action from this vantage point?
TV: Imagine a fast car speeding through the passing lane. Now imagine that car passing the Spurs' team bus. Gregg Popovich is not going to overextend his veterans. The veterans will play -- I'd guess 25 minutes or so -- and the young guys are going to play. At some point in the 4th quarter those young players will look tired. And that tired look will only scream the obvious: "Coach, get us a timeout. We're not used to playing these minutes."
Having said that, the concern of finishing ahead of Chicago is a legitimate one. The players don't want to finish second. The Bulls, after all, play defense like the Spurs wish they could. I'm sure the Spurs would rather play the field in the Finals, if they make it that far. The real intrigue of this game is whether the competitive spirits of Manu Ginobili and Tony Parker can dupe Popovich into letting them run around the court for 35 minutes, as if this were a game that mattered.
K Bros: Whether in wins or losses to the Lakers this season, one commonality is miserable shooting from Ginobli. Is this simply the effect of Ron Artest (often guarding him) or have you noticed other factors?
TV: Great question. Manu Ginobili is an amazing basketball player, and I'm reminded of this every few weeks when he does something that propels him to the level of sainthood. He's got his freak-inventive thing that causes fans -- at least this fan -- to careen between fan-boy celebrations and face-palm cringing.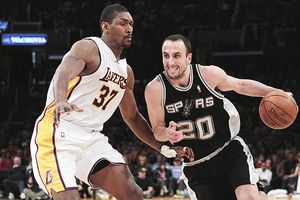 AP Photo/Jae C. Hong
Ron Artest and the gang haven't made life easy for Manu this season.
Ginobili plays hard and free, which is a way of saying he flirts with the occasional reckless play. This is especially evident when he gets a lust to heave threes. Simply put, he shoots too many three-pointers. The going theory says this is by design. Spurs fans want to believe that Ginobili is saving his body for the playoffs. Against the Lakers this season, Ginobili has not shown the best shot selection. And I do think Artest bothers him more than most of the league's defenders.
This is how I'd answer your question: I'm not sure if Artest's recent success against Ginobili is a long term problem, but it could be.
It goes without saying that the Lakers do well keeping Ginobili out of the lane, and even when he gets there, they do alright because of the Gasol/Bynum tandem. Duncan has really struggled against the Lakers this year, which makes Ginobili's production even more critical for the Spurs.
The Artest/Ginobili matchup is, perhaps, the series' most critical face off.
K Bros: Pop and your co-host Andrew McNeill have been very complimentary of Tiago Splitter lately. Do you think there's any chance he could have a role in the postseason against the Lakers, considering their size?
TV: Oh dear. You've just given your alcoholic friend an open bar tab. The question of whether Tiago Splitter will matter in the postseason provides the soapbox I need—and from which Andrew McNeill has tub-thumped in recent weeks—to loose all the voices in my head.
Over the last couple months, Tiago Splitter has established himself as San Antonio's second best big. This is especially true on defense, where he possess better lateral quickness, but with less system-smarts, than Tim Duncan. That is, Splitter is more capable of switching on the pick and roll without hurting the Spurs. We're not even a full season in and it's already cliche to talk of Splitter in terms of intangibles. He has them all. He is that player.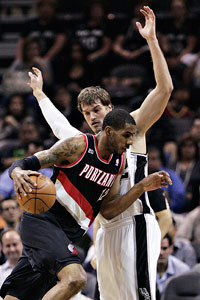 Soobum Im/US Presswire
Tiago Splitter is steadily coming into his own, but his playoff role remains a mystery.
DeJuan Blair is short. One can't get around that fact, or at least not as easily as Gasol and Bynum can get clean shots over Blair. Blair can be a pest to the Lakers, but only as a low minute energy guy. The Spurs defense goes to pot whenever Gregg Popovich plays Matt Bonner and DeJuan Blair together, something that happens too often. DeJuan Blair averages 18.6 points and 15.5 rebounds per 48 minutes; Tiago Splitter averages 18.2 and 13.1 per 48 minutes.
But Splitter takes charges, averages nearly two steals a game, and, in general, is a much better defender. This will sound like a unintentional backhanded compliment, but watching Tiago Splitter reminds me of watching a well-coached JV team. I don't know if there is better big in the league at maintaining a straight up position in the post. This is not to say Splitter is a DPOY candidate. I'm just saying that what he does well, he does he really well. And what he does well is very different than what DeJuan Blair does well.
Gregg Popovich recently said that Splitter is a guy who can play behind people. He didn't mention Blair, but that is exactly the type of post defender Blair is not. Against the Lakers, the Spurs will need more bigs who can play behind people. The regular season is two games and done. Tiago Splitter didn't get regular minutes until late in the year when Tim Duncan went down with an ankle injury. Up to that point, I'm convinced Popovich had no postseason plans for Splitter. None at all. But now the Spurs' coaching staff is in an odd position.
Should they mess with a rotation that has won 61 games and integrate Splitter or should they roll with what worked well early?
From where I sit, it's an easy decision. The regular season doesn't mean anything. The Spurs should make the adjustment.
I hope Splitter plays heavy minutes tonight. He would be a great help to the Spurs in a series against LA.