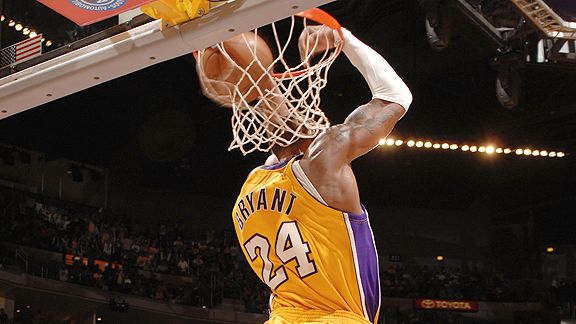 Noah Graham/NBAE via Getty Images
Thursday night in Cleveland, Kobe Bryant became only the 15th player in NBA history to score 25,000 career points. That's like this dunk 12,500 times.
The outcome of Thursday night's game in Cleveland... well, it sucked for Lakers fans. Still, it wasn't the only significant event of the evening. History was made when, with a free throw in the second quarter Kobe Bryant became, at 31 years, 151 days, the youngest player in the history of the NBA to score 25,000 points. Only 14 other players in the league's long history have cracked the 25K barrier.
Last week, we asked you to help us pick the best 25 of Kobe's then-24-nine-something-something-now-25,012 career points, and were given some outstanding suggestions.
Take a look now at a photo gallery of our choices mixed with a very heavy dose of yours.