It sounds strange to say as one of the iconic figures in basketball history prepares for the last stand of his last stand, but the end of the road for Phil Jackson isn't yet a dominant storyline for the Lakers heading into the playoffs. Maybe it's because Jackson has done such a good job throughout the season deflecting attention from talk of his final campaign. Could be that, since we all believe him this time, there's just a little less to talk about, relative to last year's "Will he or won't he?" debate. And likely people figure there's still plenty of time to cover the issue, because the Lakers are expected to hang around a while.
But among all the storylines for the Lakers this postseason, it's perhaps the most compelling. Even more than Kobe Bryant's quest to equal Michael Jordan with six rings, because there's every reason to believe Kobe's window extends a few seasons down the road. Not with Jackson, and both Bryant and Derek Fisher have spoken about the pressure they feel to send him off as a winner.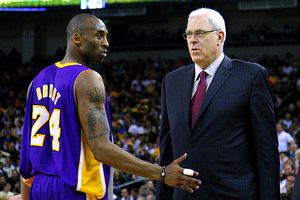 Kyle Terada/US Presswire
One of these people won't be around next season. And it's not the guy on the left.
Just as it was last season when the team seemed motivated to get Ron Artest his first ring, this year they'll likely be fueled by a desire to get Jackson his 12th. Then again, like most coaches Jackson isn't necessarily interested, at least outwardly, in making himself the focus of attention. So is he comfortable with the idea of playing the Gipper role this year?
"We haven't gotten into that at all. This is something that- we'll digest this during the course of the playoffs. But it's imminent. This is the elephant in the living room, or the bedroom, depending on where you want to put the elephant. Retiring and leaving this team is not at all like what happened in Chicago, where it was a number of players were dissolving and the team knew that they were being broken up, just by the virtue that there was going to be a lockout and whatever was going to happen between that season, in '98 and '99. And of course as you saw there were only three or four members of that Bulls team that came back," he said Thursday afternoon in El Segundo during a pre-postseason sit down with the media.
"This is a team that will probably stay intact, with most of its players. There will be some guys obviously that won't be back in the future, but this is a team that has guys that are here, and I'm the one that's on his way to retirement. It's very interesting. It's something we have to acknowledge and go through it, but it's not something about win one for the Gipper, win one for Phil. That's not what it's about."
Beyond how the team reacts to him, I'm interested in how Jackson interacts with his own reality. While he's clearly not an outwardly emotional or sentimental guy, he's also not a robot. There's no way Jackson can completely compartmentalize what's coming for him, leaving it all until the end of the proverbial journey. When I asked him about it Thursday, he wasn't exactly forthcoming with an answer (scroll down to "Part V" in the videos to judge for yourself) but it's something to investigate over the next few weeks.
In the meantime, Jackson did get into detail about any number of things, from the Hornets series, to his thoughts on the regular season and the character of his team, to Bryant and Fisher and more.
Click below for all the video. About 20 minutes worth, so make sure you're in your comfy chair before diving in...
Part I:
Part II:
Part III:
Part IV:
Part V: