A few weeks back, I wondered if the perception of Lamar Odom as a sixth starter instead of a first reserve might prevent him from winning this season's Sixth Man of the Year Award. Add in the constant concern that Andrew Bynum's health might force Odom to start his way out of eligibility, and despite a standout campaign, it wasn't clear if Odom would indeed bring the hardware home.
But as the regular season wound down, Odom's candidacy remained strong, and Bynum stayed on the floor, popular support definitely rallied behind him. Tuesday afternoon, ESPNLA.com's Dave McMenamin reported Odom will be tabbed as the NBA's top sixth man.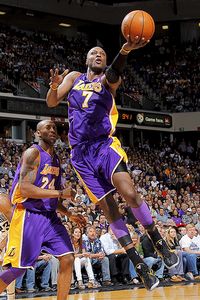 Rocky Widner/NBAE/Getty Images
Lamar Odom been named the NBA's Sixth Man of the Year for 2010-11, the largest individual honor of his NBA career.
It's an honor well earned for Odom in a season in which he averaged 14.4 points, 8.7 rebounds, and 3.0 assists, nearly a block a game, shot 53 percent from the floor, and scored out very well in some of the advanced metrics. Even after moving back to the bench when Bynum returned to the lineup, Odom continued posting numbers. For a stretch, his splits off the bench and as a starter were nearly identical despite less time on the court, one reason Odom had a legitimate case to make for an All-Star berth. He's an under-appreciated defender, and feared by opposing coaches. More importantly, in a season without much of it, Odom was the team's most consistent player for most of the year. Given Odom's reputation, it's a significant statement on the quality of his play.
But statistics, while important, don't tell the whole story. Many sixth men are, for lack of better categorization, flawed starters. Guys with a particular skill but a less-than-well rounded overall game. Obviously Odom is no such player. On most teams he's a starter, and certainly it's hard to find players of his talent willing to accept a role off the bench for the betterment of the team. Odom's contributions both to the on court product and the team's chemistry are a huge reason the Lakers are chasing a third consecutive title.
His value is difficult to overstate.
I generally don't believe in giving out awards based on career achievements, and don't think the writers responsible for voting are doing so, here. Odom deserves it. But particularly for a player whose career has for so long been defined by what he isn't rather than what he is, to recognize the special body of work Odom has compiled both this year and during the championship run for the Lakers is important.
He's a team-oriented guy who has earned the opportunity to be recognized individually, if only for a day.