The three-peat chase started on a rather sour note for many reasons.
Start with the pick and roll. The Hornets eviscerated the Lakers in the opener, scoring almost twice as many points on their pick-and-roll sets. As ESPN Stats and Information notes, it wasn't simply a matter of Chris Paul's brilliance, brilliant as it was. When the Hornets ran P-and-R sets without Paul, they were almost as successful, meaning the Lakers had problems running deeper than CP3. The plan for Wednesday is simple: Do what they were supposed to do in their coverages Sunday. As Lakers assistant coach Chuck Person noted Monday, when the Lakers followed their own rules, they successfully contained New Orleans' screen-and-roll sets.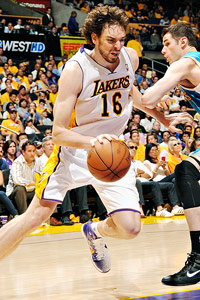 Noah Graham/NBAE/Getty Images
The Lakers need an aggressive Pau Gasol in Game 2.
There are other adjustments to be made, as well -- including a commitment to enter the offense faster and a little more ball denial in those moments Paul doesn't have the rock. If he gives it up, make it tough to get it back. Another big move for the Lakers is cranking up the dial on Pau Gasol, something two-plus days of "Seriously, how could you be so awful?" questions seems to have accomplished.
Tuesday, Gasol again took responsibility for his poor performance, and vowed to be better Wednesday. Odds favor a bounce-back evening, because as Kobe Bryant noted after Game 1, Gasol is simply too good to be as bad as he was Sunday. With that out of the way, here are ...
Three More Things Unlikely to Repeat Themselves in Game 2 ...
1. Lamar Odom and Gasol combining for 18 points. Or eight rebounds, for that matter. Somewhat overshadowed by the wasteland that was Gasol's performance Sunday afternoon was a similarly bad outing from Odom. The Sixth Man of the Year was a total non-factor, failing to register a rebound in the first half and finishing with only one. Most of his 10 points came in garbage time. Historically, the Lakers have shown an ability to work around bad games from either Gasol or Odom, but when both have bad nights, it hurts. Particularly on a night Andrew Bynum struggles to make a full impact. Fortunately for the Lakers, it doesn't happen all too often.
I'd happily wager the two will combine for more than five field goals Wednesday night.
2. Huge production from New Orleans' bench players. Their 39-point outburst Sunday was about 10 more than their regular-season average. More surprising was their collective field goal percentage. Jarrett Jack, Willie Green, Aaron Gray, D.J. Mbenga and Jason Smith combined to make 16 of their 22 shots, or 73 percent, about 30 points above the team's season average for bench shooting. Even understanding some of those attempts were layups and dunks as opposed to a full array of mid- and long-range jumpers, there's just no way that group duplicates its Game 1 efficiency, particularly with Gray nursing a sore ankle and being questionable for the game.
The Hornets could very well have a productive night from their reserves, but there's regular productive, and then there's 73 percent productive.
3. Three turnovers. Thanks in part to their super slow pace, the Hornets tied for the league lead in fewest turnovers per game with 13, and by percentage were a top-10 team taking care of the ball. There's no reason to suspect they'll start giving things away like it's the tail end of a garage sale, but even if the Hornets stick to season averages, there's a big difference between three turnovers and 13, great as the latter figure may be.
On the flip side ...
Three Things That Could Repeat Themselves in Game 2 ...
1. Foul trouble for Andrew Bynum. Like the Lakers, New Orleans didn't excel at getting to the line during the regular season, ranking below league average in FTs per field goal attempt. The Lakers, meanwhile, were the NBA's best team at defending without fouling, with the lowest opponent's FT/FGA in the league. Sunday, for three quarters, this pattern played out. New Orleans spent almost no time at the stripe until the fourth quarter, when the Lakers quickly put themselves into the penalty. Still, Bynum found foul trouble thanks to a little frustration on the offensive end and the consistent penetration by the Hornets off their high screen and roll sets. Should the defense fail to stiffen up, both on the perimeter and inside, L.A.'s bigs -- and particularly Bynum -- could again find themselves in positions of weakness with an increased chance of fouling.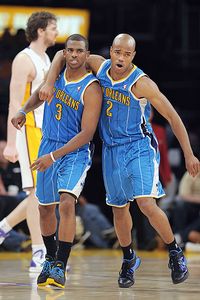 AP Photo/Mark J. Terrill
There's no reason to expect the combo of Chris Paul and Jarrett Jack to have an off night Wednesday.
Self-control will also be an issue for Bynum, who said Monday he plans on being more aggressive working to fill holes inside and contesting shots. This is a good thing for the Lakers, who need more pop in their defensive game, but a little too much aggression puts Drew back on the pine.
2. Chris Paul and Jarrett Jack. The combo may not combine for 48 points and 19 assists, as it did in Game 1, but Monty Williams has had a great deal of success working those two on the floor together, to the point Paul and Jack constituted one of the team's best two-man combinations as measured by plus-minus, despite playing relatively few minutes together. There's no reason to believe they'll be ineffective as a pair Wednesday night. Paul is perfectly capable of putting together another big night -- before the knee injury, he had plenty of them against the Lakers -- and Jack has always played L.A. strong, as well.
3. Shaky bench play. Steve Blake should be back in the lineup, but "good to go" is another question. Will a couple days of practice following chicken pox be enough to get his wind? We'll find out pretty fast, given the challenges he'll face defensively. Shannon Brown was a tidy 4-of-6 from the floor Sunday, but in terms of production he has been unreliable for a while. Matt Barnes, scoreless in about eight minutes in Game 1, is also a question mark. The knee is still an issue, and how quickly will his shaky touch return? Can Barnes find the spring to make the hard cuts and deliver the offensive rebounds that make him so valuable?
I suspect Odom will be better in Game 2, but the rest of his fellow reserves are, to say the least, tough to predict.
It's tough to picture consecutive postseason home losses to the Hornets, particularly when the Lakers have so much room to improve. A win for L.A. can't be taken for granted, though. New Orleans isn't scared of the champs and is already playing with house money. The Hornets will be loose and ready to play hard.
They'll also still be the Hornets, meaning the Lakers should win. L.A. has more length, skill and experience. On the other hand, the Lakers had the same trifecta working for them Sunday.
Prediction: Lakers 104, Hornets 92.