Oh, so that's why everyone thought the Lakers would roll in this series.
A big 14-point win for L.A., as the champs regained full control of their matchup with New Orleans, taking a 2-1 lead with Game 4 coming Sunday. Here's how it broke down...
HIGHLIGHTS
1. Kobe Bryant. In the first quarter, Kobe gave the Lakers the best of both worlds, giving space for guys like Ron Artest and Andrew Bynum to get going, but staying aggressive with his offense, as well (in contrast to Game 2, in which he barely shot over the first 24 minutes). Bryant did it, too, with a lot of forward motion. Probing before hitting a six footer for his first points of the game. A pull up in transition over Chris Paul, a big dunk off a handoff at the elbow. He finished the frame 4-of-6, for 10 points. In the third quarter, Kobe moved his game to the perimeter, burying a pair of triples to open the half, then hitting a third at the four minute mark, pushing L.A.'s lead back to double digits.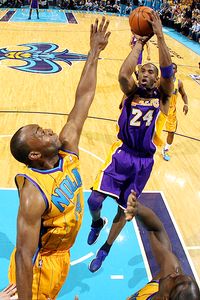 Chris Graythen/Getty Images
Kobe Bryant was controlled and efficient en route to 30 points Friday night.
Bryant was more a steadying force for the offense, rather than a dominating one, an excellent plan on a night where the Lakers found contributions all over the floor. He finished with 30 points on 10-of-20 shooting.
2. Offensive Rebounding. Through three quarters, the Lakers had 32 misses from the floor, but 14 offensive rebounds, a remarkably strong percentage. Not surprisingly, the combination of Bynum and Pau Gasol led the way, hauling down nine between them to that point. Beyond the second chance points the Lakers earned off the ORBs- and they were significant- their ability to attack the offensive glass was a major limiting factor on the Hornets. New Orleans was unable to push very hard off misses, because everyone had to stay home just to keep the Lakers from maintaining possession.
A great use of their superior length inside.
3. Defense. There was a great deal to like from L.A.'s perspective, starting with the way Paul was handled. While his final line was certainly impressive- 22 points on an ultra-efficient 9-of-13 from the floor, plus eight assists and two steals- Paul wasn't able to take over the game as he did in Game 1, dominating as both a scorer and a facilitator. In total, Friday he put together a line implying that was the case, or at least partially so, but the reality was different. In the first half, Paul was a scoring machine, missing only two of ten shots en route to 18 points. But he only had three assists to go with it. In the third, Paul racked up five more dimes, but only had three points. In the fourth, Paul was a non-factor.
The Lakers never allowed him to be both scorer and facilitator at the same time. That'll do nicely.
With Paul under control and the New Orleans transition game contained by the offensive rebounding, the Hornets were forced to come up with other options, and not surprisingly they couldn't. Their bench, so big in Game 1, was invisible Friday, scoring only nine points. Emeka Okafor had a few nice buckets over Bynum and Carl Landry was his typical Laker-killing self with 23 points, but on the wing the Hornets were awful, as both Trevor Ariza and Marco Belinelli had subpar games.
And in a development sure to please the coaching staff, the Lakers played their best defensive quarter in the fourth, holding the Hornets to 18 points while turning the game into a rout.
4. Outside Shooting. The goal for New Orleans is to encourage perimeter play from the Lakers, hoping they'll ignore the guys inside. Tonight, the Lakers had their cake and ate it, too. Bynum was a major force down low, particularly in the first half when he put up 14 points on a very efficient 6-of-10 from the floor (adding nine rebounds for good measure). Meanwhile, the Lakers lit up the arena in the second half from downtown, led by Bryant but with Derek Fisher (who drilled a triple seemingly in protest of a T slapped on him by Joey Crawford), Steve Blake, and (seriously) Gasol all kicking in as well.
When the Lakers knock down jumpers- they hit over 43 percent from beyond the arc Friday night- they're very hard to beat.
5. Pau Gasol. Welcome to the good half of these postgame writeups, Pau.
Early on, it didn't look like Gasol would break out of the slump dragging him down through the first two games. He missed two of his first three shots, and had only four points at halftime. There were signs of aggression- an elbow tossed into Okafor's chest while trying to post up, earning him an offensive foul, for example- but also shakiness in the form of two turnovers.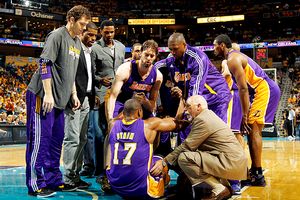 Chris Graythen/Getty Images
You know you're important when the entire team leaves the bench to check on your health. If there was a bad moment in Friday's win for the Lakers, this was it.
In the second half, though, fueled by his work on the offensive glass and by the aforementioned 3-pointer, Gasol played large. His final line was the picture of Gasol-iness: 17 points on a fairly efficient 7-of-13 shooting, plus 10 rebounds (four offensive), four assists, and a block. Perhaps his best play was one that didn't count. After Bynum missed a hook inside, Gasol gathered the rebound, went up strong for the putback, missed, again got the rebound, and finished with a dunk. In an ultimate sign things haven't quite turned around for him, instead of the and-one he thought he'd earned, Gasol actually was sent to the line for two shots, fouled on the initial putback attempt.
Three points turned into two, but the aggressive move was important to see.
Attention will likely go to his 13-point second half, but I was actually impressed with how Gasol handled the first 24 minutes, too. Unlike Game 2, the Lakers made no particular effort to get him going, but rather than force things out of frustration, Gasol patiently stayed with the offense, creating a nice dunk for Andrew Bynum off a pick and roll with Kobe, making crisp passes out of double teams, and so on. He wasn't brilliant by any stretch, but while the offense was, with cause, going away from him Gasol refused to turn the game into something about him, and breaking out of his slump.
Against similar circumstances during Game 1, Gasol faded away. Friday, he remained engaged, hit the glass, played his part defensively. Early, he seemed like the league's highest paid role player. Late, he looked more like Pau Gasol.
In combination with the strong work from Bynum early and effective contributions from Artest (a monster early offensively) and Fisher (3-of-4 on the night) and it's easy to see how the Lakers thrived.
LOWLIGHTS
Punt. Nothing really to complain about, save perhaps some loose moments early on the defensive glass and a few bad turnovers. But given the quality of the overall effort, it's not worth dwelling on.