The rubber match in a surprisingly/disappointingly competitive series would be steeped in high drama for Lakers fans under normal circumstances. Unfortunately, the circumstances feel anything but normal. Chris Paul has dominated while Pau Gasol has gone oddly AWOL. The Lakers' offensive and defensive efficiency remain wildly inconsistent, while the Hornets are gaining confidence. The Lakers' experience isn't translating into veteran smarts. The sight of the one-seed Spurs down 3-1 to the Grizzlies only gooses the anxiety occupying the Laker Nation's collective consciousness.
Oh, and Kobe Bryant will be balling on a bad ankle, an issue certainly front and center as these teams battle for control of the series.
How effective Bryant will be remains to be seen, but considering his shot wasn't always cooperative before the injury, it stands to reason The Mamba can't be expected to take over the proceedings, despite the stakes. With that in mind, here are a few things that could help offset 24's bad wheel.
More Ron Artest on both sides of the ball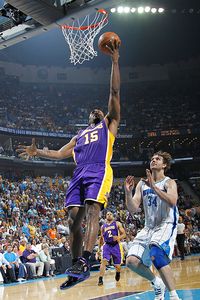 Layne Murdoch/Getty Images
Ron Artest's role can and should be expanded.
Save perhaps Andrew Bynum, there's been no Laker playing better, more consistent basketball in this series than Ron Artest. Between all the other talking points, his performance has gone overshadowed, but his numbers are quite solid:
14 points per game on 10 shots. 52.5 percent from the field and 46.2 percent from behind the arc. 5.8 rebounds, with 2.8 coming on the offensive glass. One steal.
This success may be surprising, in that predicting the future with Ron Artest is like trying to read tea leaves while still inside the bag. But the production makes sense. For starters, he entered the playoffs in a good place, and Ron is nothing if not a player heavily swayed by his mental state. But more importantly, Artest is getting mostly checked by Marco Belinelli. The guy isn't a particularly good defender to begin with, and is surrendering just slightly less strength than I would in this matchup. Artest is barely breaking a sweat bulldozing Belinelli toward the rim possession after possession, an advantage worked to the tune of 16 first-half points in Game 4.
Unfortunately, Artest finished the game with 16 after a second half barely touching the ball (and, in my estimation, a fourth quarter spent sitting too long on the bench). While it's never a surprise to see the Lakers drift from the hot hand, I was genuinely surprised Ron went so underutilized in a game where virtually everyone else ran hot and cold. The ease with which Artest has operated leads me to believe he could handle a larger scoring role. Given the likely need to pick up slack for Kobe, I'd test this theory.
And speaking of larger roles, I'd love to see one for Artest on defense, too. I'm assuming Kobe's ankle will already necessitate Artest guarding Trevor Ariza and Bryant switching to Belinelli (which is fine, since a slumping fourth option is a waste of Artest's talent to begin with). But should Carl Landry continue giving Gasol and Lamar Odom fits, it would be worth sliding Ron over for a crack at the Laker-killer. Landry's size advantage is fairly negligible against Artest, who's enjoyed success checking power forwards this season. Plus, scattered possessions against CP3 could disrupt the Hornets' entire rhythm.
It's hard to think of a suggestion that would have sounded crazier a few months ago, but dare I say, it's time for the Lakers to Go Loco.
Lamar Odom needs to rebound better
Among the myriad of reasons the Hornets took Game 4 was the second-chance points discrepancy being 20-4 in their favor. This was indicative of New Orleans' 39-32 triumph on the boards and specifically the offensive glass, where the Hornets snagged a dozen. Their conversion of nearly all extra possessions into points was seriously impressive. It was also inexcusable on the Lakers' part, considering their considerable size advantage and typical prowess on the glass.
Which takes us to Lamar Odom.
As noted in a post by our pals at Forum Blue and Gold, Pau Gasol may deserve the heaps of abuse piled onto his postseason showing, but the reigning Sixth Man of the Year hasn't exactly set the world on fire, either. FBAG offered a series of numbers and fancy metrics illustrating where LO has come up short, but an examination of his game logs provide an even simpler take. In the two wins, LO has averaged eight rebounds, which isn't even terribly impressive by his standards. In the two losses, he's averaging 2.5, which isn't even terribly impressive by Steve Blake's standards.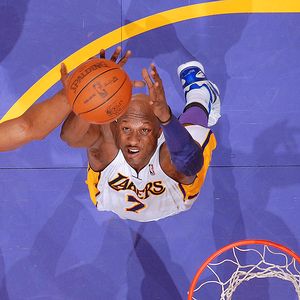 Andrew D. Bernstein/NBAE/Getty Images
Sky for those rebounds, Lamar!
After the triumph that's been the greatest regular season of Lamar Odom's career, it's certainly disappointing to see what many would consider a reversion to previous form. But even at his most inconsistent, LO could always be counted on to hit the glass. Every rebound he collects either provides another chance for the Lakers to score or prevents New Orleans from the same. In a game where Kobe could be limited, the two-time defending champs need a lot of the former and very little of the latter.
Pau Gasol stepping up
Not to kick a No. 2 option/All-Star/Telenovela sensation when he's down, but if El Spaniard would like to vacate the caseta del perro among fans, tonight offers him a primo opportunity. And the cost of not coming through could very well be a 3-2 deficit. As Kobe recently mentioned, Pau is next in line and with that title comes responsibility. The guy must make a mark tonight, plain and simple.
Kobe being smart about his ankle
While I concur with Brian's thoughts about the absurdity and irresponsibility of Kobe refusing an MRI, at this point, that's neither here nor there. The dude is gonna play, just as everyone suspected in the first place. From here, it's all about getting by at far less than 100 percent.
Whatever pain isn't really the issue, as Bryant is blessed with an exceptional threshold and, at the end of the day, it's his decision not to tap out. (And if it grew too unbearable, there's certainly no shame in conceding.) What is important, however, is Bryant recognizing the physical limits placed on him by this injury and not trying to do more than Mamba-ly possible. That means picking spots, often conservatively, and avoiding the urge to do too much, which could be disastrous in his current state of health. The art of carrying the Lakers in crunch time doesn't come quite as easily for Kobe as it used to, and that's with him relatively healthy. Trying to do so Tuesday night likely stretches credibility.
Plus, as his supporting cast has demonstrated, most famously in Game 7 against the Celtics, they're capable of coming through when the chips are down, too. Kobe has done a great job of playing Superman time and time again for the Lakers when the need has presented itself. I hope he exhibits the trust to see the favor returned.