For this week's edition of The Triangle, as is always the hope we put out the call for questions from readers. Unfortunately, a mixup with the script left us unable to use any of them. But we had some great responses, worthy of a public airing.
Here are a few, touching on some of the more common themes as everyone gears up for Monday's Game 1 against the Mavericks:
Q, from @RamiSoufi: Will #Lakers avoid mistakes of #Hornets Game 1 when playing Mavs? Who will mostly guard Dirk? Lakers bench vs Mavs Bench?
A: Kudos to Rami for squeezing three questions into 140 characters. Going in order...
1. If the mistake in Round 1 was a lack of adequate energy and respect for the opponent- it's certainly a common hypothesis- then no. I don't see the Lakers coming out Monday night with too casual an attitude. Doesn't mean they can't lose, but if L.A. goes down, it'll be for different reasons. Dallas is a good team, after all, capable of beating even an engaged Lakers squad.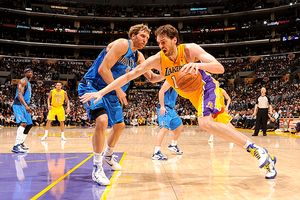 Andrew D. Bernstein/NBAE/Getty Images
Pau Gasol vs. Dirk Nowitzki: A key matchup on both ends of the floor.
Game 1's are always critical, but particularly so in this series. Should the Mavs steal the opener at Staples, many of the intangibles connected to questions about the mental makeup of Mark Cuban's squad lighten considerably, an advantage for Dallas because it would eliminate (at least temporarily) all the "So... when are you guys gonna blow it?" questions.
2. Dirk duty falls, more often than not, to a combination of Pau Gasol and Lamar Odom, with Ron Artest likely taking a turn here and there. Both Odom and Gasol have had (relative) success against Nowitzki in the past, though like Kobe Bryant, Dirk is a guy very difficult to truly shut down for an extended period. As our friends at ESPN Stats and Information point out, Dirk is incredibly effective in isolation, ranking at the top of the league in field goal percentage (56.8 percent) and points per play (1.10) on iso's. Against the Lakers, he's finished on seven-of-eight chances in isolation.
Against Gasol, S & I note the success Dirk has had on the perimeter, hitting 11-of-19 shots for 27 points (five of those buckets coming off screens), but only 1-for-7 in the post.
As a counter, the Lakers will need to force Dirk to work at the other end. Over the course of seven games, having to carry the Mavs offensively while playing a key role on defense could be enough to wear him down, and Dallas can't afford a less-than-outstanding Nowitzki if they expect to win the series.
3. Advantage Mavs. Odom is the best talent coming off either bench, but Jason Terry, while not my favorite player (too one-dimensional, too streaky) is still an asset. Jose Juan Barea, while not a great finisher at the rim, is a dynamic reserve guard, while Peja Stojakovic is a reliable source of perimeter shooting. The Lakers reserves were supposed to be better this season, adding Steve Blake and Matt Barnes while keeping Shannon Brown, but as a group have been extremely inconsistent.
Q, from @InfiniteHighway: @ESPNLandOLakers @ESPNLA K-Bros, how will the Lakers stay disciplined against the zone and not take those hard to make jumpers?
A: The Lakers, at least in theory, are tailor made to attack a zone. Every member of their starting lineup is a solid passer or better, all but one (Derek Fisher) is comfortable working out of the post. Plus, they play in a motion offense that encourages cutting to open spaces, moving without the ball, and hurting teams with the pass. Then again, zones also present the Lakers problems, namely because they're an adequate-at-best jump shooting team easily seduced in to hoisting them.
The zone D is a major part of Dallas' identity. They use it not with shame, but pride. If the Lakers are patient and stick to their offensive principles, they could force the Mavs into more man-t0-man than they might otherwise prefer.
Q, from imjustsayinson: @ESPNLandOLakers Think Pau will ever start playing aggressive? Plz don't say he did last game we need consistency from him. Bynum help him!
A: Well, if I can't say he was better in Game 6 against the Hornets, it's going to be tough to answer. Pau was hardly perfect, but seemed to assert himself early Thursday night, even if shots weren't falling. Some of his misses were off nice moves inside, getting him everything but two points. Like his teammates, Gasol was engaged defensively as well. A quiet first half in the scoring column had less to do with a lack of aggressiveness, but an abundance of Andrew Bynum. There are only so many shots and points to go around, and Bynum (rightly) used up many of the frontcourt touches (to his credit, earning few extra with great work on the offensive glass).
In the second half as his touches went up, Gasol was far better, scoring all but two of his 16 points on the night.
This series won't be a cakewalk, but a defensive matchup, often against Dirk, but facing guys like Tyson Chandler at times as well, won't bring the same kind of physical push-and-shove. Maybe it's just my optimistic nature, but I saw enough from Gasol as the series went on to think he'll be much more himself going forward. Some of this season's inconsistency might recur from time to time- everyone has bad games- but Game 1 bad? I don't see it.
Q: From Raymond Velarde, via Facebook: How do you see the PG match up in the Dallas series playing out? Will slowing down Jason Kidd affect Dirk's offense at all?
A: It's a better matchup for Fisher than Round 1. It would be a better matchup for anyone, really, given how well Chris Paul played. But Kidd is no picnic. He's a big, strong guard still possessing great vision, particularly in the open court. He works in different ways than CP3. Kidd will post up, spot up, and can obviously work off screen and roll sets, though Dallas doesn't use as many as New Orleans. But because Kidd isn't reliant on blinding speed, which obviously helps Fisher.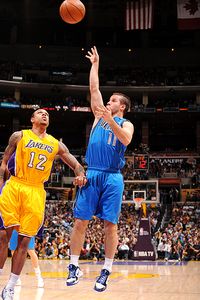 Noah Graham/NBAE via Getty Images
J.J. Barea is a tough cover off the bench for Dallas.
The more interesting PG matchup involves Barea off the bench. He's quicker, and more penetration oriented. What the Lakers, likely Blake for much of the time, do with him will be important. One potential approach- when Barea gets into the paint, don't let him move the ball. He's great at maneuvering into the lane, but isn't a quality finisher at the rim.
Q: Erik Waters, via Facebook: Why do the Lakers never play home games on Saturdays? They seem to be the only team with this rule.
A: Part of it is tradition- they've always played Sunday games, so therefore they continue always playing Sunday games. Popularity is an issue, too. The Lakers are a big draw, and therefore often get those Sunday slots on ABC/ESPN for nationally televised games. Then there are scheduling issues dealing with the rest of the occupants at Staples. The Kings play a ton of Saturday home dates, for example. The Clips have some, as well.
If you look around the league, particularly in cities where the home arena is used for other teams and leagues, I suspect similar trends emerge. One thing it isn't is some sort of effort from the league to punish the Lakers.
Q: John from Stamford, CT, via the Mailbag: Not to get ahead of ourselves, but are you guys concerned that if the Lakers win the series against Dallas and its a long grueling one, does it weaken our veteran legs against a young, athletic, energetic OKC team? I dont think OKC can beat LA in 7, but they are legit and will be a difficult out. Thoughts?
A: There's a school of thought believing the Lakers needed to be tested early to help wake them up and rediscover their championship hunger.
I do not attend classes there.
Given the incredible volume of basketball played by the Lakers over the last three seasons, during the NBA season and internationally, it is always better to play fewer games. Go ahead and risk losing out on the "lessons" Games 1 and 4 provided the Lakers. They knew them anyway. What matters is having the energy to make it through a full playoff run, well into June. Every game takes a little something out of the tank. Six games against New Orleans did, and a long series against Dallas would out a little more. If Oklahoma City reaches the W.C.F., that'll be a very long, very tough matchup as well (if the Grizz are good enough to get by the Thunder, the same thing applies to them).
Not to say two more tough series would preclude the Lakers from reaching the Finals, but if fighting their way through takes five, 10, maybe 15 percent out of their collective legs, that could be the difference between another parade and a disappointing finish.