For the Lakers, a win tonight is obviously important, but considering their pedigree, it could be seen as little more than the expected handling of business. It's what they're supposed to do, right? For the Mavericks, however, a road victory out of the gate would be massive. Their confidence after closing a series in Portland would be further inflated. Plus, home-court advantage would be, at least temporarily, neutralized, a scenario desperately needed by Dallas to end the Lakers' championship run.
There will be a tone set by tonight's outcome, regardless of who is standing when the dust settles. Here are a few items to keep an eye on once the ball is jumped.
Kobe Bryant in isolation and his outside shooting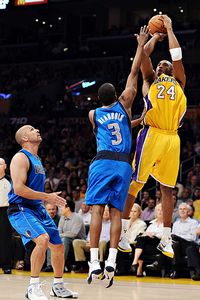 Harry How/Getty Images
We'll see if shots like this one from Kobe Bryant drop.
Whether specifically because of the "62" game in 2005 or generally because of several strong games in the not-so-distant past, I tend to think of the Mavs as a team Kobe Bryant destroys. That they're low on options to check him (DeShawn Stevenson in limited minutes, Shawn Marion and, um, the popcorn vendor?) only enhances that perception. Thus, I was surprised to learn, via our friends at ESPN Stats & Information, about some of Kobe's numbers this season against Dallas.
On isolation plays this season, Kobe shot 44.3 percent (fourth-highest in the league in iso situations) on 6.3 attempts per game, good for one point per play on average. Against the Mavs, he took more shots in isolation (8.0) but connected at a lower percentage (37.5), dropping the average points per play down to .87.
Continuing that theme, Kobe averaged 8.7 points per game on jumpers 15 feet or further, drilled to the tune of 36.3 percent. Against the Mavs, Bryant was good for just 4.3 points and 22.2 percent shooting.
What to make of the seemingly unlikely dip? After a little digging of my own, I wonder if it could largely reflect one bad game and extenuating circumstances.
Bryant missed 14 of his 20 attempts during a 96-91 win in Dallas and, according to the Hoopdata advanced box score, his outside shooting was particularly horrific. Eight of nine shots were clanged from 16-23 feet. Ditto for all three attempts from behind the arc. Of course, Bryant also badly rolled his left ankle while already mired in a shooting slump. (The previous game was in Miami, site of the famous after-hours shoot-a-thon.) It also stands to reason that at least some of these long shots were created through one-on-one situations.
Remove that game, and the results are a little better. Bad luck from behind the arc persisted, but Kobe has always been a streaky 3-point shooter. In the meantime, he went 2-5 from 16-23 feet during a 109-100 loss and 2-4 from that distance during a 110-82 win. In the former game, Bryant shot 10-18 overall, and in the latter, he visited the line 15 times, meaning any success "containing" Kobe came with an asterisk.
It could be reasonable to conclude the back story surrounding one game could explain, in part, Dallas' unlikely success checking Bryant this season. Then again, considering the state of Kobe's ankle, concerns are understandable. In any event, we'll find out soon enough which iso/outside-shooting version of The Mamba surfaces.
Steve Blake vs. Jason Terry
And not simply because of their skirmish the last these teams met, Terry's numbers in three games against the Lakers -- 13.3 points per game, 42.5 percent shooting -- were below par, and at least some of the credit goes to Blake's defense. Whether matched on an island against The Jet or chasing him off continual screens, the Lakers reserve has done a consistently good job hounding the scoring machine and making life tough.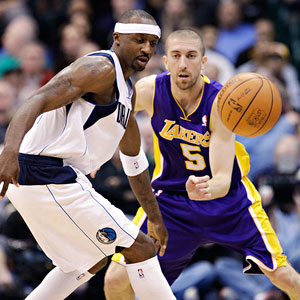 AP Photo/Tony Gutierrez
Steve Blake needs to pester Jason Terry into a miserable series.
A continuation of that trend could be critical. Terry is a streaky player, the kind you don't want to risk getting hot. After two previous postseasons lowlighted by sizable scoring and shooting dips, his current campaign is off to a roaring start. In the opening round against the Blazers, Terry averaged 17.3 points on a 48.8 percent clip, with nearly four dimes for good measure. Still, as ESPNDallas.com's Tim MacMahon noted in our recent podkast, JT may be the team's second-leading scorer but he hasn't necessarily been a steady second option. That inconsistency could rear its ugly head again, especially with a conscientious defensive effort by Blake.
Plus, with the clamps on Terry, Dallas' bench could turn considerably less dangerous. A 21-point Game 2 aside, Peja Stojakovic's success has mostly been limited to the 3-point line, an area the Lakers defend exceptionally well. Jose Barea can be a handful but hasn't done much in the postseason so far. Brendan Haywood doesn't qualify as a defensive assignment. All things being equal and predictable, slowing Terry could equal tepid second-unit output for Dallas.
Considering the Lakers' inconsistencies while the starters catch a breather, that result could pay huge dividends.
The importance of Shawn Marion
Over the weekend, Jeff Caplan (ESPNDallas.com) appeared on ESPN LA On Air to preview the series. I asked who among non-German Mavericks needed to step up big for the team to pull the upset: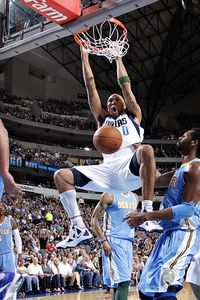 Glenn James/Getty Images
Lakers fans still dislike Shawn Marion going back to the 2006 series against Phoenix.
"The guy that gets talked about the least and I think can have the biggest impact is Shawn Marion. This is a guy that was asked to come off the bench for most of the season. Did so. Accepted that role. Averaged about 11 or 12 points a game. Then the Mavs acquire Peja Stojakovic. They start him for 13 games. He gets hurt. Marion goes into the starting lineup and then he stays there.
"He's a guy that gives [the Mavericks] something they don't have -- a guy who kinda slashes, swoops into the lane. Scores a lot of his points from in close. Really good on the offensive glass, in terms of getting some putbacks. So I think if they're able to incorporate him into the offense, when they do that successfully, it usually means that the Mavericks are in transition. They've got a good flow offense going. They've got guys moving around on the floor and they're passing the ball.
"When they don't do that, Marion tends not to score and the offense tends to stagnate, and it becomes a lot of Dirk isolation. Not that they can't be successful that way, but it's been proven out that they need to have four, five, even six guys in double figures to be successful, especially against a team like L.A. to win."