With each passing day, the anticipation builds as to Phil Jackson's eventual successor. Despite a disappointing final season in L.A., PJ obviously leaves massive shoes to fill. The primary names reportedly in the hat include Brian Shaw (who also interviewed with the Warriors), Chuck Person, Mike Dunleavy, Rick Adelman, and Mike Brown, with perhaps even more to surface.
In an effort to compare two of the candidates, I gave a call to former Laker Josh Powell, who spent a season under Dunleavy with the Clippers before his two in purple and gold. Powell, who felt his time with Dunleavy helped prepare him for some occasionally important minutes during two title runs, offered thoughts on the very different systems of Dunleavy and Shaw (should he continue running Jackson's system as expected), plus the way the two communicate.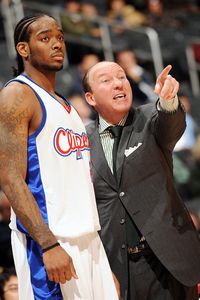 Win McNamee/Getty Images
Powell had to learn a boatload of plays under Dunleavy, but also got his first taste of extended minutes.
Powell, on the differences in the systems of Dunleavy and Jackson
"With Coach Dunleavy, he's more of [a deliberate] execution, in terms of slowing the game up and calling out more plays and just control from that standpoint. Which isn't a bad thing. It's just his method and his way of doing things, controlling the flow of the game.
"Phil has a different approach from the standpoint of he allows the players to be in much more control of what things are being run and executed out there on the court. Of course, during time outs or certain situations, he wants to come up with a play. But more so than not, he definitely puts that responsibility on the players."
On how long the differences between Dunleavy's and Jackson's systems took getting used to
"It didn't throw me for a loop. It's something to get used from that standpoint, because you're literally out there with the guys just calling and running through the plays. The triangle is a different offense, because it's not necessarily things that are called. It's just based on where the ball goes and things like that. We were just out there going with the flow. It was definitely great. I got used to it very quickly."
On whether Dunleavy's playbook is as thick as rumored
"He definitely has a large playbook and at the same time, everything is all with numbers. So that took a while to getting used to. But once you get used to the sets and everything, that's pretty much easy. Just like any other offense, once you start going through it, it becomes second nature. It's nothing."
On how long it would take for the Lakers, especially those who've been in the triangle for years, to get used to a more conventional system
"I'm sure it'll be tough, because you have an offense that basically dictates itself from the standpoint of its continuous movement. Nothing stops one other thing. And when you go to a [more conventional] set, if that option runs out, then you gotta be creative, you know? You're going from something that's continuous to now, you have to call a play. You run through that play. The first option doesn't work. The second option doesn't work. 'Oh, no. What do you do?' You gotta be creative, from that standpoint.
"Either way, that organization, they're very talented with the group of guys that they have. I'm sure that they'll find a way to make it where that group is successful.
On whether the Lakers' core players could fit well in a system like Dunleavy's
"That's a really good question. (Laughs) I don't know. (Pause) I wouldn't see why not. At the end of the day, the one thing that I have learned is no matter what situation you put players in, they just have to be able to buy into it. If they don't buy into it, whether it's the triangle or whatever offense that Coach Dunleavy has, then it won't work. It won't be successful. I'm sure if [Dunleavy] were to get the job, I know that he would definitely put everyone in a position where they could be successful."
On the differences in communication styles between Dunleavy, Jackson and Shaw
"It ultimately depends on how they respond to whoever the next coach should be. Coach Shaw, he's already been dealing with that team for years, knows who he's dealing with. As far as Mike, with his approach, just like any other coach, they're gonna have their own way of getting their message across, whether it's directly or indirectly.
"But at the end of the day, as long as everyone's on the same page, anything can work."
On whether Dunleavy is direct in communication or ever attempts to work through the media like Jackson
"I would say Dunleavy's more direct, from that standpoint. As far as what he did, if there was a way he wanted to motivate a guy."
On Shaw's communication style vs. Jackson's
"B. Shaw is different from the standpoint that he's all the way direct. (Laughs). I don't if there's another way to put it. I don't know if he has any [mental] tactics or anything like that. He calls it the way he sees it and you can definitely appreciate that as well."
On what he learned from Dunleavy and took away from the experience under him
"For me, unfortunately, that year was a very tough year for our team. But the biggest thing that I did like, even though I was dealing injuries and things like that, I got a chance to play. Nothing is more important to anybody than having a chance to showcase your talent. So I'm definitely very grateful for that opportunity.
"I had a chance to be out there and experience. That's a separate part of growth. When you're able to be put into the fire and have to find ways to calm that fire down. Being in late-game situations and from start to finish being a part of what's going on. I had a lot of games where I started. It was just a great experience. That's definitely how you learn a lot as a player and a person in that league."