When Phil Jackson announced this past summer his return for "the last stand," a flurry of questions followed. How big a pay cut did he accept? Is Brian Shaw the heir apparent? Will Phil really walk away at season's end? How much does his presence increase the three-peat odds? If a championship does come, could a case be made for the best Lakers era under Jerry Buss' watch?
However, few, if any, people -- and I include myself among the guilty -- appeared to think it was worth pondering one specific question:
Is it a potentially bad omen that Jackson required so much coaxing to come back?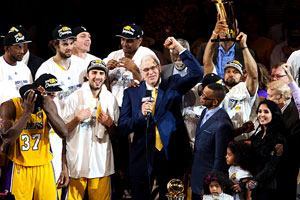 Icon SMI
The stage had been set for the perfect exit.
Who could blame PJ for his reservations? After all, we were talking about a man in his mid-60s with health issues that make strolling the Staples Center -- much less the rigors of NBA travel -- look like a chore. We were talking about a man with nothing left to prove, a man who appeared at peace about the prospect of going out on a high note.
Ultimately, Jackson's second thoughts won out, and at the time they felt like a crucial piece of the puzzle fitting into place. In retrospect, this may have been a case of various parties (Jackson, chief recruiters like Kobe Bryant and Derek Fisher, the Lakers organization) getting greedy with one too many trips to the well. The desire to chase another three-peat is understandable, but history can't be created by pushing a square peg into a round hole. Sometimes, the ingredients are better on paper than when combined to adhere to a recipe.
As it turned out, Jackson's gut was smarter than his heart. Just like his players, their coach wasn't up for the task of winning a third straight title.
By his own admission, Jackson didn't accumulate rings on the strength of X's and O's. Not that he can't operate a whiteboard, but what made Jackson a great coach was his ability to motivate players. To understand what makes individuals tick and use that knowledge to mine for success. To live in the moment and react, like an extension of the triangle offense itself.
The legend of Jackson wasn't necessarily as a basketball guru but rather as a man almost mystically capable of discovering the proverbial answers. This season, however, answers consistently eluded him.
There was an inability to keep the team focused or engaged on a consistent basis. In a vacuum, there's nothing wrong with a coach understanding a veteran squad's boredom with the regular season. Gregg Popovich's willingness to pace the Spurs is typically hailed as one of his strengths. But there has to be a sense of purpose instilled while coasting, a steady goal accomplished largely in third gear. The Lakers were rudderless, and save a few scattered bursts, Jackson never found a way to change that.
If anything, it periodically seemed that Jackson was part of the problem. For example, if it's plainly obvious your team has been lacking for motivation in December, painting a Christmas Day game as a monumental inconvenience probably doesn't do much to change that mindset. Just sayin'.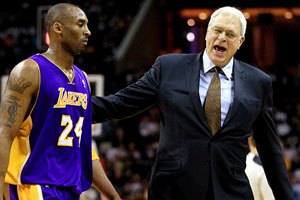 Streeter Lecka/Getty Images
The connection between Kobe and Phil remained strong, but elsewhere, not so much.
Beyond the inability to spark a teamwide sense of purpose, Jackson seemed out of sync with his players individually. His penchant for tweaking players through the media did more to annoy than spark heightened performances. Pau Gasol admitted (in his own polite way) weariness with the jabs, and there were reports of a practice dustup between Ron Artest and Jackson. Toward the end of the season, Jackson noted the generation gap between him and a bunch of 20- and 30-somethings hip to Twitter. This season often felt like the embodiment of that admission. Although there were interpersonal victories -- most notably the way he helped sell Andrew Bynum on a purely defensive mindset -- I often sensed a disconnected vibe between Jackson and his players.
Plus, there were problematic basketball-related decisions. With Bynum and Theo Ratliff shelved and Gasol rapidly gassed, I was frustrated at Jackson's unwillingness to roll the dice on a limited but consistent role for Derrick Caracter. The rookie was erratic, but at the same time, the Lakers were dropping winnable games anyway, so how much more damage could he really have done? Better to preserve Gasol for the long haul. Although Jackson certainly couldn't have foreseen Gasol's problems during the postseason, the way he hit the wall physically was predictable and, to a tangible degree, on Jackson.
I also was driven batty by his penchant for playing starters deep into games with a virtually decided outcome. It seemed he was thumbing his nose at the injury bug, not to mention other bad outcomes. Artest has only himself to blame for clotheslining J.J. Barea during Game 2 against the Mavericks. But considering he'd already shoved Shawn Marion out of bounds during that increasingly chippy loss, it's questionable why he was even on the court with 24.4 seconds remaining. Jackson should have recognized the storm brewing and substituted Matt Barnes or Luke Walton.
Again, the failure to read players and act accordingly.
Finally, there was the playoff collapse. A spotty opening round against the Hornets set the tone for an unqualified disaster in the conference semifinals. It's one thing to get bounced earlier than expected. It's quite another to get swept. With each passing game, it became glaringly obvious just how vastly unprepared the Lakers were on both sides of the ball. The offense grew stagnant. Pick-and-roll sequences confused Lakers defenders. Fingers were pointed. Composure went the way of the dodo bird. And Jackson couldn't snap Gasol out of his funk.
Obviously, the disappointing season doesn't fall entirely at Jackson's feet. He certainly isn't to blame for the bad outside shooting. The maddening tendency to ignore size mismatches certainly didn't occur because of encouragement. The overall talent on hand may not have been as strong as originally anticipated. Injuries happened. And perhaps most importantly, his players were professionals and were paid handsomely to act accordingly.
Still, Jackson is a coach who was hired in large part to keep everyone on the same page during such storms. He's always received a great deal of credit, rightfully, for an ability to create bonds during periods of adversity. When that fails to happen, unfortunately, the reverse is only fair.
This wasn't the way things were supposed to end. Then again, the original ending was never accepted.
Final grade: C-/D+