For those of you who didn't get to watch the Lakers being honored by Barack Obama, give 'er a click and enjoy. Or read the entire transcript of the celebration, thanks to the diligence of the Daily News' Tom Hoffarth.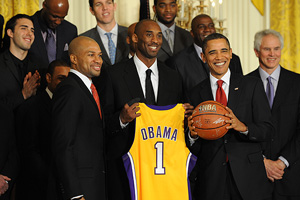 Andrew D. Bernstein/NBAE via Getty Images
The Lakers were the first NBA team honored by the Obama administration.
Obama took the time to recognize --among other things-- Kobe Bryant's greatness while playing with a busted finger, the team's (and in particular, Pau Gasol and Jordan Farmar's) contributions towards the Haitian relief effort and Shannon Brown's impending participation in the dunk contest. The Prez seemed keen YouTube's qualifications ("I've been told Mr. Brown intends to win the dunk contest"), which makes you wonder, with all due respect to the impressive grassroots phenomenon that was LetShannonDunk.com, if the whole thing would have been easier just letting Obama make a phone call on Shannon's behalf. The man's got a fair amount of clout.
And speaking of clout, we already knew about Obama's respect for Mamba, having last year declared 24 the best player in the world (which I decided by extension made it U.S. law). But if we learn today's announcement of a discretionary spending freeze proposal came as the result of bending Bryant's ear, I'll REALLY be impressed.
By the way, did Khloe Kardashian pick the right year to fall for a Laker or what?
UPDATE (9:13 pm PT): Here's the story from ESPN LA's Dave McMenamin.