Safe to say, only Shaquille O'Neal could announce his retirement with just 29 words, yet create a tizzy equal to a 29,000 press conferences. Twitter was in danger of exploding late Wednesday morning when, via a new real time video messaging service called Tout, Shaq let the world know he's hanging up the sneaks for good.
"We did it," said O'Neal to his fans. "Nineteen years baby. I want to thank you very much, that's why I'm telling you first, I'm about to retire. Thank you, talk to you soon."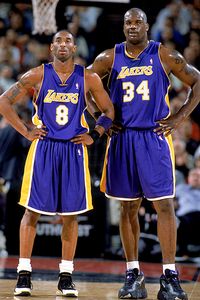 Sam Forencich/NBAE/Getty Images
Successful as the two were together, Shaq and Kobe often hated being side by side.
Throughout the video, O'Neal is all smiles, a casual peace sign flashed in lieu of tears welling or visible introspection. (If you stick around after the video ends, another video of O'Neal singing "When Doves Cry" begins.) It's fitting he'd alert the fans before the Celtics or the media, because nobody in the NBA played more to the cheap seats than Shaq. He never lost sight that sports is a form of entertainment for Joe Q. Public, and he lived to uphold end of the bargain.
Ultimately, the video also illustrates what made Shaq such an equally original and frustrating NBA legend. At heart, the guy is a vaudeville performer trapped in a body of extraordinary athletic gifts. Shaq's feet may have been shockingly quick for a player of his size -- any size, really -- but his wheels could barely keep pace with his wit. Diesel was all about fun, rap albums and movies of varying quality, and good times. His charisma, persona and inherent likability was a major plus for the NBA.
Still, that moth-to-flame attraction to the spotlight also made it easy to periodically wonder if Shaq's first order of business was to entertain, rather than be the best player possible. Not that O'Neal didn't accomplish plenty during a first ballot Hall of Fame career as among the best players (not big men, players) to grace the hardwood. But there were nonetheless legitimate reasons to question his commitment to the game and winning: His casual nature towards fitness. Getting his toe fixed on "company time." Voicing a need to feed the dog if you want the yard protected, Shaq-ese for "If you want me to play a lick of defense, you best feed the post."
His unwillingness to concede any ground to a young and equally stubborn Kobe Bryant.
Shaq's time as a Laker brought with its glory non-stop controversy, most notably his recurring feud with Bryant. They rarely managed to agree on the best way to co-exist, which was ironic considering how their riches of success should have driven home how little there was to fight about. Instead, the two created a situation where the Laker Nation felt compelled to take sides, a debate raging even to this day. From a fan's perspective, the lack of common ground discovered -- aside from a willingness to lock in their heels and mutually amazing talents -- was beyond exasperating.
But looking back on it, maybe two players of such opposite personalities and mentalities co-existing even uneasily for so long qualifies as achievement. People wondered whether LeBron James, Dwyane Wade and Chris Bosh could subvert their egos, and they're honest-to-goodness BFF's. Shaq and Kobe, however, didn't choose to join forces. They were forced to while arguably the two best players in the game. For a pair of alpha males hyper-aware of their legacies, this is a tall order. Gigantic as they made it? Probably not, but such is life sometimes. In the meantime, their eight years together were highly memorable, and for peers not named "Tim" or "Duncan," enviously successful.
Which leads to another element of Shaq's legacy in purple and gold.
In my six years covering the Lakers, readers have constantly debated whether the franchise should retire Shaq's number. Brian recently touched on the issue, chalking up his "yes" vote as a no-brainer. I would also place his number 34 into the rafters, but I disagree about it being a slam dunk. Based purely on achievements, Shaq aces the test. Eight seasons. Three championships. Four trips to the Finals. Three Finals MVP trophies. One NBA MVP trophy. An iconic, larger than life presence. His credentials more than pass the smell test.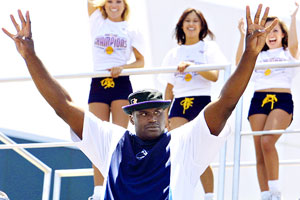 Lee Celano/AFP/Getty Images
There were simply too many moments like these for the Lakers not to retire Shaq's number.
However, I consider jersey retirement a privilege as well as an honor, and along these lines, I see why fans might feel Shaq disrespected the franchise several times too many. As a Laker, his relationship with the organization was perpetually testy. Beyond the previously cited tension with Kobe and commitment issues, there was his "Pay me!" directive to Dr. Buss and effect on a locker room. Upon leaving L.A., Shaq badmouthed the organization on countless occasions, with targets ranging from the Buss family to Phil Jackson to even the city of L.A. He also tried to have it both ways with a cameo appearance during a 2005 game, which felt like a transparent grab for applause. One minute he acted like Kobe's supporter, the next he was asking how his a-- tasted after the Lakers fell short in the 2008 Finals. That he ended up in a Celtics uni was ultimately insignificant, but symbolized the pleasure he seemed to find in purple and gold struggles. Thus, I understand where fans might consider this antagonistic mindset a betrayal too big for future ceremony.
Still, I think the organization should, and ultimately will, add Shaq's number among the all-time greats. At the end of the day, this is as much about commemorating an era as celebrating a person. To me, you retire Shaq's number for the same reasons Barry Bonds, Roger Clemens, and every other Hall of Fame-caliber player linked to the steroids era should be in Cooperstown: History isn't always a bed of roses. For that matter, neither is greatness, and Shaq's time in L.A. produced plenty of it. Staples Center will eventually feel jarringly weird without an acknowledgment of the Big Fella. If the Lakers choose to wait until Kobe's number is retired, fair enough.
Either way, I expect the organization to do the right thing, even if that was sometimes too much to ask of the recipient.