As part of an ongoing series, Clippers forward Ryan Gomes is providing exclusive analysis of the NBA playoffs for ESPNLA. Earlier, he broke down elements of the Oklahoma City-Dallas series. With the Heat now up 1-0 on the Mavs, Gomes offers thoughts on what Dallas can do to even things up and how Miami can keep pushing closer to a championship:
I really hope this series goes six or seven games because these two teams have been playing the best basketball in the NBA during the playoffs and both their confidence is sky high right now.
I don't know if Miami even thought it would have a chance to win a championship this year. Boston did it in the first year with Ray Allen, Kevin Garnett and Paul Pierce got together a few years ago. But that's hard to do right off the bat. I know I thought, "Give them a year, they're all coming from other team where they each scored 20-plus points a game. It's going to take them some time to figure it out." But they seem to have figured out how to win, while keeping everyone happy and that's a scary thought.
Dallas is still in this though. They're a veteran team. I don't think they're going to lose confidence or panic because they lost Game 1.
Here are five things to look for going forward in this series:
HASLEM ON DIRK
For Dallas to win, Dirk Nowitzki has to be as good as he's been the whole playoffs. In Game 1, he was good. But he didn't dominate like he did in past series and Udonis Haslem is a big reason why.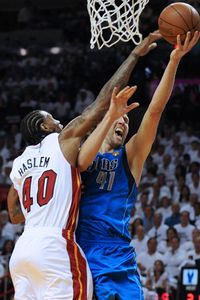 Don Emmert/AFP/Getty Images
Haslem's return has been huge for Miami.
In the second half of Game 1, Miami decided to play Dirk straight up, one-on-one. Haslem did a great job on him. He crowded Dirk when he caught the ball instead of giving him room to use his jab-step or his pump-fake.
In the last series, Serge Ibaka basically gave him room and tried to close out late. But this time, Haslem got up on him right when he caught the ball and forced him to put the ball on the ground. That was really important because Dirk is at his best when he starts jabbing and playing with you.
DALLAS BENCH
I don't think Dallas can win if they don't get more production out of their bench. They need to score 95-100 points, and the way to get that is for their bench to score. In Game 1, they only got 17 bench points, 12 from Jason Terry (who didn't even score in the second half) and only two from J.J. Barea.
Barea doesn't even need to score, but he does need to push the tempo because that's what creates open shots for the rest of that second unit.
JAMES OUTSIDE SHOOTING
LeBron James went 4-for-5 in 3-pointers in Game 1, but if you're Dallas, I think you have to give those to him as many times as he want to take them.
LeBron, if he has a weakness, it probably is the 3-ball. He's gotten better every year, but you'd still rather have him settle for that shot rather than get to the hole and create for others.
You hope he doesn't shoot as well again, but even if he does, that's four-to-seven times a game he's shooting from 3 rather than going to the basket. So let's go with the percentage game and have him take those outside shots. It's all about percentages in the playoffs.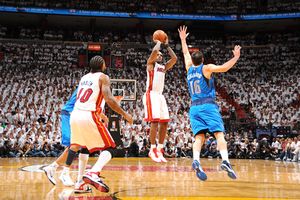 Jesse D. Garrabrant/Getty Images
These are the shots Dallas must force LeBron to take, make or miss.
It's like pick your poison. I'd rather live with him taking those threes.
DALLAS SHOOTING
Dallas shot just 37 percent in Game 1, but I don't think they're going to shoot that poorly again. A lot of that has to do with their bench, which was 4-for-22 from the floor.
If you look at how they've been winning in the playoffs, those three guys have been the ones changing the flow of the game with their scoring and the way they move the ball. Part of that is Miami's defense. They close out shooters really well because they're so athletic on the perimeter.
But even with that, I don't think Dallas is going to shoot as bad as they did in Game 1. I know Miami doesn't think Dallas will have an off shooting like that again.
If Dallas can have an explosion, where they're shooting like they did in that closeout game against the Lakers, if they have a game like that, I think that'll put a little thought in Miami's head. Not fear, but that'll get Miami thinking about Dallas finding their rhythm.
POISE
Dallas really capitalized on Oklahoma City's mistakes in the last series. The Thunder took too many risks and had too many turnovers in the fourth quarter in some of those games.
I don't think that's going to happen with the Heat. They've got young players, but they're a veteran team with guys that have been deep in the playoffs.
In the Finals it's all about getting quality shots and not taking risky plays. So you really have to pick your spots about when you're going to push the ball and get out in transition. Dallas is really good at that. They're opportunistic with their fast breaks, and their smart in the half-court because they've got Jason Kidd.
Miami is a pretty young team, but they have a lot of veterans. Those guys make sure they get a quality shot up every time down the court.
These teams are pretty evenly matched in this area, so if one of them starts taking too many risks or making bad decisions, it'll really change the series up.
Clippers forward Ryan Gomes is providing exclusive analysis of the NBA Playoffs for ESPNLosAngeles.com. Follow him on Twitter @gotgomes