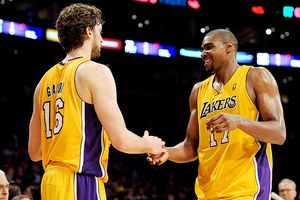 Harry How/Getty Images
Can Mike Brown re-create the success David Robinson and Tim Duncan had in San Antonio with Pau Gasol and Andrew Bynum?
When Mike Brown was introduced as the next head coach of the Lakers, he pointed to his time in San Antonio (where he was as an assistant to Gregg Popovich) as a potential model for what his offense in L.A. might look like. As it was with the Spurs and their Hall of Fame combination of Tim Duncan and David Robinson, Brown has a pair of very talented seven-footers at his disposal with the Lakers in Andrew Bynum and Pau Gasol.
Over at NBA Playbook, Sebastian Pruiti does a great job breaking down the ways in which the Duncan/Robinson combination was deployed, obviously providing a window into what the Lakers could do next season. With their off-the-charts basketball I.Q., it's no surprise the Spurs relied less on scripted plays for Timmeh and The Admiral than excellent spacing, good reads, and active ball/off-ball movement-- the sort of Triangle-esque "sprinkling" Brown referenced at his press conference.
Pruiti rightly believes the actions seen in San Antonio will translate well to Los Angeles. Gasol is as skilled a big as can be had, and moves well in space. Bynum's game, while more limited overall, is expanding. He's improving as a passer while his face-up game has crept a little farther away from the bucket every year. His size, hands, and athleticism can make up for an awful lot of shortcomings when Bynum is fully engaged.
Honestly, the big question with the Lakers isn't so much what sets they'll draw up for the Gasol/Bynum (and don't forget Lamar Odom) combination, but whether as a group the Lakers will maintain the discipline to look down low. Too often last season, the Lakers suffered not from a lack of imagination in how best to use their size, but in a willingness to do so relentlessly throughout a game. They'd exploit the post, then seem to decide the path of least resistance just wasn't all that fun.
Of course, talk of how the bigs will operate next year can't be separated from the need for improved shooting. One important quality of San Antonio's 2002-03 title team was a selection of guys who could stick it from the perimeter.
It's a note you can tack on to virtually everything for the Lakers this offseason.