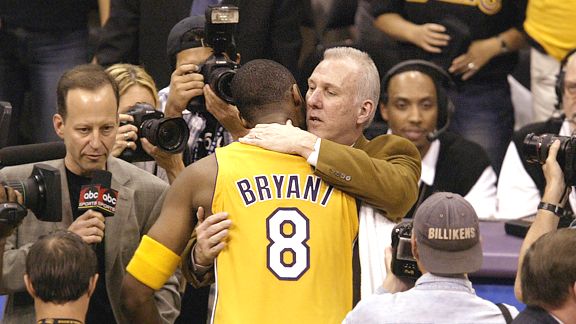 Jeff Gross/Getty Images
Kobe Bryant congratulates Gregg Popovich after Game 6 of the Western Conference Semifinals, May 15, 2003.
"He shoots his threes, he takes it to the hole, he likes the baseline jumpers. But what he does best is he takes what's given. It's the sign of a very intelligent basketball player. You see him read games and see how it's going, see where he's needed. Sometimes he'll just defer to everyone else for a while until he sees what's the weakness in the other team, or what's available to him, or how people are guarding him or how his team is playing. He factors all these things in and then comes and tries to kick your ass."
More Evolution of Kobe Bryant:
--Gregg Popovich, head coach of the San Antonio Spurs, coached against Kobe Bryant in the postseason five times in this decade.