As part of a continuing series, NBA players share the various ways growing up in L.A. shaped their games.
There are natural athletes. There are natural athletes who take an unusual path to the NBA. And then there is Golden State Warriors forward and South Los Angeles product Dorell Wright. To put Wright's athleticism in perspective, he didn't take basketball seriously until the 11th grade. Before that, he was passionate about making the big leagues, and even transferred from Washington High School to Leuzinger for its baseball program. A casual invite to meet the basketball coach eventually resulted in a change of athletic priorities. After graduating from Leuzinger, Wright did another senior year at South Kent School, a Connecticut prep school. But rather than better prepare him as planned for the transition to college, South Kent was Wright's last stop before jumping straight to the NBA.
Andy Kamenetzky: Where did you grow up playing?
Dorell Wright: St. Andrew's Park. It was a crazy scene. They were real big on their basketball program down there. We had a lot of guys that went to college. We had a few guys that went to the NBA come out of there. Hassan Adams. Rayshawn Reed. We was probably the three biggest names that came out of there around our age.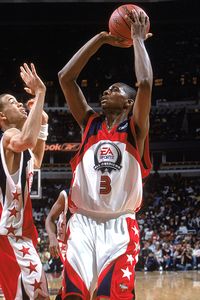 Gary Dineen/Getty Images
Dorell Wright became a high school phenom despite not getting serious about basketball until his junior year.
It was definitely tough. Inner-city kids. It's very physical, very competitive. Everybody wants to win. Every year, it was different players coming from different places, because they knew how good the league was and the competition they'd get. We'd go to the different playoffs [between parks] and we're always in the finals or the final four every year.
AK: Do you remember the first eye-opening experience of how physical the play was?
DW: The first game I ever played there, I got fouled hard as heck and hit the ground hard. I knew it was gonna be tough and you had to bring your game every single day. And this is with me being 8 or 9. That first game, I already knew.
AK: You've talked in the past about friends who got caught up in the gangs and violence. How challenging was it to stay on the right track?
DW: It's very tough. I was blessed to have great parents around and to keep me focused and active with baseball, basketball and football. It seemed like I was never staying still. I had a few hours with my friends, but the majority of time I was either working on my game or practicing or at a game.
I'll say one thing about L.A. streets: The streets, they're calling. You see your friends and peers out there, hanging out, things like that. Sometimes it's peer pressure to hang out and be cool just like them. But my mom and dad did a great job just keeping me focused and on the right path. Trying to see bigger things than just being here in L.A. and staying here my whole life in South Central and the inner city.
AK: You were initially much more into baseball than basketball. At what point did basketball become your focus?
DW: Basketball really became serious once I got to Leuzinger High School. I didn't play ninth and 10th grade at Washington just because of my grades and stuff. I was never eligible for basketball. For some reason, I was always eligible for baseball. I knew how much my dad wanted me to play baseball, so I was a little more serious. (Laughs.)
Eleventh grade, I had a subpar year. Averaged like 18 points my first time ever playing on varsity. In 12th grade, we got a new coach, Reggie Morris. He took me to different gyms to work out, so I was spending more time on my game. I averaged 24 points that year, so I felt myself getting better. I was getting a lot of attention from different colleges. Once that happened, I was like, "I might want to do this basketball." I was thinking I could go to some college. This is when Fresno State, Long Beach State, Northern Iowa, all these mid-majors were recruiting me. Not really heavy schools until I got to prep school. It was still not really clicking to me that I could go to the NBA.
AK: Ironically, you transferred to Leuzinger for the baseball program.
DW: Yeah, this is a funny story. We were so bad at Washington. We won one game in two years. My dad was like, "Oh, no. We're out of here!" I was gonna go to Serra in Gardena, but I didn't get a high enough score on the test. So the baseball coach from Serra introduced me to [Joel Romero] the baseball coach from Leuzinger. I decided to go to Leuzinger. Well, my dad decided I was gonna go Leuzinger. (Laughs.)
The first day of school, Coach Romero, we were walking to class and he was like, "The basketball coach is right there. You wanna meet him?" I was like, "Nah," because the previous two years, I wasn't able to play at Washington. "I'm just here to focus on baseball and that's it." He was like, "I'm just gonna let you meet him." So I was like, "All right. Whatever. I'll meet him."
His name was Coach Showalter. He was like, "We're gonna have open gym at the end of the week." I went and just completely killed the whole open gym. I was clearly the best player in there and I was, "You know what? I think I will play."
AK: This was really your first experience with organized basketball, right? Before that, it was a little bit of AAU and games at the park.
DW: Yep, that was it. Then I got on another AAU team, a real traveling team. The one I played on in the beginning, that was more of a local. Never further than Palm Springs or Las Vegas. This one, we're going to North Carolina, Dallas, different cities. So this was definitely my first organized basketball.
AK: Also, a White Sox scout eventually told you to concentrate on one sport, which ultimately led to picking basketball.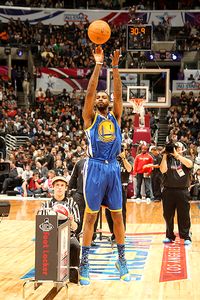 Nathaniel S. Butler/Getty Images
Wright first pictured himself in the MLB All-Star Game, not the NBA 3-point contest.
DW: He and Henry Bibby, when he was recruiting me for USC, were both at a game. When Coach Bibby was walking up to the game, I was at bat and hit a home run, so that was pretty funny. After the game, I talked to the scout and he was like, "It's coming down to the point where you have put all your eggs in one basket. It's either gonna be basketball or baseball. You gotta tell these people something. The MLB draft is on its way and nobody really knows if you're serious about baseball, because basketball is really taking off for you."
I made a decision without my parents there and they were pretty upset. I just told him right then, "You know what? I'm just gonna play basketball." And he was like, "OK. I understand that." So that was the end of that.
AK: How did your dad take it?
DW: He was so mad! "What do you mean you told him this? You don't make any decisions around here without talking with me and your mom!" He was going over about why baseball should be the right sport for me. Just doing the things a father should do. He knows the things that come with baseball. Longevity. Good career. And he knew I was good at it. I think they were just scared because they didn't know how good I was gonna get at basketball.
AK: Has he gotten over it?
DW: Probably now. I hope so. (Laughs.) He probably still to this day thinks I would have been a better baseball player than basketball player.
AK: It doesn't seem like you felt the same pressure as guys who grew up playing serious basketball their entire lives.
DW: Yeah, I had no pressure. Marcus Williams, Bobby Brown, all those guys would joke, "Man, how do you play basketball for three years and be in the NBA? I'm mad at that. I've been playing basketball my whole life and I had to go two years of college and do this and do that." I'm like, "Man, I was just blessed, that's all."
But you know, I definitely had it a little easier than those guys. A lot of those dudes had a lot of hype. Been ranked since they were like 7 and 8. I just came on the scene under the radar late. A late bloomer. If I had to do it all over, I'd do it the same way. No pressure.
AK: How did Coach Morris influence you on and off the court?
DW: Man, he meant a lot to me. Not only just basketball, but shaping me into a better person. I was bad attitude, uncoachable, all those things. With him being 23, and we're 17-, 18-year-old kids, it was easier for him to relate to us. Also playing at the highest level in college, at Howard and UC San Bernadino. It was easy to listen to him and let him coach us and take our talents to where we needed to be.
AK:When you say you had a bad attitude and were uncoachable, what do you mean?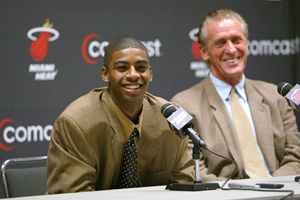 Victor Baldizon/Getty Images
Wright's year at South Kent prepared him for life as a Heat rookie.
DW: Anything you said to me, I had an answer for it. That's how I used to be. That's how it is when you grew up in the inner city. A lot of kids have bad attitudes and you can't really tell them anything.
AK: How did Coach Morris make it clear that wasn't gonna fly?
DW: He's just gonna sit you down. [Or make you] run the track. And what kid doesn't wanna play, you know? If you're not out there playing, watching your friends play, that gets to you. So you're like, "Man, I gotta do what I gotta do to get my attitude in place."
AK: Did he ever sit you a game?
DW: He never made me sit a game, but if something came up, he'd take me out. I'd sit there for a few minutes and be like, "OK, I'm ready now, Coach!" (Laughs.) He wouldn't look at me. He'd shake his head. "No you're not." I'd sit a few more minutes, and then he'd finally put me back in there. That's when that beast came out, because I was so mad at him for sitting me over there knowing I should be on the court helping my team.
Also, I can never take nothing from my AAU coach, Erik Harden. He'd come pick me up every day in the summer time. We'd be in the gym two or three hours. Both of them did a great job with taking the time out of their busy schedule to help me out on my craft.
AK:You had a Leuzinger teammate, Khelcey Barrs, who died during a pickup game. He was only 16.
DW: Unfortunately, I wasn't there when everything happened. I was at the prep school. But I heard all the stories of how he went out, man. That last day, when he passed out, they said that he was an instant pro right there. My coach, my friends that were there, they said, "I've never seen Khelcey play this way!" He was just dominating the whole gym. I wish I'd been there to see that.
AK: Did a tragedy like that influence the way you saw basketball or attacked it?
DW: Yeah. Not even basketball, but life, man. I had just spoken to him two days before. He wanted me to send him shoes and I was getting ready to send [them]. So that really, really hurt me. Somebody that I was really a big brother to my senior year and his ninth grade [season]. He started a lot of games his freshman year. He was big for us. We got all the way to the semifinals of the C.I.F. championship and he was a big reason. He was definitely gifted and had a lot of talent. He definitely would be in the NBA right now.
AK: What was the highlight to your time at Leuzinger?
DW: All our home games, probably. And probably being the player of the year in our conference. That was big because I worked so hard to get that. All that hard work that I was putting in that gym was paying off.
AK: What about the home games were so special?
DW: It was crazy, because everybody would come see us play. We turned it around, went from being a boring team to an exciting team. We'd pack our gym every single game. We'd go on the road, people would want to see us lose. We were tied for first in our league, too, so everyone wanted to see us play. Everybody wanted to beat us. Everybody wanted to see me play as well, so they could come to the games and scream "overrated" on the road. It was a great atmosphere, playing in front of your peers and then going to school on Monday and everybody showing you love.
Being a 17-year-old kid, that's fun.
AK: After your senior year at Leuzinger, you enrolled at South Kent School, a prep school in Connecticut. What was the reason?
DW: A lot of boarding schools allow fifth-year seniors. It's a preparation for college. In my case, I wanted to get better at basketball as well and also be prepared for college. I was going there to get my college preparation on and just little things that can help me. Getting up on my own. Being on my own. Being a responsible young adult. So prep school really helped me a lot. That's what made the transition from Connecticut to Miami my first year [in the NBA] so easy, because I'd been on my own for a year.
AK: Was there any positive by-product with being away from L.A. for a year?
DW: Oh, yeah! Because now I'm somewhere far away. If anybody has ever been to South Kent, they can tell you how peaceful it is. It's out in the middle of nowhere in Connecticut. I didn't have no distractions. Just school work, basketball, working out, working on my game. And keep my room clean. That's about it.
AK: How eye-opening is that atmosphere for a kid from South Central?
DW: Man, it's great because you don't hear sirens at night. You don't have to worry about no extra things. No extra activities. Going out, hanging out with your friends. Something going on. Gunshots. Anything. All things that happen in the inner city that you have to go through.
AK: Did it make you realize a bigger world's out there?
DW: Yeah. It's a bigger world and you don't have to look over your back every two minutes other places. There is something brighter. There is something bigger in this world for me. Going to South Kent really made me hungrier to be the best basketball player I could ever be.
AK: What do you think is "the L.A. in your game," the part of your game that reflects having grown up here?
DW: I'd say the smoothness. All L.A. guys are smooth. A lot of guys have that silky smooth game. It comes easy at times. A lot of L.A. guys, if you look at a James Harden, a Baron Davis, Russell Westbrook and see how easy they get to the basket. How smooth these guys' games are.
AK: What was the silkiest part of your game as a kid and a teenager?
DW: I think just being so cool. A lot of people used to think I wasn't playing hard once I got older just because I was so cool out there on the court, you know? I wasn't really going hard, hard, hard, like most people think. I go out there, I have a smooth game. I probably don't look like I'm playing hard during the game, but at the end of the game, I probably had 30 points, 10 rebounds, four or five blocks. I played an all-around game. And people was just like, "Man, you just need to play hard!" They just didn't understand my game.
AK: Were you actually sweating at the end of these games?
DW: Yeah, I was sweating. (Laughs.) I break a little sweat, but they wanna see you diving on the floor, just doing all the little things. I guess I wasn't doing that until I got to prep school and to the NBA.
AK: What does it mean to you to be a basketball player from L.A.? How fortunate do you consider yourself for having grown up here?
DW: Man, I'm blessed, because we have a lot of guys come out of L.A. that are All-Stars and got max deals. To be amongst those guys is a blessing. My story is a little bit different, so I think I'm definitely blessed coming out of high school [straight to the NBA] being amongst these guys. That's a rare thing, you know. There's not too many of us L.A. guys who came out of high school, so I'm definitely blessed.
Previous installments