As part of a continuing series, NBA players share how growing up in L.A. shaped their games.
Trevor Ariza is so deeply steeped in the basketball culture of Los Angeles, it's easy to forget he was actually born in Miami. He starred at Westchester High School, then played a season at UCLA before leaving college for the NBA draft. Selected with the 43rd pick in the 2004 draft by the Knicks, Ariza's greatest professional moment came as a member of the Lakers, as he was an integral part of their 2009 title run, averaging 11.3 points over 23 games while shooting over 47 percent from beyond the arc.
While he's no longer playing locally, fair to say Ariza takes enormous pride in his L.A. roots.
Land O'Lakers: Where did you play growing up?
Trevor Ariza: I used to play at Westchester Park a lot. I met a few of my friends there. Then I got on a traveling team and started to meet other people. I met a lot of my friends I'm still friends with today.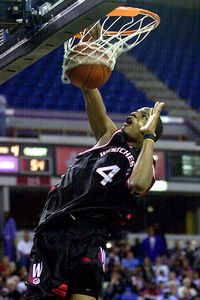 AP Photo/Rich Pedroncelli
Trevor Ariza won a pair of state titles with Westchester High School.
Land O'Lakers: Who specifically?
Ariza:Westchester Park, it started out being [L.A. Sparks guard] Noelle Quinn. She was just sick back in the day, when we were younger. She was the best player I ever met. This is when I was 9, 10 years old. Omar Wilkes was there. He used to play with us. Then I started to meet other people like Marcus Williams, Bobby Brown, Hassan Adams. People I went to high school with, though the AAU circuit and stuff.
Land O'Lakers: Describe the scene at Westchester. Was there a lot of trash talk?
Ariza: Not really. I used to play pickup with the older guys. They used to let me on the court and teach me things. I got my aggression playing at Darby Park, playing football. I just used to like contact all the time. My favorite player of all time is Deion Sanders, so football is my first love. When I was little, I focused more on football, definitely. That's where I met Dorrell [Wright], and little DeSean Jackson [Eagles wide receiver], and a few other people that played there, too. [Cowboys defensive back] Orlando Scandrick, and all those guys.
Land O'Lakers: DeSean was a talker back then?
Ariza: Man, he's been the same way since … probably when he came out of the womb. He was born talking. And any sport, he just talks. That's his thing.
Land O'Lakers: Were the local guys you admired, maybe people maybe the average fan wouldn't know about because they never made it to the next level?
Ariza: Definitely. The person I used to watch growing up was Tony Bland. I just loved the way he played. He was a big guard, and I watched him a lot. He scored, he shared, he did a little bit of everything. I wanted to be a point guard, though it didn't work out that way.
Land O'Lakers: When did you notice that point you started making a name for yourself? When people began respecting your game?
Ariza: I started to get a whole lot of attention in the 10th grade. That's when I kind of came out of a little bit of a shell, or whatever, as far as basketball was concerned. I stopped being so goofy. For a high school kid, my game matured a little faster. It got better from the ninth to tenth grade. Night and day, in understanding the level of competition, and understanding what I was trying to do, and my goals and all that.
Land O'Lakers: At this point, could you beat Noelle?
Ariza: (smiles) It would have been close, because Noelle was still getting triple-doubles down there, every game she played in.
Land O'Lakers: The first time you went against her, what were you thinking?
Ariza: (laughs) I might as well stick to football, because basketball is not it. If a girl can beat me in basketball, this is definitely not it. Funny story, we both made this All-Star team together at Westchester Park, and she started in front of me. I was like, "Dang! No love."
Land O'Lakers: And if they started you, the rest of the team would have said?
Ariza: (smiling) Put her back in.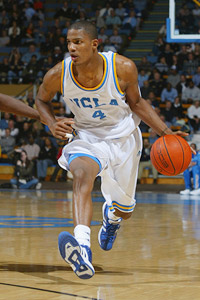 Lisa Blumenfeld/Getty Images
After one season with UCLA under Ben Howland, Ariza made himself eligible for the NBA Draft.
Land O'Lakers: The tragedy with your brother, it happened when your family was watching your stepfather play in Venezuela. Did that situation, with basketball being a part of the tragedy, did it make it at all hard for you to play ball after?
Ariza: It made it easier for me, because I knew [Tajh] loved basketball just as much as I did. Maybe a little bit more. I think the last thing we did together probably was just go out and dribble the basketball. He really loved basketball, too, and at 5, he really understood it. I felt a lot like I was playing for him, because he never got the chance to see me play organized basketball, or anything like that. So that's a lot of my motivation to get better and to be the best player that I can be, because I'm sure he would have enjoyed seeing me do good stuff.
Land O'Lakers: When you arrived at Westchester, what were your strengths and weaknesses as a player?
Ariza: Being athletic was definitely my strength. Raw athleticism. I knew how to play, but I never thought the game. I didn't really understand how to play hard until I got there, because our coach definitely instilled that in us, to play the right way and to play hard. Understanding how to play, spots to pick, to be aggressive.
Land O'Lakers: Was Westchester an established power when you got there?
Ariza: They were good, really good, before we got there, but once we got there I think we really put our stamp on high school basketball. Period. In any state.
Land O'Lakers: That was a serious crew you arrived with.
Ariza: Me and Bobby Brown, we went to Orville Wright together. When we were finishing up school, he was going to go to Dorsey, and I was going to go to Crenshaw with Marcus Williams, to play with him. We hung out together. I guess Orville Wright was the home school to Westchester. They came up there to do an orientation. Dewitt Cotton was one of the assistant coaches, he just said [to me and Brown] "You two, come to practice."
Land O'Lakers: Was Hassan Adams already in that district?
Ariza:I think he was at Verbum Dei, at first. I think. I'm not sure.
Land O'Lakers: Did you see yourselves as a sort of All-Star team?
Ariza: We were real good. We were realgood. I think a lot of people took notice to what we were doing because it was fun. It was entertaining. The way we thought of things back in the day was, you've got the Lakers, then you've got USC football, and then you've got Westchester basketball.
(We look at Ariza. Really? The Lakers, then the Trojans, then Westchester High? He laughs.)
Seriously! That's how we thought about ourselves. We were the show, and I think that helped us out a whole lot because it gave us confidence, and swagger to go out and play that way.
Land O'Lakers: Was Coach Azzam aware of how you guys thought of yourselves? As a product on that level?
Ariza: I don't think so, and even if he did, he definitely wouldn't let us know. His whole thing was to get us better. Make us better people, better students, and help us achieve our goals we set for ourselves.
Land O'Lakers: Is it hard to keep all that attention and success from going to your head?
Ariza: Yeah. You can't tell a 14, 15, 16 year old kid that the attention is fake, or that it's natural.
Land O'Lakers: How successful were you at keeping a good head?
Ariza: Coach Azzam kept us real grounded. If he caught us out of class for anything, we were out on the track running. If we were being disrespectful to teachers, not listening, we were on the track running, or alligator-crawling in the gym. He definitely let us know that [playing at that level was] just a small, small, small part of something that can be big. If you get caught up in it now, you'll never make it later on.
Land O'Lakers: You were part of back-to-back state championships at Westchester. Which was harder to win?
Ariza: It was against the same school both times, Oakland Tech [led by Leon Powe]. The first one was the tough one to me. I think at that point, that was the biggest game that any of us had ever played in. We had nerves. We were playing at Arco Arena, and it was different.
I didn't like any of them at the time, because they were trying to beat us. Before we played them in the state championships in my senior year, we played them in Las Vegas and we beat them then, too. So we didn't care about them. We didn't care nothing about them, we just wanted to beat them. It's different now. Me and Leon Powe actually went to [the elite] ABCD [camp] together, and he's a great dude. But on the court, there are no friends.
Land O'Lakers: During your senior year at Westchester, you nearly averaged a triple double. How did you see yourself as a player at that point?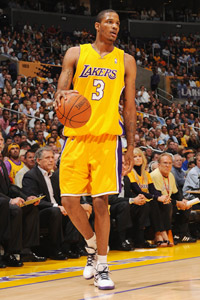 Evan Gole/NBAE/Getty Images
During the Lakers' run through the '09 playoffs, Ariza came up huge, particularly from beyond the arc.
Ariza: At the time, I liked to score, or whatever. I used to watch Kobe a lot. But my favorite players were Kobe, Tracy McGrady, and Penny Hardaway. Long guys, and I just loved the way they played. I always thought there was more to basketball than just scoring the ball. Coach Azzam always told us that everybody can score, but can you play defense? Can you rebound? Can you set somebody else up to score? Can you play for your teammates instead of yourself?
At Westchester, we had plays, and we couldn't shoot the ball unless three passes were made. Unless we were pressing. We pressed a lot, which is how our scoring would be so high.
Land O'Lakers: What was the challenge to balance the egos? There's only one ball, and you guys had a lot of talent.
Ariza: I don't think it was hard, because we would go at it in practice. That's where we would get our satisfaction, playing against each other in practice. Going at each other, going at each other's heads in practice. So then when we got out on the court, it was like, "OK, we fight all day in practice, now let's go work together on the court and beat somebody else."
Land O'Lakers: Kobe has made some appearances at Westchester. Did he do that while you were there?
Ariza: I think just after. Maybe two years after. I wasn't upset, because Quentin Richardson, Keyon Dooling, Darius Miles, Lamar [Odom], all those guys (then with the Clippers) used to come to our games and our practices and stuff.
Land O'Lakers: Which probably led to what you mentioned before, of feeling like you guys were pretty important.
Ariza: Exactly! See what I'm saying? But we just passed by all of them. We thought we were better, for some reason. It's funny, and I say it jokingly, but that's how we felt. But they stayed after games, and we would go up to Southwest [College] where they practiced, and we'd shoot with them after practice. After practice, they would come to Westchester and mess around and shoot around with us. It was fun. They helped us understand what it's like to be at that level.
Land O'Lakers: Did any of them give you particularly good advice you were able to take forward?
Ariza: They all taught us all aspects of playing in the NBA at an early age, from being independent and doing stuff on your own time, making the most out of your time ... to what to expect from everybody. Everybody grabbing at you, everything. They definitely prepared us for what we were to see later.
Land O'Lakers: So when you saw them, did you figure you'd all be playing together in a few years?
Ariza: No. Didn't expect that at all. Couldn't imagine that. We wanted to, but this is something you think is a dream, or a fairy tale, especially knowing the odds of going to the NBA.
Land O'Lakers: That's interesting, because you talked about the confidence you guys had, that you were the show in L.A., but at the same time the NBA seemed like a far away thing?
Ariza: Right. Because everybody dreams to go to the NBA, but out of everybody who dreams about it, or who was really good at the time, how many of them actually made it? I'm aware of the guys who didn't. Especially James Gray, a guy who used to go to Westchester. Or Evan Burns -- dude was unbelievably gifted. Man, he was very talented.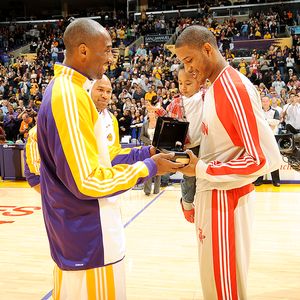 Andrew D. Bernstein/Getty Images
Ariza received a standing ovation from the Staples Center crowd when given his championship ring, despite no longer playing for the Lakers.
Land O'Lakers: What got in the way?
Ariza: Injuries, probably. I think that's the biggest thing that hurt [Burns]. The injuries.
Land O'Lakers: How did Coach Azzam shape your game?
Ariza: He helped me with the discipline. He let me be me. He let me express my feelings, express my emotions, and he didn't look at them as a bad thing. He liked that. I think that's what helped me out a lot.
Land O'Lakers: At times, he's been viewed controversially. Is he misunderstood, do you think?
Ariza: Maybe, but I think Coach Azzam, all he cares about is his kids. His kids that go to his school, and his kids that play for him. He doesn't care what anybody else thinks about him. As long as the kids that he's coaching know that he's going to fight with them until the end, that's all he cares about.
Land O'Lakers: You were recruited to UCLA by Steve Lavin, but ended up being coached by Ben Howland. What did you take away from that year in Westwood? Because it clearly wasn't what you expected when you committed.
Ariza: Everything is never going to go your way. You've got to work for everything you get, and nothing is going to be given to you, ever. If you want something, you have to go take it. You can't rely on anybody else getting it for you.
Land O'Lakers: How much did you have to adjust to fit his style and what he asked of you?
Ariza: He played defense. He's a defensive guy, and I think that was the big thing. I like playing defense as well. That's one of the things I think we all liked to do, that were there at the time. We all wanted to play, we all wanted to win. It didn't necessarily work that way, though.
Land O'Lakers: In one of the old game reports from high school, you express the feeling that you'd been consistently overlooked, and always had to prove people wrong. Where did that stem from?
Ariza: Well, to me, personally, I thought that if you're one of the best players in California, one of the biggest states in America, you should be a McDonald's All-American, right? That didn't happen. I don't know how or why. I didn't understand.
That's why I always felt like you have to work harder for everything you get, and that nothing's going to be given to you. That being the main reason, right there. I knew -- I knew -- that I was one of the best players here, but I had to prove myself again to everybody who didn't.
Land O'Lakers: In the long run, are you better off for having missed out?
Ariza: I think so, but I remember that day like no other, because I remember going to practice, and it was in the middle of some game. A college game. Maybe Duke against San Diego State, I think, and Dick Vitale was going to announce all the McDonald's All-American players, and I'm constantly asking Dewitt [Cotton, assistant coach], "Yo, who's on the team? What's going on? Did they call my name yet?" He wouldn't tell me anything until after practice, and then he told me they didn't call my name. The day before, they had just told our coaches I was going to be on the McDonald's team. Then after practice, they told me I wasn't.
I remember getting on the bus, going home, and just getting to my room and crying. Crying for, like, hours. Thinking man [forget] these people. I don't know what happened, or why, or how come. And I turned down the Jordan game because I thought I was going the McDonald's game.
Land O'Lakers: As an L.A. guy, what did it mean to play for, and win a title with, the Lakers?
Ariza:Again, that's one of those things where you feel like you didn't want to wake up from. It's like a dream. It's not something you can imagine doing as a kid. Yeah, you always say, "Three, two, one, I'm gonna hit the last shot for the Lakers to win it," but then really playing on the team and really having something to with them winning it? It's like, whoa, hold on, wake up. This can't be true.
Land O'Lakers: Talk about the night you were awarded your ring.
Ariza: It was a special moment, definitely. It was a great moment, especially because when I received it, or when they called my name, and they had the clip for me (on the scoreboard), it was like finally, somebody appreciated what I did, or stuff that I've done here for this city, or for this state.
Land O'Lakers: You got the standing ovation.
Ariza: Yeah. That's a very humbling experience. It was a great one.
Land O'Lakers: What part of your game most reflects having grown up in Los Angeles?
Ariza: I would probably say the swagger that I have. I'm laid back, but when it's time to get aggressive, I can get aggressive, and I don't back down from nobody. I think that's the big thing.
Land O'Lakers: A few people we've talked to have said that. Is there something about L.A. swag, as opposed to being from somewhere else? Is there something about the city that produces it?
Ariza: Well, we see that everybody wants to be here. If everybody wants to come see L.A., and this is the place that we're from, why should we want to be like anybody else? Everybody wants to see what we've got to offer, so let's show them what we really are. Don't back down, or don't try to change who you are for anybody.
Land O'Lakers: Do you feel like people underestimate L.A. players, because the city can be laid back?
Ariza: Of course. A lot of people say, "Oh you guys are Hollywood," or soft, or whatever. But we win. That's what we do. It's something that you guys like, you guys keep wanting to come out here, you all love us.
Land O'Lakers: What does it mean to you to come from L.A.? To be part of that lineage?
Ariza: It's a great, great feeling, especially because there are so many younger players now that are coming out or are on the rise, and I think that somebody -- which we are doing now -- needs to show them this is how we did it. These are the steps that you can take. We have so many people that everybody's way to the top is going to be different. I feel like if we all put that together, I think people are still going to keep coming [up], and keep doing well.
Previous Installments: