Looking for a way to suck the remaining productivity from your Monday workday? I present you this list of 20 nominees for the inaugural ESPNLA Hall of Fame. Choose five.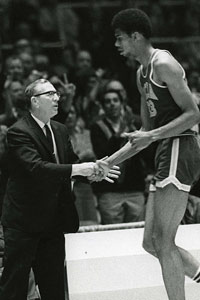 Malcolm Emmons/US Presswire
Two of your five ESPNLA Hall of Fame votes are pictured here. How many on your list should be Lakers?
Four, really, because only a loon would leave John Wooden, who delivered 10 titles to UCLA's basketball program while shaping countless people in and out of sports with his Pyramid of Success as well as the honor and integrity with which he lived his life, off the list. Wooden is quite possibly the most respected coach in any sport, anywhere, ever. He's in.
Score one for the Bruins. From there, though, the Lakers make a hard charge.
Kareem Abdul-Jabbar won five titles and three MVP awards with the Lakers -- not bad -- but on top of that went 88-2 with the Bruins in three seasons at UCLA, each bringing a title (for which he was named the tournament's Most Outstanding Player), and was so dominant the NCAA outlawed the dunk just to slow him down. Call him a split vote between golds purple and blue if you'd like but by any definition no player had a better basketball career in Los Angeles, college and pro, than Kareem.
That said, when it comes to a sustained run as the iconic face for sports in this city, no athlete tops Magic Johnson. Flash his picture across a television screen, and people don't just think Lakers, they think Los Angeles. Add in a couple trifles -- five titles and status as the greatest point guard in NBA history -- and his place in the five-person class is also a lock.
Now it gets tricky. With a Bruin and two Lakers (or 1 1/2 of each, if you prefer) in the books, only two spots remain ... with Jerry West still on the ballot. And Chick Hearn. And Pat Riley, Elgin Baylor and Phil Jackson, along with every Dodger, Trojan, Ram, Raider, King and Olympian.
Jackie Robinson is the most significant name left on the ballot, but I question if he's appropriate as a "first five" honoree in an L.A.-specific HOF, having never played professionally in the city. His most significant achievements, socially and athletically, were in Brooklyn. Robinson's resume as a collegian at UCLA is impressive, but that's not why he's on the ballot. Undoubtedly a first-ballot entry into the Humanity Hall of Fame, he belongs less to Los Angeles and more to all of America. While it might seem odd to some, Robinson doesn't get my vote, here.
My age (I'm 35) makes Fernando Valenzuela the most iconic among Dodger I actually saw play, but despite quite literally having a "mania" named after him, his current position as a Spanish language broadcaster and some serious love in la ciudad, Fernando wasn't nearly good enough for long enough to trump the brilliance of Sandy Koufax. Between 1963-66, while winning three Cy Young's and an MVP (plus a pair of second place finishes) Koufax's record was 97-27 (.788) with an ERA never higher than 2.04. In an almost cartoonish 1192.2 innings pitched, he struck out an even cartoonishier 1228 and walked only 259.
He's on my list. That leaves one more. Now it's really tough.
Marcus Allen is arguably the Kareem of football in Los Angeles, combining the most successful college career at USC (2,300+ yards and a Heisman in 1981) with great numbers as an L.A. Raider, plus a dominant performance in Super Bowl XVIII, a game in which he dominated. But while he accomplished much on the field, football has left the city and Allen has had no sustained presence here, since. Wayne Gretzky is the greatest hockey player of all time, saved the sport in Los Angeles, and single-handedly paved the way for the NHL to expand beyond cold weather cities (a not-entirely positive development as it turns out, but impressive nonetheless). Still, he never actually won anything here. This is L.A., where that sort of thing matters. Cheryl Miller dominated her sport at the high school (Riverside Poly) and college level (USC) like no other, but was light years ahead of her time and frankly didn't face the level of competition seen today in the women's game, or compared to others on the ballot in their respective sports.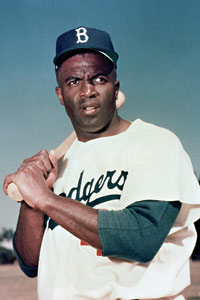 MLB Photos/Getty Images
Jackie Robinson is arguably the most influential athlete in American history, but does he belong on a first-ballot HOF for L.A. athletes?
Put those players ahead of Jackson (accomplished much in L.A., but will probably be more closely identified with Chicago), Baylor (never won a title, drags around his long, unsuccessful tenure as Clippers G.M. like Dustin Hoffman does Ishtar) and Riley (built a long, successful career in other cities after leaving L.A.), if you will, but are any of the aforementioned more deserving than West? Or Chick?
While he won only the lone title as a player with the Lakers, West has his fingerprints on the Showtime and Threepeat eras, and as far as L.A. sporting icons go is arguably bested only by Magic. His voice has remained a constant presence in the city, even when he left to go work in Memphis and now with Golden State. West is absolutely woven tighter into the city's athletic fabric than Allen and Gretzky, and is arguably just as accomplished. And what about Chick, the delivery mechanism for the Lakers to the fans over parts of five different decades, who quite literally invented much of basketball's modern language?
In the pre-Internet, pre-cable TV days, the role of the broadcaster was critical. Particularly so for professional basketball, which struggled for years on the fringes of the American sports culture. Hearn's work helped ensure the viability of the NBA, and the dominant place the Lakers hold in in Los Angeles is due in no small part to his brilliance over five different decades behind the microphone. He never made a shot for the Lakers, but for generations of Angelinos, Chick Hearn was family, and the team came with him.
(By the way, many of the same arguments can be made for Vin Scully, but because he's not retired, he's not on the ballot.)
Still, I'll give the edge to West, making my five choices:
John Wooden

Kareem Abdul-Jabbar

Magic Johnson

Sandy Koufax

Jerry West
Yes, it's a list heavy on Lakers, but while some on our panel of experts justifiably felt the need to spread the love, to me it feels appropriate. This is a Lakers town, and has been for a while. If I lived here when the NFL was a force, or grew up rooting for the Dodgers in the 60's or into the 70's and 80's, maybe I'd have a different perspective. But having been here for more than a decade, these are the names that resonate. Others deserve a spot in an L.A. Hall of Fame, but these are the Mt. Rushmore names.
The Lakers just own the mountain.