ESPN.com's NBA section has featured a daily offseason series where five writers answer five questions about a particular team. Pacific Division analysis begins today with the Lakers, and the scribes on hand are Dave McMenamin, J.A. Adande, our pals Phillip Barnett and Darius Soriano from Forum Blue and Gold and Warriors World's J.M. Poulard.
Clearly, nobody was interested in my opinion, but that won't stop me from offering two unsolicited cents. Here are my responses to the quintet of queries fielded by the panel.
1) Fact or Fiction: Mike Brown was the right hire
Fiction. Not so much because of Brown himself, but rather these Lakers are built for a few more years of success, tops. Continuity is important while working against the clock, and Brian Shaw provides the smoothest potential transition for a roster specifically constructed to run the triangle. Naysayers claim Shaw wouldn't "shake up" a team with complacency issues. Honestly, if getting swept out the semifinals isn't already a wake up call, a hybrid of John Wooden and Alec Baldwin's Glengarry Glen Ross character wouldn't get the job done, much less Shaw or Brown.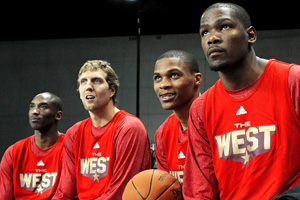 Andrew D. Bernstein/Getty Images
These cats haven't lapped Kobe yet, but they're not exactly eating his dust anymore, either.
Either way, no matter who you think would best follow Phil Jackson, I think we can all agree the way Brown was hired left boatloads to be be desired. If Jim Buss was looking to make a splash, mission accomplished. Unfortunately, he belly-flopped into the pool.
2) Fact or Fiction: Kobe Bryant is still the best player in the West
Fact, in the sense that 24 absolutely remains on par with the West's best (Dirk Nowitzki, Chris Paul, Kevin Durant, Russell Westbrook, among others). Measured by two-way/all-around play, intelligence and health, on a day-to-day basis, none of those guys have indisputably snatched the torch from Kobe. However, their names can at least be offered without eliciting a "You gotta be (NSFW) me!" response. The gap has narrowed and will continue in steady fashion.
All the more reason for the Lakers to make the most of Bryant operating at this level.
3) The Lakers need to...
Get a shooter. Obviously, a point guard upgrade would be helpful, and arguably mandatory. At the same time, the Lakers have enough guys who can bring the ball up, organize the floor and make plays, even if a Derek Fisher-Steve Blake tandem allows opponents to sleep easier than Rip Van Winkle. It would also be nice if the athleticism quota was raised and the perimeter D more stout. However, the former can be overrated and the latter will never substitute for great team D, as the Lakers' post-All-Star break lockdown proved. If the Lakers offer a consistent and conscientious effort, the D will be good enough.
In the meantime, nobody on the roster represents a steady outside threat. (Until Blake shoots as accurately and often as the version signed, he doesn't count.) A penetrating point guard, much less the Lakers' considerable inside talent, is only so effective when the lanes are constantly packed. For all the Lakers' collective versatility, they're remarkably low on marksmen. Their luck was pushed as far as possible without this particular skill set. Either a sniper must be added, or Blake (the most logical choice among current Lakers) needs to emerge a reliable force.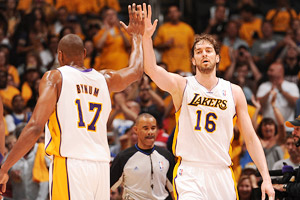 Andrew D. Bernstein/NBAE/Getty Images
Would the Lakers be best served with Pau and Drew high-fiving or waving goodbye next season?
4) Fact or Fiction: L.A. should deal Andrew Bynum or Pau Gasol
Fact-ish (Or "fact adjacent," if you prefer.) I'm not dying to move either, but both are expendable for the right player, and the likes of Superman, Cp3, or D.Will are more likely fetched with Bynum as bait. Drew's younger, his upside higher and his contract cap-friendlier. His health is also more uncertain, making him unreliable as the Lakers try to milk a closing window of opportunity.
I also have concerns about Bynum growing frustrated by the inherent ceiling to his role, unless Mike Brown has a very different vision of the immediate future than Kobe's. I'm not predicting a full-on "Kobe-Shaq II," but I'm also not convinced either will cede much ground. A trade might quell a potentially brewing clash while adding a quality player.
In the meantime, Pau, still trusted more by Kobe, is the steadier player with more to prove next year, and El Spaniard tends to respond well to summers getting barbecued. He's also more difficult to move, so this works out fantastic.
5) Fact or Fiction: The Lakers will win another title with the current core
If there's a 2012 season, fact. But if that campaign is lost, this group ain't toast, but they become decided second tier contenders. Key players grow older. Chemistry dissipates. Less anger -- and by extension, motivation -- may come from the Dallas butt whuppin' as days continue to pass by. There's no better time than the present for the Lakers to reassert themselves in the championship mix.