A couple weeks back, hoops-starved fans had an afternoon of sustenance, when Drew and Goodman, the preeminent summer leagues of the east and west coasts (D.C. and L.A., specifically) hooked up in Washington for a highly entertaining game. Goodman emerged with a one-point win, but more importantly those watching saw serious NBA talent-- among the participants were Kevin Durant, Brandon Jennings, James Harden, John Wall, JaVale McGee, DeMarcus Cousins, Ty Lawson, and DeMar DeRozen-- playing serious basketball.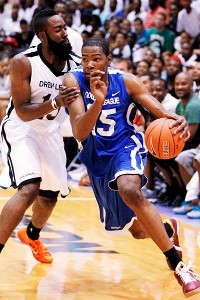 AP Photo/Charles Dharapak
Kevin Durant and the Goodman League won last month against James Harden and the Drew. It appears now a rematch won't happen.
It was a hit, and surely if someone could see fit to make seven installments of the Police Academy franchise, a second edition of this game could be put together. That was the plan, with the game tentatively set for September 10 at a venue somewhere around Los Angeles. Unfortunately, it ain't happening. Friday, the official Drew League Twitter feed announced the game was off, and today league Commish Dino Smiley confirmed the news.
"It's disappointing. We decided to cancel it, because the original plan was to do the game out in DC, then for the Goodman team to return to LA for the second one," he said. The Drew was in the the process of trying to find an appropriate venue, but "couldn't get something concrete and firm" from the Goodman folks regarding a date.
"The longer it went without the game taking place and the date being set up, we decided it wouldn't happen," he said.
While it would have been serious fun to see Durant, Wall, and Co. playing against stars from the Drew-- serious fun-- fans of the league can take comfort knowing Smiley is still at work. "We're talking to the San Francisco Pro-Am, and the Seattle Pro-Am," he said. "So we may do something with them, or may just do a showcase of our own."
By showcase, he means a Drew League All-Star Game of one sort or another.
Losing Drew vs. Goodman 2.0 was disappointing, but the saddest part of my conversation with Smiley was probably this: Despite the fact everyone and their uncle believes NBA training camps won't open on schedule October 1, once that date arrives planning these sorts of star-laden games becomes all but impossible. A venue can't be booked in advance when the participants might suddenly have to return to their real jobs, for example.
So not only will we be without the NBA, much of the other stuff goes as well unless players start filling the vacuum themselves.
If you thought you were hungry before...