Fans entering the Walter Pyramid at Long Beach State for the Drew/Goodman rematch Sunday night will view high-end talent playing with real playground freedom. Unencumbered by the structure of a typical NBA game (and by structure, I mean defense) players can unleash their full range of their offensive skills. It's great stuff to see up close; for the average fan, this venue gets them as close as they'll ever get.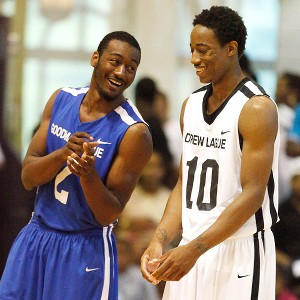 AP Photo/Charles Dharapak
John Wall and DeMar DeRozen are among the participants in Sunday's Drew/Goodman rematch. It is, unfortunately, a game that shouldn't exist.
As ESPNLA.com's Dave McMenamin notes, if the lockout has a bright side, exposing fans to L.A.'s "pickup" culture is probably it. Awareness of great summer games, from the Drew League in Washington Park in South L.A. to the always-high-end runs at UCLA has grown almost exponentially this summer, as fans jonesing for hoops discover some of the city's (heretofore) lesser known outlets.
In a vacuum, it's a great event.
In reality, Sunday's game could very well feel like running into an old friend at a memorial service. Sure, it's great to catch up, share some stories, and even a laugh or two, but in the end getting past the context of the event bringing you together is damn near impossible. So yeah, Drew vs. Goodman is fun, but by definition its existence means something else isn't happening, and it's not better than what's missing.
It's not cooler than the buzz generated by a regular season just around the corner, or more interesting than looking for early clues about Mike Brown's offensive system and how he'll manage the egos of players who vastly outstrip him in championship hardware. It's not better than learning how the debacle against the Mavericks has changed the team's outlook. It's not more significant than charting Andrew Bynum's progress, more important than gauging whether this is the season he really does chafe against the team's established pecking order, or if the edgier aspects of his personality on display at the end of last season are permanent. I could go on.
This isn't to discourage anyone from going. I'll be there, and am actually excited to watch the game. Lockout or not, I'm taking any chance I have to see (among others) Kevin Durant, James Harden, Brandon Jennings, John Wall, and Rudy Gay do their thing, especially in a game where flair, freedom, and creativity are more tolerated. I'll likely be oohing and aahing along with the crowd, watching without the critical eye we try to cast at Lakers games because.
Frankly, with something like Drew/Goodman, who wins is beyond the point. It's a celebration of skill. It'll be worth the drive.
Friday afternoon, ESPN The Magazine's Chris Broussard reported owners and players won't meet ahead of Monday's deadline to save an on-time start for the 2011-12 season, basically guaranteeing, save divine intervention, the first two weeks of the season will be canceled. But despite all the gloomy news of the week, there was some reason for optimism. It certainly seems like a deal is out there to be had. Hopefully the two sides, separated by a relatively small amount -- and remember, it's all relative-- can find the magic numbers that will save the season.
Without that hope, Drew/Goodman 2.0 is a tough event to love, because in a world lacking labor strife, it doesn't get played.