At some point, there will be basketball and a new CBA governing the game's economics. It's been widely speculated the new deal will include an "amnesty" clause, allowing each team to cut one undesirable contract. The player would still get his money, but the money would no longer count against the cap. Remember 2005's "Allan Houston rule?" Same principle. (By the way, you know your contract was a bust when they name the rule after you.)
Should this happen, who will be the Lakers' next Allan Houston? I make the hypothetical case for and against cutting all nine Lakers currently under contract, then assess the likelihood of them actually getting axed.
In order of likelihood . . .
LUKE WALTON
Pros: The presence of Metta World Peace and Matt Barnes, plus a back with the stability of a 75 year-old man, has reduced Walton to "dead money" status. Injuries have robbed Luke of nearly all his athleticism. Despite his best rehab efforts, remaining healthy just doesn't appear in the cards.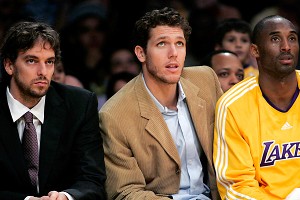 AP Photo/Lori Shepler
Luke Walton may not find amnesty from "amnesty."
He also hasn't averaged 10 minutes a game since 2009. Superior competition aside, Walton has simply grown ineffective. His stint filling in for an injured Barnes was, on its best day, spotty. Leapfrogging MWP, Barnes or maybe even Devin Ebanks (roster spot assumed) feels like a long shot. And with the triangle offense largely scrapped next season, his role is even fuzzier.
Cons: If teams value "locker room guys," Walton fits that bill, if at quite the hefty price tag. In 2013, Walton's contract expires to the tune of $6 million and could become useful after this season. As mentioned below, Walton's isn't the only contract that could be defined as "bad."
Likelihood on a scale of 1-10: 9.96. Are there reasonable cases for another candidate? Sure, especially if the issues aren't purely basketball. But I'd be pretty stunned if somebody other than Luke was chosen.
METTA WORLD PEACE
Pros: Last season was probably Ron's worst as a pro, and the guy ain't getting any younger, more athletic or blessed with a vertical leap. His contract runs through 2014, which could feel like 3014 if MWP's game continues to slip. Or if his act starts wearing thin. I've expressed concerns about MWP increasingly viewing basketball as a means of celebrity, rather than celebrity as the byproduct of basketball. His focus can legitimately be questioned. If the Lakers have a bad feeling about the future, I could envision them cutting bait.
Cons: Even in potential decline, MWP remains the Lakers' best wing defender. (Save perhaps Lamar Odom, he's also the most versatile.) His presence affords Kobe the luxury of fewer minutes checking elite perimeter scorers, making it easier for The Mamba to be The Mamba. Familiarity with Mike Brown's defensive schemes from their days in Indiana could prove handy during a compressed season. He's also conceded last year's poor campaign and the need for improvement.
Likelihood on a scale of 1-10: 7. In terms of basketball utility, it's hard to peg anyone ahead of Walton. However, if this was treated as a pragmatic or preventative measure, MWP would be the logical choice.
STEVE BLAKE
Pros: Blake's debut season left much to be desired, and he's under contract for three more. If you think the problem was more than lack of familiarity with the system or with his teammates, a clean break may be tempting. Darius Morris (roster spot assumed) could be immediately groomed as the point guard of the future. Or maybe the future backup, even if the Lakers make a move for CP3 or Deron Williams. In either scenario, Blake becomes expendable.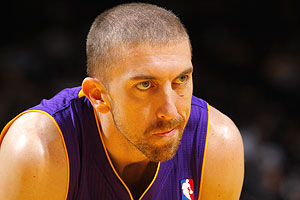 Rocky Widner/NBAE/Getty Images
Everybody was frustrated by Blake's 2011 season, but is that enough reason to cut him?
Cons: As poorly as Blake played last season, he's possibly still better suited than Derek Fisher to start at point guard in a system other than the triangle offense. He's also the best pure shooter on a squad that can ill afford to lose any threats from deep. The entirety of his contract is a reasonable $12 million, making him realistically part of a larger trade. If Morris isn't ready for NBA minutes, there's nobody to back up Fish.
Likelihood on a scale of 1-10: 5. It's not beyond the realm of possibility, but I'd be surprised. Blake's solid career should mean they give him the benefit of the doubt.
DEREK FISHER
Pros: Both topics make Fish huffy, but age is creeping up and his offensive production has fallen off a cliff. Beyond just the numbers, his efficiency and shot selection have suffered. He's hardly a classic point guard, and if Brown's new system requires more of a traditional floor general, Fisher could be relegated to the bench or, depending on Morris' readiness, even forced out of the rotation. Fisher may be a pro's pro, but I could still picture him getting pretty steamed by that scenario.
Cons: For all of Fisher's offensive woes, opponents still fear him with an open shot in huge moments. And for all the hand-wringing about getting dusted by elite point guards, he finds ways to contribute on defense, particularly when legitimate team defense is being played. His voice carries weight in the locker room, particularly with one Kobe Bryant. Amnesty would be a pretty lousy way to repay the dude who helped secure an actual season in the first place.
Likelihoo on a scale of 1-10: 2.5. Fisher still makes a difference and, as much as fans complain about him, there would likely be backlash. (At the very least, from Kobe, after his all-time favorite teammate was bounced.) That's not worth a savings of just $6.8 million over two seasons.
LAMAR ODOM
Pros: Given Lamar's rep for inconsistency, pessimists will claim L.O.'s career-best 2011 and Sixth Man of the Year honors only means a horrific curtain call awaits. If Dr. Buss is really pinching pennies these days, $8 million might be considered pricey for a bench player, albeit the league's best.
Cons: L.O. does too many valuable tasks for the Lakers, most notably picking up for the seemingly inevitable Andrew Bynum injury. He's the team's emotional leader and probably the most popular guy in the locker room. This being the last fully guaranteed year on his deal, Odom is movable down the line if not deemed part of the future.
Likelihood on a scale of 1-10: 1. If the Lakers want to part ways, it makes much more sense to trade Odom than cut him.
PAU GASOL
Pros: Gasol's coming off an inconsistent season and a horrific playoffs. If you think this dip marked the beginning of the end of Pau's days as an elite big man, the $57 million left on his deal becomes an anchor seriously difficult to shed. Perhaps there is permanent psychological damage from his postseason wipeout and the admitted personal issues. Thus, the boldly proactive move would be to cut Pau, make Bynum the primary big man, and re-sign Odom as the starting four of the immediate future.
Cons: Even cynics in the world described by Jerry Maguire roll their eyes at such negativity. Pau has a track record for bouncing back from adversity, and overseas competition should put him in excellent shape. Plus, Kobe still believes in Pau, and El Spaniard is the ideal second banana for the league's leading alpha male.
Likelihood on a scale of 1-10: 1. Pau remains one of the league's best big men and because of this, will remain a Laker.
ANDREW BYNUM
Pros: Injuries have made Bynum difficult to depend on. His strong desire for a larger role clashes with, according to Kobe, a third place spot (at best) in the pecking order. A full blown Shaq-Kobe II may not be inevitable, but tension isn't unrealistic. The Lakers are a team with a closing window as a championship contender and no time for nonsense. This reality would be driven home in neon lights if the front office axed Drew to make a point. Or just to save $16 million bucks, if that floats your boat.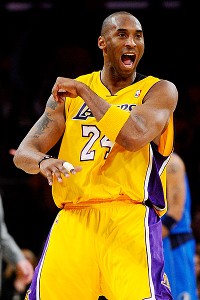 Kevork Djansezian/Getty Images
Cut The Mamba? Surely you jest!!!
Cons: What front office exec in his right mind cuts the team's best young prospect who also doubles as their best trade chip? Certainly not Jim Buss, who is a big Bynum supporter. And certainly not Dr. Buss, who didn't become the most successful owner in team sports by being a dummy. Plus, lest we forget, when healthy, the kid can play.
Likelihood on a scale of 1-10: .5. On every possible level, it's unfathomable Bynum would receive the amnesty treatment.
KOBE BRYANT
Pros: There is a rampant perception of Jim Buss' desire to announce his presence as lead shot caller, which led to cutting ties with all things Phil Jackson. No bolder way to continue this path than cutting the face of five championships under The Zen Master. (Plus, this would make Bynum the new focal point, which Jimmy would reportedly also love.) Or if in the Buss family's heart of hearts they feel the Lakers are no longer a legit contender and/or Kobe's injuries will only worsen, a rebuild would be tempting. $83 million off the books over the next three seasons aids that process.
Cons: Aside from this being an absolutely terrible idea from a basketball perspective, a business perspective (Bryant will draw crowds at age 50), and the perspective of a franchise recognizing the value of iconic players in purple and gold, none really.
Likelihood on a scale of 1-10: .001. This organization has been historically daffy enough to leave the door open a crack, but the actual likelihood is slim to none, and slim thinks this scenario is absurd.
MATT BARNES
Pros: Who knows if he'll regain last season's pre-injury form? If eight seasons with eight different teams has proven anything, Barnes is solid but expendable. Besides, Matt changing teams is practically an NBA tradition. With Theo Ratliff retiring, Joe Smith no lock to latch elsewhere and Drew Gooden improbably under a long-term deal, somebody has to carry the mantle as this generation's Chris Gatling.
Cons: With Walton perpetually injured, Ebanks unproven and Kobe in need of rest, it's risky to cut MWP's main sub. Not to mention odd, considering the guy makes less than $2 million, a bargain for someone of his caliber.
Likelihood on a scale of 1-10: O. Beyond illogical. Of every Laker under contract, amnesty for Barnes can be justified least. It makes more sense to waive him and eat the money, then use the Amnesty elsewhere for legitimate savings.