At 7 this evening, I should be parked on my couch watching the Lakers kick off their preseason in Fresno against the Golden State Warriors. Instead, I'll be inside the Walter Pyramid in Long Beach, liveblogging as Drew and Goodman League cats play A-List pickup ball. While the exhibition will offer some genuine thrills, they're ultimately empty calories pitted against the reality of what's happening right now in the NBA.
We're in the midst of a lockout, and the finish line appears frustratingly so close, yet so far.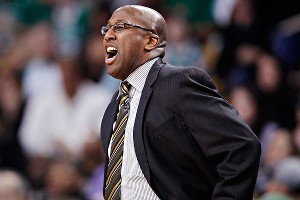 David Butler II/US Presswire
The sight of Mike Brown on a Lakers bench will have to wait.
For Lakers fans, this unpleasant truth is driven home further by Drew-Goodman. Save a last-minute addition, no Laker will be in Long Beach to provide even a nibble of purple and gold basketball to satisfy a fan's hunger. To the best of my knowledge, there's nothing remotely "Laker basketball" on the immediate horizon.
For fans in cities like Anaheim, Ontario and Las Vegas, the canceled preseason means perhaps a lost annual chance to see Lakers roundball in person. (For arena employees in those cities, the consequences equal an emptier wallet, which really stinks.) And for the Lakers themselves, it's a lost opportunity to get in sync with a new coach, a new system and, perhaps most importantly, each other. Chemistry was on short supply, and for a team battling a relatively short window as an elite contender, these games have more tangible utility than in the past. Obviously, it's not impossible for the Lakers to win a 2012 title learning on the fly in a shortened season. For a crew whose focus can wane during the regular season, a pressure cooker could become an asset if properly utilized.
Still, I'd rather have the chance to tune up, and when you consider the roster continuity of teams like the Heat, Thunder, Bulls and (key free agents presumably re-signed) Mavericks, the Lakers feel disadvantaged among contenders as the result of an obliterated preseason.
Tonight, we should have been witnessing the first glimpse of how the Lakers might operate as this critical chapter in franchise history unfolds. Not all the answers would have been provided, and neither a win nor a loss would be mistaken as a June oracle. Still, there are so many questions attached to this team, and even just a hint at the future would be intriguing.
How closely will Andrew Bynum or Pau Gasol be mirroring the roles of David Robinson and Tim Duncan during Mike Brown's days as a Spurs assistant?
Will Kobe Bryant be asked to do more than replicate the "Iso LeBron" imagery associated with Brown, fairly or not? What exactly is his role in an offense Brown has described as heavy on post play?
Is Bynum mentally and physically ready to shoulder the elevated role he's outwardly clamoring to receive?
Has Gasol recovered psychologically from his horrid playoff showing?
Will reigning Sixth Man of the Year Lamar Odom's versatility translate into a system perhaps less interchangeable than the Triangle?
Does scrapping the Triangle mean Derek Fisher coming off the bench and Steve Blake starting?
Was Metta World Peace's poor 2010 campaign a temporary stumble or a sign of his future in L.A.?
Can youngsters like Devin Ebanks, Darius Morris and maybe even Andrew Goudelock can bring anything to the table ASAP?
Did getting smacked by Dallas spark a team-wide sense of urgency, even in October?
Is Mike Brown in fact the right man to follow in Phil Jackson's footsteps?
So many plot lines begging for even a hint of clarity. Instead, we're kept in suspense, and not the fun kind like the night before Christmas.