It's unfortunately not an NBA game, but Matt Barnes is participating this weekend in a decent facsimile. "We Believe vs. Dubs" will feature members of the 2007 Golden State Warriors squad vs. the current crew. Dudes like Steph Curry, Monta Ellis, Gilbert Arenas, Al Harrington, Dorell Wright and, of course, Barnes will suit up, with a portion of the proceeds benefiting Barnes' Athletes Vs. Cancer charity.
Along with raising awareness about the event, Barnes dropped by the podKast to talk lockout, Lakers and and his health. Listen to the entire interview here, and the breakdown is below.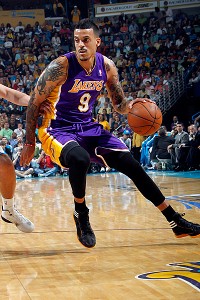 Layne Murdoch/NBAE/Getty Images
Matt Barnes is nearly healthy. Now he's just hoping to have NBA games in which to play.
- (2:50) Barnes notes how, as a locked out NBA player, you don't truly start getting antsy until November arrives and you're not playing. Thus, this situation is killing him. Still, Barnes is also cognizant of the privileged position enjoyed by members of the Association even during a lockout compared to fans that shell out bucks in a bad economy to see them play. He hopes these exhibitions help ease their pain a bit.
- (3:40) With his knee now at "90 percent," playing overseas is a more viable option for Barnes if need be. It's definitely not his first or even fifth choice as a guy who clawed and scratched early in his career to avoid destinations like Europe. However, if the writing on the wall looks increasingly negative, Barnes will heavily consider it. At the end of the day, he wants to play basketball somewhere.
- (5:09) Barnes acknowledges how, since every player's situation is different, they naturally don't all agree with how long they should force the issue for a better deal:
"It's a tough situation. You always have to look out for yourself and your family, so a lot of guys from what I've been hearing, and whispers, a lot of guys think 50/50 is good, and let's get back to work. But I've been consistently talking to Fish, and some of the other guys on the board, and we think it's important to stay together and push for that 52. We're pretty close, hopefully we can get that and get moving.
"But you can't really knock anybody for a move they may have to make for their family, or a move they may have to make for themselves, because financially, this is really our only income."
-(6:18) Barnes comments on the Foxsports.com report about Derek Fisher working with David Stern behind the union's back to curry favor down the road. The Laker point guard has emphatically denied this, and Barnes isn't about to question his teammates' integrity:
"I've known Fish for a number of years, and his character is second to none in my eyes. So what he does, I know it's for the good of us. It's almost like he's the president of the country. He's the president of the Player's Association, so all our faith lies in him and I fully trust what he's doing is for us, and for us to get to play again."
- (7:02) Assuming a shortened season doesn't equal an absurd amount of games piled on top of each other, Barnes feels the Lakers could benefit from this scenario.
- (9:30) Barnes is as curious about Mike Brown's vision for the Lakers as the next guy. He expects bits of the triangle to remain intact, but the rest is a mystery.Barnes is trying to obtain as much video as possible from Brown's days with Cleveland so, assuming there's a season, he can hit the ground running.
- (10:40) It's a charity game this weekend. However, the small forward has racked up techs left and right during the offseason exhibition games, and even a philanthropic setting won't change that. Why? Because a cost-effective setting is a cost-effective setting:
"If I get a chance to yell at a ref who makes a bad call and not have to pay $2,500 or $5,000 [in fines to the NBA], I'm going to do it all day. These free technicals, I'm going to kind of enjoy until I can't do it anymore."