Nov. 7, 1991.
I was on USC's campus, taking a walk down Trousdale Parkway. I don't recall whether I was headed to class or the Commons (where students typically congregate) looking for an excuse to ditch. What I do remember is that I hadn't been in front of a television or radio all day.
I ran into a friend, an L.A. native, whose typically laid-back body language had been shattered. I asked what was wrong, and he dropped a bombshell.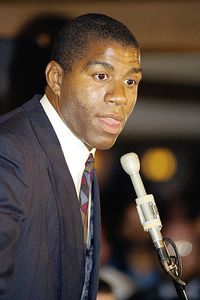 AP Photo / Craig Fujii
Nothing felt the same after Magic's historic news conference.
Magic Johnson was retiring because he tested positive for HIV. When my friend heard the news earlier from another friend, he'd been wearing a No. 32 Lakers jersey.
For a few minutes, it felt like the world stood still and my school had grown quiet.
I was a sophomore and had only been living in L.A. about a year, meaning I'd yet to become fully engulfed in my Lakers fandom. I also grew up in St. Louis, a city that lost the now-Atlanta Hawks four years before I was born, meaning it was hardly a hotbed of NBA culture. Obviously, I'd seen Magic Johnson play many times. But geography dictated more football, baseball and hockey watched than basketball as a kid and teenager.
Still, the news absolutely rocked me. The gravity of this moment was about more than the premature end of an iconic athlete's career. It was a cultural and societal game-changer. A new face had just been attached to a disease still carrying so many unknowns and prejudices. At the time, HIV and AIDS were thought of as afflictions primarily reserved for gay men, drug users and those outside the mainstream. For many, it was easy to cast those types aside and dismiss any vulnerability toward a similar fate. HIV may have been taken seriously, but for many, it remained somebody else's problem.
Magic, however, was beloved, so much so that some of the reporters covering his news conference actually cried. America had no choice but to view the disease with a sobering new perspective. As Johnson said that day, if he could test positive, we were all susceptible.
I've always felt that Magic's announcement was my generation's JFK moment, powerful enough to make the world feel different, and you don't forget where you were upon such a realization. I recently talked with longtime Lakers trainer Gary Vitti, who had been assigned the task of herding Magic's teammates to a meeting where he would reveal his illness. Unable to share details, he simply said the meeting was "gonna change all our lives."
Vitti was right.
Amazingly, what felt like an announcement of death in 1991 has evolved into a signpost for inspiration. He's done important work as an HIV and AIDS activist, while providing an example of how the disease can be managed and lived with. The advantages provided to a man of Magic's economic means are apparent, as well as the battle still ahead for millions dealing with this disease. But there's no denying the hope he's provided over the last 20 years. Initially viewed as living on borrowed time, he's since flourished in health and wealth, launching successful businesses across previously ignored areas of L.A. and turning virtually everything he touched into gold.
He may be remembered first with a basketball his hand, but I'd argue Magic's life has been far more influential after his career ended.