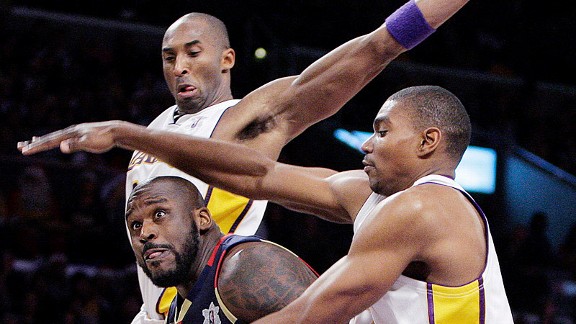 AP Photo/Jae C. Hong
Kobe and Shaq couldn't always make it work. Now Andrew Bynum seems to want a bigger role. Will it cause any friction?
Sweet Virginia, there's (most likely) going to be a basketball season!
It's been a long time coming -- 149 days to be exact -- but finally we can start talking basketball, not B.R.I., as -- if the NFL taught us anything -- what follows from here will be one of the crazier months the NBA has ever seen. A free-agency period that will likely be so accelerated it'll make speed dating seem intimate by comparison, along with a truncated training camp/preseason and, in a month or so, a slimmed-down version of a real season.
Is it ideal? Nope. But to quote the great Ned Ryerson, it "sure as heck-fire" beats the alternative.
It will take some time to determine exactly how the new CBA will impact the Lakers as a franchise, but in the meantime, there are plenty of other questions to ask.
1. Who wins the battle between the well-rested knee of Kobe Bryant (and his ankle, back, finger and general skeletal structure) and a compressed schedule?
2. Who wins the battle between the well-rested will of Bryant and the authority of Mike Brown?
3. What will Brown's system look like, and how quickly will the Lakers be able to pick it up?
4. In what frame of mind does Andrew Bynum arrive? Can he, as Kobe said he'd have to, "fall in line"?
5. If Bynum's play outstrips his traditional role in the offense, who loses shots?
6. We think Pau Gasol will be fine. Gasol thinks he'll be fine. But will Gasol be fine?
7. What happens if Gasol isn't fine?
8. Given that he's never been a paragon of offseason fitness (save USA Basketball years), what will Lamar Odom look like when camp opens after a long lockout?
9. Even if the core remains championship-caliber, the Lakers still have needs, from shooting to backup center to scoring off the bench and beyond. Where does the front office focus its attention in a tiny window for free agency?
10. If Shannon Brown goes, who backs up Kobe at the 2?
11. Is Devin Ebanks, who certainly could have used some time in the training facility around the coaching staff this summer, nonetheless capable of being part of the rotation?
12. How much will the incredibly grueling experience of leading the NBPA impact Derek Fisher's performance on the floor?
13. Is Fisher still going to be the starter on a Triangle-less Lakers team? How does Brown handle things if he isn't?
14. Can Steve Blake bounce back from his disappointing debut season in purple and gold, in a system with more traditional point guard duties?
15. Enough to start?
16. What happens if he can't?
17. Does a shortened season with more games per week help or hurt the Lakers?
18. When the trade deadline rolls around, who makes the big decisions for the Lakers: Mitch Kupchak or Jim Buss?
19. Who does what on Brown's coaching staff?
20. Untethered from the Triangle, does Metta World Peace's performance offensively improve, or was the system not the problem?
21. Who makes 3-pointers on this team?
22. How much help do the Lakers need on the wing? Can the World Peace/Matt Barnes combination (in those times Kobe isn't at the 3) get the job done?
23. Does Andrew Goudelock have a legitimate shot to make the team? Will there be space for Derrick Caracter?
24. Darius Morris surely will have a roster spot, but is there any chance he can contribute, even a smidge?
25. Given the increased importance of every game in a 66-game season relative to the normal 82, how do the Lakers measure minutes for their veterans, Bryant and Gasol in particular?
26. Who are the most viable contenders in the Western Conference, and which ones pose the biggest problems for the Lakers specifically?
27. To what degree were L.A.'s problems last season based on fatigue and the burden of working toward a fourth straight Finals?
28. How much was coaching?
29. How much reflected shortcomings in the roster?
30. Does a compressed schedule throw a wrench in Kobe's plans to practice more relative to the last few seasons?
31. How much will the schedule allow the team to practice?
32. While Kobe's minutes and shots per game were down last year, his shots per minute and usage rates were up. Does that continue this year?
33. Is there even a small possibility that Luke Walton is healthy enough to contribute?
34. Even if he is, does he have a role in a non-Triangle system?
Missing any? Add your queries in the comments section below ...