With labor peace having (tentatively) arrived we can now, mercifully, start looking at actual basketball issues like roster construction. Over the weekend, we noted those areas in which the Lakers need to improve, and as more details of the new (tentative) CBA emerge, so too does a clearer picture of how they might spend their money this year and beyond.
Practically speaking, in the short term things don't change drastically. Under the old CBA, the Lakers wouldn't have much flexibility to spend on free agents, and they certainly don't now. But clearly the landscape has (tentatively) been altered, and over time the Lakers will have some serious decisions to make bringing significant consequences.
Here are a few ways in which the new world order impacts the purple and gold: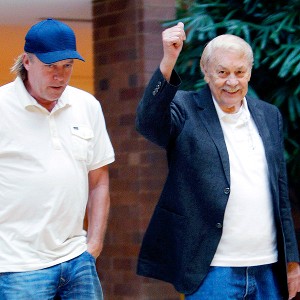 AP Photo/LM Otero
We know how Jerry Buss spent under the old luxury tax rules. How will he and Jim Buss spend going forward under a new, more punitive tax?
Luxury Tax:
Rule: No adjustments would be made to the luxury tax payout system ($1-to-$1) in the first two years of the agreement. The cap/tax threshold won't be any lower than it was last season.
Impact: Enormously positive. Their 2010-11 payroll ($90.4 million) was about $20 mil over the tax line. This season, the Lakers already have another $90 million (give or take) committed to nine players. Short of pulling a modified Norman Dale, they'll need a few more, meaning the number could float up. In 2012-13, L.A. has already committed $72 million to five players, plus another $3.4 mil for Derek Fisher's sure-to-be-exercised player option. This is before any decisions about Andrew Bynum, or Lamar Odom. Even if both go, obviously they'll need to be replaced, and the roster filled out. Even after potentially taking advantage of the amnesty provision (see below), without serious adjustments to the roster the Lakers are all guaranteed to be tax payers in the next two seasons.
That the penalty doesn't grow more punitive immediately makes it more likely the Lakers can keep the band together/add new members through at least two of Kobe's remaining "window" years.
When the honeymoon ends, things get dicier.
In Year three (it's a 10 year deal, but mutual opt-outs after six make it likely the we won't see the final four years) and beyond, the tax would rise to:
$1.50-for-$1 for teams $0-$5 million into the tax

$1.75-for-$1 between $5-$10 million

$2.50-for-$1 at $10-$15 million

$3.25-for-$1 from $15-$20 million
From there, teams are assessed another $.50 on the dollar for each $5 million jump, meaning teams $20-$25 million over would pay $3.75-for-$1. It's a much more punitive tax, even for massively wealthy teams like the Lakers. Via Larry Coon: "The Lakers' tax bill in 2011 (when the tax was dollar-for-dollar) was about $19.9 million. Under the new system, being that far over the tax line would cost them $44.68 million. If they were a repeat offender (paying tax at least four of the previous five years) they would owe $64.58 million!"
A couple mil here and there, and those numbers skyrocket even more.
The wild card is the influx of Time Warner money from their new TV deal. Will the Lakers pour that increased revenue into tens of millions more in tax payments and revenue sharing, or will at some point in some seasons cutbacks have to be made?
We've seen how Dr. Buss handles the current tax. Going forward, how will Jim Buss respond to a more punitive version?
But wait, there's more!
Rule: "Tax rates for teams that are taxpayers in at least 4 out of any 5 seasons (starting in 2011-12) increase by $1 at each increment (e.g., for team salary $5M-$10M above the Tax level, the Tax rate for a repeat taxpayer is $2.75-for-$1 instead of $1.75-for-$1)."
Impact: Let the Coen Brothers explain:
The Lakers are, in the NBA's eyes, recidivists. Repeat offenders! It's a pretty name for Lakers fans, but not in the minds of the competitive balance hawks in the league office.
As CBS Sports' Ken Berger points out, only four teams have been in the luxury tax four times in the six seasons of the now-kaput CBA. Obviously the Lakers are one, and as noted haven't simply dipped a toe in the tax, but wallowed in it. This provision forces them to either strip down the roster at least twice every five years or pay an even greater financial penalty. Figuring out exactly when to do this amid what will be major pressure to win in Kobe Bryant's remaining seasons would be tricky to say the least, as would be rebuilding on the fly for a post-Bryant era.
This rule also adds another complicating layer when it comes to ensuring Bryant finishes his career with the Lakers. Kobe has said he doesn't believe his current deal will be his last. How much money will he want in the next go round? Will the Lakers be willing to pay it, especially given potential mega-tax implications?
In the NFL, longtime stars for one team often finish with another. The NBA could be moving in that direction.
Trades and Free-Agent Signings:
Rule: Taxpayer mid-level exception is set at $3 million in year 1, maximum length of three years, and can be used every year. For non-tax teams, it would be $5 million, free to use every season, maximum length four years.
Rule: No biannual exception for tax-paying teams (for non-tax payers, it would be set at $1.9 million with a two-year max, used every other year, as it was in the previous deal).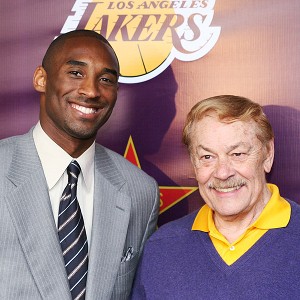 Kevin Reece/Wire Images
The new CBA increases the likelihood Kobe Bryant finishes his career in another uniform.
Impact: Again, very significant. In those seasons in which the Lakers are tax payers, this one included, their ability to use the free agent market to bolster the roster will be restricted. No bi-annual exception, and a less competitive mid-level (still an important tool despite a historic tendency to lead teams, Lakers included, astray). There will likely still be enough money available to lure an older veteran/role player who has earned his money and wants a ring, but younger guys with longer futures are less likely to come, now and down the road. The Lakers are selling harder their history, title opportunities, and the L.A. lifestyle, because there's less cash on the table.
Rule: "Except during the 2011-12 and 2012-13 seasons, teams are prohibited from acquiring a free agent in a sign-and-trade if their team salary post-transaction would exceed the tax level by more than $4 million. The maximum contract length for a sign-and-trade is 4 years, and maximum annual increases are 4.5%."
Rule: Extend-and-trades (think Carmelo Anthony to New York) are permitted, but at a price. Maximum length of the extension drops to three years, with raises of 4.5%. A team signing a player to a deal longer than the extend-and-trade permits can't trade him for six months, and a team acquiring a player in a trade can't give a contract extension larger than the E-and-T rules permit for six months.
Impact: Good news in the short term, tougher in the future. For the next two seasons, sign-and-trade deals remain available to the Lakers, leaving open an avenue to bolster the current roster and also plan for the future. In year 3, however, the tool disappears from the tool box. While not necessarily used extensively, in conjunction with other restrictions it becomes a bigger deal.
It also puts a clock on theoretical deals for Dwight Howard, Chris Paul, Deron Williams, or a different star. The Lakers (or any other team) would need a six-month cushion from the date of the swap before pen could meet paper on a contract extension. The goal, though, is to limit the ability of richies like L.A. to continue stacking superstars. All told, combined with the tax rules, assembling a powerhouse squad becomes more difficult, and keeping one together even harder. With the Lakers, superior management has in large part been responsible for the former, and deep pockets the latter.
In those years the Lakers drop out of the tax, though, the new rules will afford some new flexibility. Salaries on trades need only match within 150% rather than 125%, and the matching period on restricted free agents drops from seven days to three, for example. Shorter contract lengths will make it easier for teams to move players, build a roster, and undo mistakes.
Amnesty:
Rule: "Each team permitted to 1 waive player prior to any season of the CBA (only for contracts in place at the inception of the CBA) and have 100% of the player's salary removed from team salary for Cap and Tax purposes."
Impact: Andy laid odds on how the Lakers would use such a clause, and the clubhouse leader certainly does appear to be Luke Walton. It's not outrageous to think they might reach for Metta World Peace, given his inconsistencies and higher salary. Either way, the Lakers don't have that one albatross contract able to significantly change their financial picture, like the Magic do with Gilbert Arenas.
Interestingly, amnesty is not a use-it-now-or-lose-it proposition. Any single contract signed before this CBA can dropped at any point during the new deal, giving the Lakers more flexibility in how they use it. It might make sense to hold off on cutting Walton, who might at some point retire or qualify for an injury exception, then amnesty World Peace next season if he doesn't perform well.
The "stretch provision," by which teams could get out from under deals signed in the new CBA, will help the Lakers, allowing them the chance to take a shot on a player knowing if it doesn't work, the costs could be paid out over time, or even sign a guy for short term gain, knowing costs on the back end can be spread.
Conclusion:
For the time being, the Lakers aren't forced into sweeping changes, and keep the ability to make sign and trades. That's good. Conversely, they lose some tools for adding depth to the roster in the short term, restrictions only growing more strict with time. The new deal will significantly affect how the Lakers prepare for the 2013-14 season, the final one with Kobe and Pau Gasol under contract, and beyond.
Finally, it could have serious ramifications for Kobe's end-of-career future in Los Angeles, and what kind of team he plays for if still here.