Because Besiktas apparently gives out contract offers like Gideons do bibles, I wouldn't be surprised if half of you reading this have a deal on the table to join the Turkish hoops squad.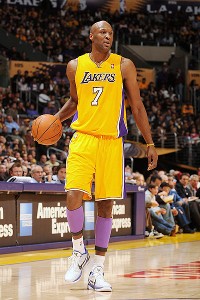 Evan Gole/NBAE/Getty Images
A little warm up time overseas could very well do Lamar Odom some good.
Particularly if one of you is Lamar Odom.
ESPN.com's Marc Stein reports Odom has been extended an offer by the Istanbul-based club, which has at one point or another during the lockout been connected by rumors and reports to, among others, Kobe Bryant, Kevin Durant, Kevin Love, Carlos Boozer, Luol Deng, Marcin Gortat and Deron Williams, who is of course the only guy to actually sign. (I hear conversations with other luminaries like Basketball Jones, Jesus Shuttlesworth, and Lola Bunny are progressing nicely.)
Stein says Odom is "giving the offer real consideration," though insurance questions (among others, I would assume) need answering. I don't know if Odom will ultimately take the deal, but where most Lakers fans hope the team's stars don't make the jump overseas -- no need to put extra strain or injury risk on Bryant, Andrew Bynum, or Pau Gasol, for example-- in Odom's case it wouldn't be a bad idea. Frankly, he's never had a great reputation for showing up to camp in peak physical condition, so getting real, competitive run in before camp opens can't hurt. Moreover, he's a rhythm guy. I don't think it's a coincidence his best season in L.A. came after Odom helped lead Team USA in the World Championships two summers ago.
No Laker has kept a lower profile this extended offseason than L.O. Maybe he's in spectacular shape and is just keeping it to himself, in which case staying stateside is ideal. If I had to bet, more likely a little structure would do him some good, because whatever training camp the Lakers eventually get (knock on wood) won't be the type in which a player can work himself into shape. Anyone starting this season behind the eight ball physically will stay there. Bad things happen behind the eight ball.
Meaning a little burn in Turkey, or anywhere else for that matter, could be a wise move.