Mitch Kupchak is facing some tricky questions.
Without a lot of money to work with, the Lakers have critical holes to fill around a championship caliber core. Point guard gets most of the focus, though prospects for quick improvement are slim thanks to a lack of solid free agent options or suitable trade chips. They need a shooter, and must get a viable backup to Andrew Bynum at center. A little speed would be nice, as would a dose of athleticism.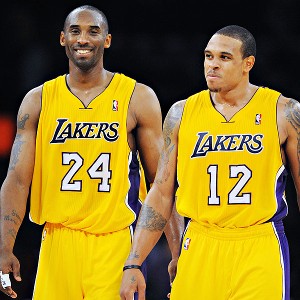 Kelvin Kuo/US Presswire
Last year, Shannon Brown was Kobe's wingman at shooting guard. Will he return this year, or will the Lakers find another backup for 24?
If there's one more open question perhaps not getting enough attention, it's this: Who exactly is going to back up Kobe Bryant?
The significance is obvious. Extended lockout related rest and space age knee treatments notwithstanding, nobody in his right mind would want Bryant to build on the 33.9 minutes a game he played last season, his lowest mpg average since his second year in the league. Particularly given the potential stresses of a compressed schedule, and the desire to have Kobe on the floor during practice more than he's been in the last few seasons. On a per-minute basis, Bryant was more productive last year than the season before, and the way L.A. tempered his workload seems a likely contributing factor.
Last season, Shannon Brown was Bryant's primary relief. After opting out of his two-year contract, Brown is now a free agent, one the Lakers can re-sign despite being over the cap via Bird rights. There are many things to like about him. His athletic ability is almost freakish, no small consideration on a team lacking big time athletes. He's a tough kid who has played all 82 games in each of the last two seasons, is a willing defender, plays hard, works hard, and wants to get better. He's a guy most fans would like to see succeed.
On the other hand, Brown lacks a consistent handle, struggles getting to the rim to create his own shot, and too often makes curious decisions, whether via the pass or the dribble. Offensively, while he can finish spectacularly on the break, in the half court Brown is essentially a mid-to-long range jump shooter who doesn't make nearly enough of them. On the other end of the floor, for all his physical gifts, Brown is inconsistent, particularly as a team defender.
He's flirted with it, but over his last two seasons in Los Angeles, Brown has never quite been able to take that next step.
As it was last offseason before he ultimately ended up re-signing, Brown will surely try to find more long term security than the Lakers are likely willing to provide, particularly since there is no clear avenue for him to become a starter while Bryant is still around. With that in mind and given his flaws, I've said for a while it makes more sense for him to go, and for the Lakers to let him.
Looking now, while it might be true in a vacuum, it might not be true in the real world, because if Brown goes, who replaces him? Ignoring trade scenarios (always difficult to predict when talking about rotation players), with only a low grade mid-level and veteran's minimum contracts to offer, the pickings could be slim. DeShawn Stevenson had a nice comeback season with the Mavericks last season, but while a tough defender isn't exactly a dynamic athlete anymore. Does he really constitute an upgrade? Do Anthony Parker, Roger Mason Jr., or Mo Evans?
I'd say no.
Tracy McGrady was effective with the Pistons last season, essentially playing a quasi-point guard role. He'd give the Lakers another effective ballhandler, but is (to say the least) a defensive liability, has never been a good perimeter shooter, and is unquestionably a candidate to blow up physically at any moment, despite playing 72 games during 2010-11. Remember what losing depth up front did to Pau Gasol last year?
Devin Ebanks is a potential wild card here, since he has athleticism and the Lakers asked him to work on his guard skills this summer, but relying on him to be your backup two from the jump is risky to the point of reckless. Ultimately, the Lakers may need to try and bring back Brown, even if he's not their ideal candidate, because replacing him with something equivalent or better could be very difficult. None of the affordable, realistic candidates are particularly enticing, but moreover all would cost money which the Lakers will have in short supply thanks to CBA rules, potentially cutting into their ability to sign other players in needed areas. They'd be robbing Peter to pay Paul (not Chris) when Paul probably isn't all that good to begin with.
If this scenario -- needing to sign a guy as much because at an important role in the rotation he'd be tough to replace -- makes you a little squeamish, I get it. A similar situation helped birth the now infamous Luke Walton Contract. But Brown is hardly a hold-your-nose option. He's a perfectly acceptable backup guard, if one whose incredible athleticism tends to distract from his shortcomings. If the money was right, the Lakers could certainly do worse.
But what do you do if the money isn't right?
Like I said, Mitch Kupchak is facing some tricky questions.