Friday afternoon's press conference with Mitch Kupchak and Mike Brown produced many bits of buttery basketball nuggetry. Kupchak emphasized L.A.'s limitations in the upcoming free agent market, and made it pretty clear he expects Shannon Brown to sign elsewhere (if the goal is a substantial payday, at least). Mike Brown, among other things, dropped clues about how he'll use Kobe Bryant, discussed Derek Fisher's status as a starting point guard, and said the compressed training camp and regular season schedule means he won't be able to implement his system as thoroughly as he'd like.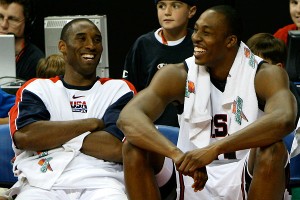 Daniel Gluskoter/Icon SMI
Fans and media can't stop asking if Dwight Howard and Kobe Bryant will be teammates in L.A.. We don't buck the trend.
Oh, and Matt Barnes said he's spoken to Dwight Howard, and he wants to come to Los Angeles. Can't imagine that'll fuel speculation.
In an effort to sort it all out, after it was over Andy and I hit the studio and recorded a fresh podcast, WHICH YOU CAN LISTEN TO BY CLICKING HERE.
We start by welcoming rookie point guard Darius Morris, selected with the 41st pick in last summer's draft, to the show. After establishing his proper height (listed three ways on draft day), he tells us how he spent his lockout lengthened offseason. Like all rookies, Morris was caught in limbo. No official support from his team, no income to rely on, no professional experience to reference. (6:52) Morris then answers questions about potential playing time, and what he missed this summer because of the labor problems. Losing access to coaches was disappointing, but Morris believes he gained a great deal by working out with other pros.
Finally, while Morris knows he has a great deal of work left in the interim (making the team, for example), he admits allowing his mind to wander towards Christmas.
After saying goodbye, we break down Kupchak's comments about free agency, and how he addressed questions about Howard (17:00). No surprise, Kupchak said nothing was on the front burner-- he wouldn't have told us, even if there was -- but how likely is it Howard moves somewhere before the start of the season, whether to the Lakers or another team? Andy thinks the odds are higher than I do, and explains why.
From there, it's on to Brown (23:47). After playing sound from Kupchak on the subject, we get into what it means. If he goes, who replaces him? What does losing Brown mean for the rest of L.A.'s roster bolstering mission? Who could they land? (27:00, give or take)
We wrap with Brown's comments on Kobe in the offense and ideas for the Mike Brown Suggestion Box. All of this, plus Karl Malone impressions and Duran Duran jokes!
To subscribe to the K-Bros podcast via iTunes, click here. Subscribe to our YouTube channel for full video coverage of the Lakers.