The Lakers have always thought big, something apparently not changing in the face of a new CBA. Via ESPN The Magazine's Chris Broussard: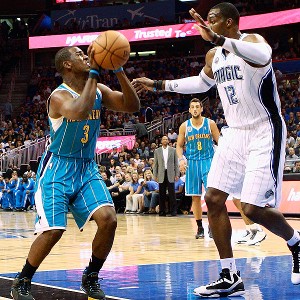 Sam Greenwood/Getty Images
Reportedly, if the Lakers had their way the only time Chris Paul and Dwight Howard would match up against each other would be at practice in El Segundo.
"It is no secret that the Los Angeles Lakers would like to trade for Dwight Howard or Chris Paul, but sources with knowledge of the situation say the Lakers actually have something greater in mind: acquiring both players. Hoping to pull off a pair of blockbuster moves that would rock the NBA, the Lakers are willing to trade anyone on their roster outside of Kobe Bryant to bring Howard and Paul to Los Angeles, two sources said. Whether the Lakers are able to make it happen remains to be seen, but with stars Pau Gasol, Andrew Bynum and Lamar Odom on the roster, they have the talent and the financial capacity to make the trades work. The Lakers have had cursory discussions with New Orleans about Paul within the past few days. It is not clear whether they have spoken with Orlando."
Conceptually, it's super heady stuff, probably the biggest semi-simultaneous deals in NBA history, except my initial reaction wasn't one of awe. Of course they'd want both guys. Put on your GM hat for a minute -- if someone asks whether you'd like the league's best center and arguably its best point guard (apologies to MVP Derrick Rose), the answer is yes. It's indulgent, but the same philosophy put filet and lobster on the same plate, created a market for these, and founded Las Vegas.
Mitch Kupchak wouldn't be doing his job if he didn't at least try.
Except there's a massive gap between "want" and "possible." Put aside questions of how much all this would cost, because currently that's the least important obstacle. As noted Monday afternoon, the Lakers are bereft of appealing trade pieces outside their "big three" of Bynum, Gasol, and Odom. As Yahoo! Sports reports, the Hornets aren't interested in Gasol as part of a deal for Paul. (Nor should they be. Nobody loves Pau more than me, but if I'm Dell Demps I don't accept a player over 28 in a CP3 swap unless his contract comes off the books right away, and then I'm demanding young talent, too.) That leaves Bynum as a centerpiece and as Andy pointed out, unless the rule saying otherwise is buried in parts of the new CBA that folks haven't gotten around to reading yet, Drew can't be traded to both the Hornets and the Magic.
Meaning the dream scenario for many Lakers fans is a virtual impossibility, save the most complicated multiteam trade in league history or monumentally bad work from Demps or Otis Smith in Orlando. Don't count on either.
More likely, if there's a genuine endgame in play, the Lakers are sending signals to both New Orleans and Orlando they're serious about making a deal if it's there, and the first team to jump on Bynum + _______ wins. I'd much rather make the swap for Howard. Paul is absurdly talented and the focus of this writer's enormous basketball man crush, but at 26 he's already dealing with a wonky left knee. Meanwhile, I'm fairly certain Howard is a robot.
Flipping Bynum for Howard is a no-brainer. Doing it for Paul makes me squeamish, but ultimately is the right move, as well. First, it's not as if Bynum has been the picture of health, sporting twice as many problem knees as CP3. More important, not only is it a tough call for the Lakers to commit to him long-term, it's equally difficult for Bynum to commit to the Lakers.
Heading into his seventh season, Bynum seems finally to be pushing against the natural ceiling placed on him by the Lakers' roster and talent level. If he wants to lead a team any time soon, it almost by definition can't be the Lakers. It's getting tougher and tougher to envision him as the future, and if he isn't it, the Lakers need to find someone who is.
He's a spectacularly valuable trade chip, and Kupchak can't give him away. Landing Paul hardly qualifies as charity. Still, talented as Bynum is, he can't land both Paul and Howard. So unless the signals change quickly and substantially, the Lakers will likely have to settle for a lone blockbuster deal.
This assumes they can make even the lone deal happen, which is hardly guaranteed.
To subscribe to the K-Bros podcast via iTunes, click here. Subscribe to our YouTube channel for full video coverage of the Lakers.