Lakers general manager Mitch Kupchak surprised the assembled media at Monday's practice in El Segundo with an invite to a meeting room, where he provided a heads up on where the front office's collective heads are at.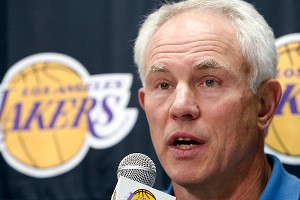 AP Photo/Reed Saxon
Monday, Mitch Kupchak spoke to the media for the first time since sending Lamar Odom to Dallas.
Dave McMenamin has the skinny summarized neatly here, but here's a basic guide:
- After a couple of days to cool off, Lamar Odom, through his agent, made it clear he was still angry about being included in the vetoed Chris Paul trade, and he wanted to be dealt. Kupchak got the vibe this feeling wasn't about to pass, so he made some calls to deal Lamar ASAP. Why the hurry? The desire to maintain flexibility moving forward, and he felt this could be damaged by waiting, then being forced to take on undesirable players to match salaries. Dallas had the space to absorb LO, so that was that. Was it easy to move Lamar to a contender within the conference? No, but the decision was deemed necessary, given the circumstances.
"You have to make a judgment," Kupchak said. "Is he going to carry this with him for the rest of the season? Is he not going to play as well? Are you going to have an opportunity [to trade him] that we have now? We made that decision."
- Kupchak says he understood why the move, which netted the Lakers Dallas' first-round pick in 2012 and an $8.9 million trade exception, could come off like a salary dump, but that's not the case. Moreover, had Odom not requested a trade, he'd be a Laker right now.
- Kupchak knows the team is unhappy with this move, and gets why. "I've seen the comments the players made and I understand that," he said. "You go to war with a guy like Lamar for six, seven years and you win two championships and go to the Finals three times, you're going to feel that you've missed a guy and you feel for him. You feel for the whole group."
- As for what happens next, that's still fluid, but one item on the list won't be "stand pat and call it a day." Kupchak said he "expects" to move forward with a big three of Kobe Bryant, Pau Gasol and Andrew Bynum, but also acknowledged that's in large part because no blockbuster can ever be "expected." And make no mistake, the Lakers are looking to make a big deal. For that matter, they're looking to improve around the margins as well.
Nobody is completely safe except Kobe, who, beyond being who he is, also possesses a no-trade clause. Otherwise, the entire roster is potentially in play.
- As recently as a couple of weeks ago, Kupchak declared confidence in the ability to win a title returning essentially the same team as last season. The move to get Paul would have busted up and radically face-lifted that same roster. Why the change of heart?
"Opportunity," Kupchak replied. "The environment has been dormant up until the day [team executives] were cut loose to go [pursue trades] ... There were no discussions [before that]. Nobody knew who wanted to be where, what the rules were. What the present rules were, what the future rules are and, you know, nothing. Just some innuendo and some rumor you'd hear every now and then, but when we were cut loose two weeks ago, everything changed.
"You have to deal with those opportunities as they come up."
- Kupchak is very tired. Dude's been working 14-18 hours a day the last two weeks, and the load ain't about to lighten any time soon. With a compressed free-agency period in full swing and the clock ticking until Christmas Day, he's likely to spend many more days chained to his desk with a phone at his ear.
"It's something we've never dealt with before. The NBA is shooting from the hip."