If you can't have Lamar Odom running your bench, how does one of his close friends since childhood grab you?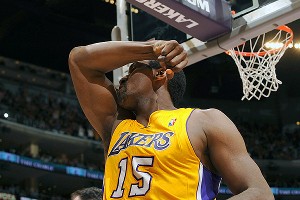 Noah Graham/NBAE/Getty Images
Metta World Peace has a chance to flex his muscles as Bench Kahuna.
When I interviewed Metta World Peace this offseason during a "Dancing With the Stars" rehearsal, the small forward said he "wouldn't be surprised if [Mike Brown] brings me off the bench." Well, as he revealed during Thursday's practice, this wasn't an attempt at clairvoyance, but rather coyness. This plan was hatched when the two spoke shortly after Brown was hired. Given MWP's less than stellar 2011 campaign, fans may assume this was a decision to improve the starting lineup. (For now, Brown says, the starting gig is a three-way race between Matt Barnes, Devin Ebanks and Luke Walton.) But as both explained, it's actually about creating a better second unit and hopefully a better version of Metta.
"I think we need to bolster our bench," Brown explained. "I think we need to able to have certain guys we can play through and I think at times, we can play through [World Peace]. Not only that, my opinion is if he's with the starting group, there's one basketball. I got three guys [Kobe Bryant, Pau Gasol and Andrew Bynum] that need touches. I got three guys in that starting unit that are post-up guys. With my second unit, [World Peace] will be one of my main guys. He'll be one of my main post-up guys."
Added Metta: "It's going to be good. … I get a chance to come in and have some more responsibility, which I've had my whole career. So it's going to put the other team off balance because when Kobe, Pau and Bynum are out, you still got to double-team me on the block. You can't leave me open. So at all times on the floor there's going to be a threat. You can't leave me on the block by myself, you can't."
Will this plan prove effective? That remains to be seen. But on paper, thinking about the bench's needs, along with Metta's, it actually makes sense.
MWP's presence may help the second unit on a practical level during this compressed season. After two years in the triangle often spent resembling a student without his crib sheet, World Peace is suddenly ahead of the learning curve. From their time together with the Pacers, he's familiar with Brown's concepts on both sides of the ball, and knowledge is king these days. Bryant, Gasol and Bynum can go a long way toward offsetting hiccups and sloppiness, but the reserves don't boast nearly as much collective talent, which shrinks the margin for error. A veteran capable of directing teammates will come in handy, especially at the start of the season when heads will surely bump.
"He, in his own uncanny way, is a leader," Brown insisted. "If that same group's not doing well at times, I'm gonna get on [World Peace], because he wants the responsibility of leading that group."
In the meantime, with Odom and Shannon Brown gone, the bench lost its top two scorers from last season. The Lakers will need a legitimate option, and MWP certainly qualifies. Last season notwithstanding, he's been a double-digit scorer his entire career. World Peace's efficiency has traditionally left something to be desired, but between Steve Blake, Josh McRoberts and Jason Kapono and among Barnes, Ebanks or Walton, he's easily the most bankable option for a bucket. He'll also command a fair amount of defensive attention balling against second units, which will hopefully create opportunities for everyone else.
In the meantime, I think MWP may benefit as a player from an expanded role.
Nonexistent vertical leap and penchant for strange decisions acknowledged, I've often felt MWP's offensive struggles were much the byproduct of being given very little to do. His role often consisted of standing in the corner and waiting for the ball, which doesn't play to his strengths and, more importantly, disconnected him from the action. Every now and then, however, there was a concerted effort by Phil Jackson to let MWP operate from the block, and this usually coincided with Metta's most complete offensive outings. Yes, the rock in MWP's hands will occasionally mean possessions worthy of "Yakety Sax," but he's actually a good passer capable of making plays for others. And while drives to the rim are sometimes a blocked shot waiting to happen, dude is nonetheless a bear for defenders to handle down low.
Plus, despite being a good soldier about sacrificing shots in the name of "team" and "winning," it's fairly evident he could live with his number being called more often.
In any event, this new role should go a long way toward keeping World Peace engaged, the importance of which can't be overstated.
During MWP's first season in L.A., triangular confusion was consistently offset by his relentless nature. Whether through defense or just his overall activity, MWP was able to put his imprint on games, and that doesn't happen without being dialed in. Last season, however, his head often appeared elsewhere, and an offseason with his fingers in various showbiz-related pies only sparked more concerns about focus. Another year spent mostly spectating as the big three go to work feels like a recipe for more drifting.
Instead, the ante has been upped. Whenever Metta takes the court, he'll be expected to score, help create for others and lead. That allows very little time for daydreaming, and will perhaps spark a return of his form during the championship season.
Fittingly, as Metta spoke to reporters about his new role, he was interrupted by Brown, who asked, "And if that second unit ain't rolling, whose fault is it?"
Metta's reply?
"My fault. It's all on me."
The last time he entered a season offering to take the blame for bad things, the Lakers ended up beating the Celtics for a title. Maybe this is a sign that version of MWP waits in the wings.
"This is gonna be a different year for me, I think," World Peace said. "It won't be a selfish year. I guarantee that. I'm not gonna be out there trying to satisfy people [who want him to score more]. If I have to average five points, that's what it's gonna be. We just gotta win. That's it. That's all that matters is winning. But it could potentially be a different year."