There is no way of discussing the Lakers' forwards without discussing Lamar Odom. His abrupt trade to Dallas would be the elephant in the room, except that would require everyone to stop talking about it. It's no exaggeration to say the potential effect of his absence has been obsessed over. How will the Lakers bring in a player to serve as the same key cog in back-to-back-championships and three consecutive trips to the Finals?
Honestly, they won't. Because it's essentially impossible to replace Odom.
Kobe Bryant has stated this. Ditto Pau Gasol. And Derek Fisher. And Matt Barnes. Even Mike Brown, who never coached LO so much as a day in practice, seems to agree. Beyond the personality, presence and heart Odom provided, his impact on games is virtually limitless.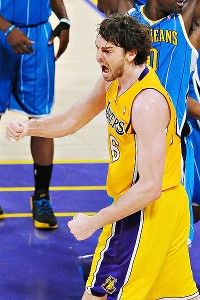 Jayne Kamin-Oncea/US Presswire
Among forwards, the quest to offset Lamar Odom's absence begins with Pau Gasol.
Odom can play either guard spot, either forward spot or even as a center in a small lineup. Whether leisurely bringing up the ball to initiate half-court sets or running the team's best break, his ballhandling skills and court vision are exceptional. He cleans the glass. He can finish at the rim and, if last season's career-high 38 percent 3-point clip is maintained, his outside shots are now dangerous. On the other side of the ball, he plays some of the NBA's most varied (and underrated) defense. Plus, he allowed the Lakers to endure Andrew Bynum's inevitable injuries without becoming a discernibly worse team.
One player offering half of what LO's worth is rare. Everything? That list is exceptionally small and includes no current Laker. That being said, what's most important is that LO's ex-teammates chip in to pick up his slack. And in theory, the forwards trotted out by the Lakers this season could combine to form a sum equal to Odom's parts. Let's look at the list, shall we?
Pau Gasol
El Spaniard has been an afterthought of sorts this preseason. A terrible playoffs removed him from Lakers fans' good graces, and with his name persisting in trade rumors, there's a feeling he'll be removed from the roster. But for now, he remains in purple and gold. And assuming he bounces back (as I believe he will), Gasol is a cornerstone for the Lakers' title hopes as a player similarly versatile as Lamar. He'll provide more consistent scoring than LO, and if the outside shot he has been developing grows reliable, perhaps from as many spots on the court. His forays leading the break are rare, but operating from the high or low post, he's every bit the facilitator Lamar is. Defensively, he's neither as consistent nor as versatile as Lamar, but he's also hardly a slouch when dialed in.
It also doesn't hurt he's actually a better overall player than Lamar.
Obviously, the blame for any doubts surrounding Pau are his to bear, along with the burden of regaining the Laker Nation's trust. But playing like "Pau Gasol," he lays a championship foundation with Kobe and Drew, allowing the other forwards to fill cracks.
Metta World Peace
In the most literal of senses, MWP will replace his close buddy as the designated second-unit leader. In theory, a sixth-man role offers him the same chances to put a stamp on games as a featured force (often on the block), rather than spectate while the "bigger three" go to work. MWP's playmaking capabilities obviously don't match LO's, but he's actually an underrated passer. Throw in some semi-efficient scoring and MWP may not feel too watered down a sixth man compared to LO.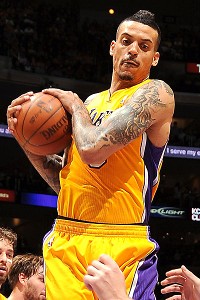 Noah Graham/NBAE via Getty Images
Matt Barnes will get more opportunities this season.
Either way, MWP's defensive credentials, whether measured by effectiveness or the variety of conceivable assignments, are well established. Last season's fourth-quarter schooling of Blake Griffin was among the few highlights during a largely unimpressive campaign, but also underscored how Metta's defense remained largely solid, regardless of any size or speed surrendered.
Matt Barnes and Devin Ebanks
These are the leading candidates to replace LO's "X factor" quality. Barnes is a classic "energy" player who, while nowhere as talented, shares LO's willingness to fill areas of a stat line beyond scoring. Lamar's perpetual reluctance to call his own number frustrated Lakers fans since he arrived, but for Barnes, the presumed starting small forward, it's actually a plus. Barnes has made a career out of purely opportunistic scoring, and will remain content doing the proverbial "dirty work" LO also enjoyed. In particular, Barnes is among the best rebounding small forwards in the league, and he's stated a goal of significantly bumping his averages this season.
For his part, Ebanks, like LO, provides singularly unique utilities on this particular roster: In Devin's case, it's youth, athleticism and speed. Whether as a change-of-pace player or simply to shade a fleet-footed wing, Ebanks has the chance for some burn this season. Judging by the early indications from practice and Friday's scrimmage, he's ready to contribute. Considering how brutal a compressed schedule will be on this collectively old squad's legs, the kid pulling his weight could make a difference.
Plus, Brown sees Barnes and Ebanks as largely interchangeable, whether as starting small forwards or backup shooting guards out of position as traditionally defined. Thus, they carry forth LO's tradition of playing in spots all over the court, offensively and defensively. Neither handles the ball like LO, which limits them offensively, so keep the expectations grounded. But consistently credible efforts will go a long way.
Josh McRoberts and Troy Murphy
As left-handed power forwards slated to play off the bench, the two newest Lakers have the decided misfortune of being pegged as the "Lamar Odom replacements." Combined salaries of less than $5 million should make perfectly clear they're nowhere near LO's class as players. However, that's not the same thing as being incapable of providing value.
According to the scouting report from our friends at Eight Points, Nine Seconds, McRoberts resembles at times a "poor man's Lamar Odom" because of his floor vision and ability to move the ball. Friday's scrimmage demonstrated the comparison, and to reasonably good effect. McBob's prone to turnovers, and won't defend nearly as well as LO, but that ability to move the ball and find guys in the right spots could be critical for a unit lacking anybody capable of creating his own shot.
Oh, and for keeping skill set score, LO has nothing on McRoberts as an explosive athlete. I don't think it's a stretch to say this roster could use an infusion of such qualities.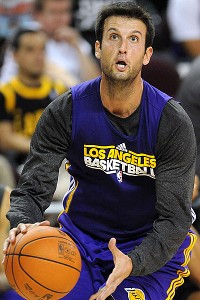 Jayne Kamin-Oncea/US Presswire
If you do only one thing well as a Laker, it might as well be shooting.
In the meantime, Murphy's defense makes McBob look like Ben Wallace, and he's coming off a disastrous, injury-riddled 2011 season. But health assumed, the Notre Dame product has a nose (often broken) for rebounds and is a better bet from outside than Lamar. Last season notwithstanding, Murphy has canned at least 37 percent of downtown shots every season but once dating back to 2005.
Plus, Gasol's inability to recover last season from the heavy workload caused by early injuries to Bynum and Theo Ratliff drives home the importance of bodies at backup five. Neither McRoberts nor Murphy is an ideal center, but they'll do in a pinch, particularly against reserve centers often smaller and less skilled. With Derrick Caracter out four to six weeks, their additions become even more critical.
Jason Kapono
Brown may play Kapono as a shooting guard off the bench, but at 6-foot-8, he's a natural small forward and a part of this list. In nearly every way possible, Odom smokes Kapono as a player. However, Odom's 38 percent clip from behind the arc is as good as he's ever been, whereas Kapono's 36 percent with Philly in 2010 was his personal nadir. (I don't give much credence to 2011's drastic dip, since the sharpshooter barely played.) This team can never have enough guys stretching the floor.
Luke Walton
Walton's ability to stay healthy or his usefulness in a system not molded by Tex Winter remains to be seen. (For what it's worth, and that may be "bupkis," Brown's been quite complimentary of Luke since camp opened.) Should templates hold, Walton can at best serve as an LO-lite playmaker and wheel-greaser. But even if habitually injured and/or just residing in "DNP-CD County," Luke's good in the locker room and can focus on keeping LO's positivity on high supply.