A funny thing happened on the way to a fairly humdrum preseason home-and-home between the Lakers and Clippers. Chris Paul became a Laker, or so it seemed, before ultimately landing with the LAC and completely changing the context of professional basketball in L.A.. No longer are the Clips Blake Griffin and a bunch of promise. Instead, they're headlined by two young superstars, anchored by vets Chauncey Billups and Caron Butler, and in the eyes of many don't simply have a potentially brighter future than their traditional Staples overlords, but a brighter present.
So yeah, Monday's game doesn't count for anything, but definitely takes home the title for Most Interesting and Anticipated NBA Exhibition Game in Los Angeles History. That should be worth something.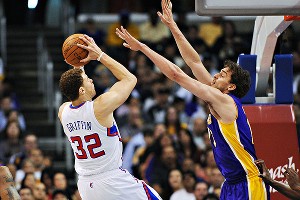 Kelvin Kuo/US Presswire
Pau Gasol's length was a problem for Blake Griffin in four games last season against the Lakers.
Here's what to watch...
1. Griffin vs. Pau Gasol
Last season Griffin was a force en route to a unanimous Rookie of the Year award, but struggled against the Lakers, posting numbers below season averages in points (19.5 vs. 22.5), rebounds (10.5 vs. 12.1) and field goal percentage (40.8 vs. 50.6). One big reason was Gasol, who effectively used his length and size to limit Griffin in the Clippers' half-court sets.
Gasol is, at least on paper, still a superior player overall to Griffin, with a wider offensive repertoire at his disposal, plus better passing skills. He's also the superior defender. At least he was last year. While Monday's game doesn't mean anything in the standings, it will serve as a measurement of Griffin's progress from Year 1 to 2, and Gasol's state following a horrible 2011 postseason.
2. Chris Paul vs. Mike Brown's defense
Via ESPN Stats and Info, last season Paul generated the league's third-highest rate of points-per-play as the ballhandler on pick and rolls, at .981. (LeBron James was second. Who was first? Scroll down to find out.) And while the season long numbers weren't as bad as the aesthetics, you may have noticed the Lakers periodic struggles to defend the P-and-R, particularly in the playoffs.
Talking to Andrew Bynum this week, from a schematic standpoint he said defensively the Lakers won't change much this year relative to last. They'll show more aggressively on pick-and-roll, but the other fundamentals remain about the same. What Brown preaches is execution. Crisp rotations, aggressive close outs, multiple helps. He is a defense-oriented coach, who has emphasized defense heavily over the course of training camp. Energy and attention to detail on that side of the ball should improve.
The Lakers last year were at their core a good defensive team that lost its way. Monday provides an early gauge of Brown's progress rehabbing the group.
3. Lakers pick-and-roll vs. Clippers
While Paul dominated in P-n-R last year, the Lakers were horrible. Again from ESPN Stats and Info, Lakers ball handlers averaged only .762 points per play and shot a miserable 37.5 percent, both ranking 29th in a 30-team league. That ain't good. Granted, while they hardly entered triangle sets every time down the floor, relative to other teams the Lakers didn't actually run pick-and-roll all that much (one of the things making them unique and, frankly, I'll miss). When they did, it was generally later in games with Kobe Bryant on the ball. In a more conventional offense, we'll see far more pick-and-roll, and likely more guys other than Kobe handling the rock. How well will the Lakers function?
4. Coach watch!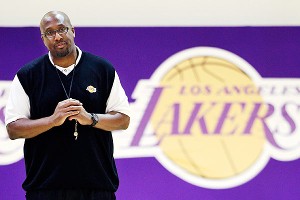 AP Photo/Danny Moloshok
Sweatervests? Check. Eyeglasses? Check. Gravitas? TBD.
The pressure has been on Brown since he walked in the door, and to say the least the challenge in front of him is stiff. Everything he does -- lineup combinations, offensive sets, substitution patters, etc. -- will be put under the microscope, and his chumminess with Kobe will be measured daily. Such is life taking over for arguably the most successful coach in the history of team sports. But while Brown is certain to take some lumps, his track record as an NBA head coach (.663 winning percentage) is undeniably strong.
On the other sideline, Vinny Del Negro came from Chicago with a .500 career mark and plenty of questions. Relative to the norm in Clipperland, expectations were fairly high, but afforded some wiggle room. Now, though, the Clippers are expected not just to be regular good, contending-in-the-West good. Can Del Negro, seen by many as a weak link in the Clippers' chain, rise to the occasion?
5. Devin Ebanks
Even giving away prospects in the Paul deal, the Clippers are still littered with youth. The Lakers, not so much. Signing 24 year old Josh McRoberts adds energy and hop to the frontcourt, but he won't be expected to generate much offense on his own. Meanwhile Ebanks, 22, could become a needed source of secondary offensive punch from the wing. In Friday's scrimmage, Ebanks had his jumper working, and Kobe has praised his development offensively throughout camp. If he develops into a solid rotation player, Ebanks will provide a much needed jolt for a second unit short on shot creators.
Trivia answer: Beno Udrih, then of the Kings. Serious kudos to anyone who got that right without looking it up.