Two days later, they meet again. As we continue to gauge the readiness of the Lakers and Clippers as Christmas looms, here are five items to watch for in their final preseason action.
1) How much progress is evident for the Lakers in Game 2?
As Brian noted after Monday's Lakers loss, the blogosphere and Twitter reaction ranged from "Trade EVERYONE for Dwight Howard!" to "Jim Buss is destroying the Lakers!" to "Finally, an organic excuse to follow my secret dream of being a Raptors fan!" (Okay, the third reaction might be made up.) No question, the Lakers didn't look so hot, particularly during a brutal third quarter lowlighted by nine turnovers and just 17 points. For a Laker Nation already sweating last season's playoff exit, the Phil Jackson-Mike Brown transition and the clock ticking on Kobe Bryant's prime, this flat start did nothing to calm nerves.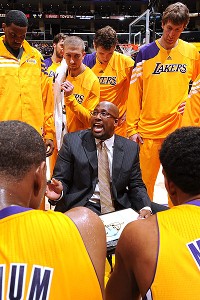 Andrew D. Bernstein/NBAE via Getty Images
It'll take some time before Mike Brown's schemes become second nature.
At the same time, disappointing as Monday's showing was, it was to be expected. The Lakers opened training camp 12 days ago, in which time the Lakers have lost Lamar Odom, signed Jason Kapono, Josh McRoberts, and Troy Murphy, and have begun the process of learning a brand new offense and defense. And by "new," I don't mean tweaked versions of what's been in place. The shift is radical.
Between his innate basketball intelligence, 15 NBA seasons and unquenchable "student of the game" tendencies, Kobe is an old dog difficult to teach genuinely new tricks. So if he's learning under Brown, you know everyone else is.
Those looking for a quick fix, whether fans or players, will likely be disappointed. I realize in a 66-game season, each contest matters more and time is not on the Lakers' side. And you can't sidestep the learning curve. The Lakers have no choice but to embrace the kinks and work through them.
What can be reasonably expected, even two games into the preseason, is some kind of tangible progress. Increased comfort, however small, on both sides of the ball. Possessions more fluid. Players more sure of where to go, especially defensively.
If the Lakers can move forward, even with baby steps, in the ways described above, it's absolutely reasonable to keep demanding more. But it's equally reasonable to feel perhaps things aren't as hopeless as the vibe 48 hours ago suggested.
(For those noting how the Clippers are dealing with the same issues -- new personnel, limited practices -- that's technically correct, but the situations aren't quite identical. Highly skilled additions like Chauncey Billups, Caron Butler, and Chris Paul make this transition much easier through their talent than the Lakers' addition of new role players. Plus, when your orientation is led by CP3, the best player in the league at keeping games on a string, the "getting to know you" period becomes even easier. That's not to say the Clippers don't deserve credit for a sharp performance, but that situational difference is hard to ignore.)
2) Will Blake Griffin break out against the Lakers?
Amidst the understandable hoopla over the immediate impact of Paul and Billups, what got lost was performance of the franchise player theoretically set to benefit most . And that's convenient for the Blake Griffin, because he didn't do a whole lot. He only drained four of his 11 field goal attempts, and the ones that dropped were essentially from point blank. One rim-rattling, gasp-inspiring, technical-foul-for-hanging-on-the-rim-drawing dunk aside, Blake was sort of an afterthought on Monday night.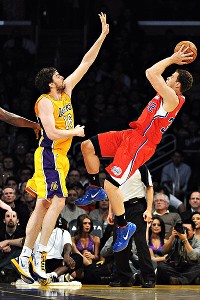 Harry How/Getty Images
When these become automatic, defenders might as well quit.
This is not a fluke, by the way. Each time Griffin faced the Lakers last season, he provided a few highlight reel moments, whether throwing down the rock or Odom. But production-wise, the Rookie f the Year often struggled. He shot just 50 percent from the field in one game, and 40.8 overall against the Lakers. Against opponents faced four times, only the Rockets held him to a lower clip. Griffin struggled against most teams the further he moved from the rim, but against the Lakers, the issues have been accentuated. The length of Andrew Bynum, Odom and especially Pau Gasol has consistently bothered Griffin, and even with LO in Dallas, his fortunes didn't turn on Monday.
There's no question Paul will turn Griffin into an even stronger force purely off lobs and pick-and-rolls towards the hoop. But were a pick-and-pop or self-created shots possible on a regular basis, dude might be literally unstoppable. Griffin reportedly spent a lot of time during the offseason working on his jumper, and he's not afraid to let fly. But until they drop on a regular basis against the Lakers, there's a ceiling to the damage he can do.
3) Does the Lakers' second unit look better with Steve Blake?
Oodles of Laker fans have anxiously waited for the day when the starting five is announced without Derek Fisher. Thus, even knowing Fisher was held out for precautionary reasons rather than a lineup switch, I imagine Steve Blake taking the court alongside Kobe pleased many. However, this merely postponed the inevitable (Fish resuming his normal duties) and in the meantime, the second unit suffered badly from his absence.
Putting aside how every key newbie played off the pine and the unit was pressed into service without much practice time, the reserves were left with just two primary ball handlers. Metta World Peace and Darius Morris. MWP's issues will be discussed at greater length below and while Morris acquitted himself nicely overall for a rook, he increasingly bogged down the offense by over-dribbling and hanging on to the ball too long.
As secondary ball handlers, both can work fine. As the prime candidate to initiate possessions and maintain order, neither is as ideal as Blake. The better a sequence starts, the greater odds of a bucket to finish. Plus, as we talked about in Lakers Late Night, this is a second unit wholly absent of players who can create for himself. Instead, they'll have to create for each other, which makes folks who can find open teammates indispensable. Blake's presence can greatly help along these lines.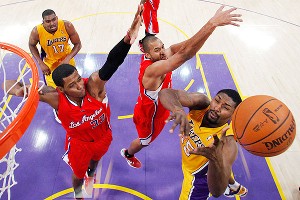 AP Photo/Danny Moloshok
MWP's face sums up his entire preseason opener.
4) Will Metta World Peace get on the board?
Saturday, I discussed how MWP's move to the bench could be a positive in that, after two seasons largely spent spectating on offense, a role with more responsibilities could create a more engaged, dynamic player. I realize the sample size is one preseason game, but the evidence thus far has badly undressed my theory. In particular, Metta's preseason shooting has been in the terlet. Eight misses in as many field goal attempts, five launched from behind the arc, most of which had absolutely no chance of dropping. As Darius Soriano at Forum Blue and Gold Tweeted, MWP's "jumper looks like he's been lifting weights during play stoppages."
Throw in the dicey shot selection, and this was an ugly night.
Of course, Brown wants Metta to serve not just as a bench scorer, but a facilitator, defender and leader as well. The results on that front yielded positives and negative. But even acknowledging the grab bag of duties, MWP's the most accomplished scorer among the reserves, and it's critical he be accounted for. It may just be the preseason, but it's never too early for Metta to find his flow.
5) How will both teams shoot from outside?
Whether to spread the floor so Paul can do drive and kick, or to provide the Lakers bigs and Kobe space on the blocks, long-range prowess is key for both squads. Last season, neither was particularly good from downtown, but Monday, the Clippers shot 46.4 percent, while the Lakers weren't far behind at 43.8 (and that includes Metta's five misses). If this is indicative of what lies ahead for both teams, they instantly become more dangerous.