After logging a DNP-CD in the first game of the preseason, rookie Andrew Goudelock finally got his feet wet in the Lakers-Clippers rematch. Like most second round draft picks quite literally fighting for a job, much less looking to prove he can play at the NBA level, the kid fought nerves and tried to do too much.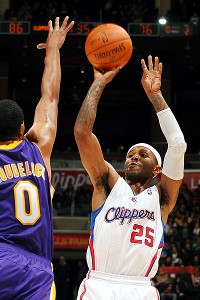 Noah Graham/Getty Images
Even as a shooter by trade, Goudelock knows his D could make or break a potential roster spot.
His first shot was a brick from 20-feet out, which was followed by two more misses and a traveling turnover before he finally connected on a triple. Goudelock was clearly rushing, working overdrive to "wow." This impulse was epitomized by a second quarter sequence where he called his own number from 25 feet out along the right wing. The shot dropped, but on the very next possession, Goudelock pulled up early in the shot clock for a heat check three-pointer along the left wing, and missed badly.
Sometimes, less is more.
But when Goudelock reentered late in the third quarter, he was clearly more relaxed. A triple was buried with just under a minute to go, and during key fourth quarter minutes, the game seemed to slow down for the rook. Another trey dropped, and he dished two dimes to set up Metta World Peace on jumpers. He even made a nice play defensively in transition, cutting off a two-on-one Clipper break and forcing the ball to get pulled back.
He finished up with a respectable nine points, a trio of triples in five attempts, four rebounds, three assists, just one turnover, and some complimentary words from Mike Brown, which can be seen in the video below the jump.
I caught up with Goudelock for a few minutes after the game to get his perspective on the game.
Q: How were feeling over the course of the game? It looked like you grew more comfortable as it went on.
Andrew Goudelock: For your first game, you're always nervous. Coming out there, you don't really know what to expect. You see all these guys on TV. When you finally get out there, it's kind of blowing [your mind] a little bit. But once you get settled in, and you kind of get comfortable, the coaches show a little faith in you, the players are behind you, you get a little bit of confidence. You want to show what you can do. Once you get comfortable in a basketball game, your skill set really comes out.
I was just glad I got an opportunity, and I tried to take advantage of it.
Q: How hard is it, when you're literally fighting for a roster spot and don't play at all in Game 1, to avoid that urge of showing too much of what you can do?
AG: It's definitely tough. Not playing in the first game, you don't really know what's going on or what to expect. You come in the next day and they're like, 'we're gonna put you in tomorrow. You better be ready.' It's definitely tough, but it definitely teaches you to be ready. You never know what's gonna come. Expect the unexpected, and when it comes, take the opportunity. But you gotta be ready. In this league, guys have told me, you might not play one game, and the next game you might come in and play in the first quarter and play in the whole first quarter.
Q: How would you assess your performance?
AG: I think it went okay. I started out a little rocky. It was a little different for me. I was a little nervous. But I really wanted to focus just defensively just being a guy they can depend on as a stopper. They know what I can do offensively and that'll come. So once I kind of settled down, that's really what I was focused on, just getting stops.
Q: Speaking of defensively, what's it like guarding Chris Paul on an island?
AG: It is what it is. He's a player. He puts his pants on the same way I do. you gotta think of it like that. You can't go out there like, 'Oh, it's Chris Paul. It's Superman,' or whatever. I mean, he's impressive.
Q: But even if you're not intimidated, that's a tough assignment.
AG: Yeah, it is. Especially for your first one. (Laughs) I mean, it's definitely tough. But you gotta have confidence in yourself, especially defensively. You don't wanna come here the wrong way and get embarrassed, for yourself and your teammates. You don't want to come out here and embarrass the team, either. I've been working on my defense for a long time. I feel confidence I can stop a lot of people."
Q: There's a need right now, especially with Kobe hurt for depth at the two-guard spot.
AG: Yeah, That's what they told me. They wanna see what I can do. Maybe I can be somebody that comes off the bench and provides a spark. I'd be happy to fill that role. Whenever I'm given an opportunity, I'm gonna try to do what I can, and I think I did a pretty good job.
I won't lie. The odds are stacked against Andrew. Assuming the Lakers are even willing to carry 15 players, there's only one roster spot open at the moment. (Although MWP seems determined to do Goudelock a solid and create a second one by prompting use of the Amnesty provision.) At 6'3", he's a very undersized shooting guard. Mike Brown has expressed a willingness to play Matt Barnes, Devin Ebanks and/or Jason Kapono out of their natural position as a reserve two.
And, quite frankly, the jury is still out as to whether Goudelock can cut it in the NBA.
However, with Kobe nursing a wrist injury with still unknown ramifications, whatever sliver of opportunity Goudelock had entering camp just widened a bit. This is also a team that can always use more shooters, and that's his bread and butter. In our conversations, he strikes me as a grounded, hard worker. Plus, unlike Gerald Green in his disastrous 7:35 of run, Andrew did nothing to discourage the coaches from taking a further look.
For a guy like Goudelock, who survived the most recent wave of cuts, that's half the battle in and of itself.