The news from Friday's practice centered mainly on who would be in L.A.'s starting lineup come Sunday's opener against the Bulls at Staples. Despite a torn ligament in his right wrist (the one connected to his shooting hand, for those keeping score) Kobe Bryant says he'll be ready to go, and despite the injury his presence is hardly unexpected.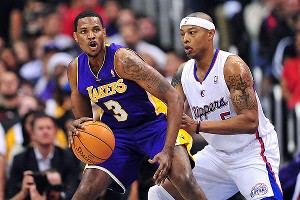 Gary A. Vasquez/US Presswire
In a surprise to some, Devin Ebanks has won the starting small forward job over Matt Barnes.
The guy next to him on the wing, though, will surprise some people for sure.
Mike Brown named second year forward Devin Ebanks his starting small forward this afternoon, relegating veteran Matt Barnes to the bench and ending the team's most high-profile position battle.
Ebanks acquitted himself well throughout training camp and certainly was a bright spot in both exhibition games, hitting seven of his nine shots while adding three rebounds over 25 minutes, but I'm still a little surprised Brown went the way he did. Ebanks definitely outplayed Barnes, a bit of a mess in Wednesday's loss, in the pair of exhibition games, but ultimately I guessed Barnes' track record as a reasonably productive player combined with far greater experience would carry the day, particularly since Brown has had so little time to evaluate his personnel.
On teams with lofty aspirations, experience usually trumps youth in position battles, at least in the early going. Brown deserves credit for not defaulting to the safer choice, and his decision reflects something he's frequently repeated over the last couple of weeks.
Throughout training camp and the near constant controversy and turnover involving the roster, Brown has said two things. A) It's his job to coach the guys he's given. B) It's his job to put said guys in the best position to succeed. We've generally focused on the first part, but here Brown is following through on the second. There is no question the Lakers need what Ebanks appears ready to provide somewhere in their rotation. His youth and athleticism are at a premium on an aging roster, and as Kobe has said a few times during camp, Ebanks has a lot of pop in his offensive game as well. Meanwhile, like Barnes, Ebanks is a willing defender, will move actively without the ball, go hit the glass, and can be productive without designing scads of plays around him.
So if he's going to play, and he should, it's Brown's job to choose the role in which Ebanks can best perform. To me, that place is unquestionably the starting lineup.
From day one this season he has carried himself not like someone who barely played last season but as a guy who knows he can play at the NBA level, but nonetheless Ebanks is still an inexperienced second-year forward. As a rookie, he played only 20 games, averaging a scant 5.9 minutes. Because of a leg injury, he couldn't even practice as much as the staff would have liked.
As a starter, Ebanks will be surrounded by Kobe, Pau Gasol, and Andrew Bynum. While his headshot will get more play on TV, on the floor Ebanks will be far better protected and his role will come with less pressure. All Ebanks will be asked to do is defend and stay active on the glass. Sure, if you get an open look -- and he will -- take it and, if possible, make it. But there will be absolutely no need for Ebanks to force anything offensively while surrounded by L.A.'s big three, while any looks he gets are likely to be of higher quality and easier to convert.
As a reserve, the dynamic changes. As we've emphasized repeatedly over the last week or two, the Lakers are short secondary ball handlers and scorers. Ebanks isn't really the former, but off the bench would likely be put in a role demanding he at least try to be the latter, except the talent around him would be less and potentially defenses would be paying closer attention.
So while it might seem counterintuitive to some, Brown's chances of having Ebanks justify the love are increased by putting him in the starting lineup. Meanwhile, I suspect Barnes will find ways to get on the court as Brown tinkers with his rotation, but no question the vet's minutes will shrink.
As for the Lakers, a productive Ebanks has potential to make a big difference in the team's prospects. Great attention, with cause, has been given to what the Lakers haven't done with the roster. No stars have been added, and the best player involved in a transaction has been on the wrong end. If Ebanks exceeds expectations this year-- and quite frankly becoming a quality member of the rotation likely qualifies-- it amounts to another significant free agent acquisition.
Ebanks looks ready to step up to the challenge Brown has presented him, though how well he'll play is obviously an open question. He'll be there for the opener, but there's no guarantee Ebanks still starts when Game 66 rolls around.
For the time being, Brown has made a calculated leap of faith, and done it in a way maximizing the potential for it to pay off. It's a good call.