The Los Angeles Lakers have filled their fair share of Christmas stockings with grimy lumps of coal over the past few seasons, but Sunday's loss might have been the most painful. With their star nursing a significant injury and one member of their big three at home thanks to suspension, the Lakers put in a gritty, determined effort against the Chicago Bulls and the reigning MVP, Derrick Rose.
They looked awfully nice before things turned naughty at the end. Here are five takeaways. ...
1. The Lakers shot themselves in the foot, then shot themselves in the other foot, then grew two more feet and shot themselves in those, too.
This was a game the Lakers should have won. They had it won. They deserved to win it, playing without Andrew Bynum and putting on a generally brilliant defensive performance in the second half, including a third quarter in which they held Chicago to 5-of-24 from the floor and only 12 points. The Bulls scored only 32 points over the final 24 minutes, and finished the game at a hair over 40 percent shooting after going into the break at 58.5. The Lakers led by nine with four minutes to play, and six with 54 seconds remaining after Kobe Bryant hit a brilliant, spinning, driving jumper just off the left side of the lane.
But refusing to bow to victory, the Lakers also:
Missed four key free throws down the stretch (two from Pau Gasol, two from Josh McRoberts).

Saw Gasol commit a very bad and-one on Luol Deng inside, giving the Bulls an old fashioned 3-point play.

Suffered a bad foul from Kobe in the Bulls' backcourt, allowing Deng to shave two more points off L.A.'s lead without running any clock or having to take a shot.

Turned the ball over with a one-point lead, giving the Bulls a chance to win. (Kobe threw it away, but didn't get much help from his mates in the face of heavy pressure.)

Couldn't get a shot off in the final seconds, as Kobe dribbled into three Bulls, and saw his shot blocked.
These are mistakes that can't happen, particularly when two of the offending parties are the team's stars, and as a result what looked like a day of optimism turned sour. It also completely changed the complexion of a game otherwise showing a lot to like.
Such as ...
2. The Lakers have young players with poise.
On a Christmas Day game featured for a national audience, at small forward the Lakers gave a second-year player who averaged less than six minutes a game last season his first career start (Devin Ebanks), and used the 46th pick in last year's draft as Kobe Bryant's backup (Andrew Goudelock). This is some serious responsibility, and to their credit, neither did what many of you thought they were going to do, which is to flip out. Instead, they showed some serious poise, and made important contributions.
Ebanks was all over the floor in his 17 minutes, hitting four of his five shots. He showed athleticism on the break, getting up the floor to finish at the bucket on a nice feed from Kobe, and patience on an earlier sequence when he pumped off a triple in the left corner, calmly took a dribble, then hit the mid-range baseline jumper. Meanwhile, he was aggressive off the ball, and worked hard defensively. Goudelock hit two of his three triples in nine-plus minutes, and even grabbed a couple boards.
The Lakers are a team who will need contributions from unexpected sources to succeed this year. Ebanks has a chance to make a major impact. If Goudelock can be a useful tool as well, it could help change the outlook for the season.
3. Toss out the final minutes, and Kobe/Gasol looked strong.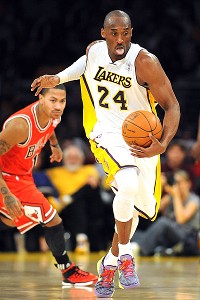 Jayne Kamin-Oncea/US Presswire
Kobe looked brilliant at times, but struggled with his handle.
Early in the game, he twice lost the ball dribbling with his right hand into the lane, and turnovers (eight of the team's 17) were a significant problem all night. Occasionally, he seemed to get stuck on the perimeter. "It's the wrist!" people will say. Except there were moments last season he struggled with his handle, and the same was true this preseason even before the injury. Meanwhile, there's no question his game has generally drifted toward the mid-and-longer range over the past few seasons. But Bryant was very active, as well, and showed he can still get to the rim. He used his right hand in passing lanes, and was big on the glass.
He spent a lot of time holding the wrist, including after finishing a break with a two-handed dunk. It's obviously painful, and I have no idea if what he's doing is sustainable, but Kobe basically looked like Kobe to me, for what it's worth. Meaning the reasons to worry aren't gone, and neither are the reasons to believe.
You can't erase the turnovers, but the final line -- 28 points, seven boards, six assists, two steals -- was nothing to sneeze at.
As for Gasol, his weakest numbers were his shooting percentages from the floor (6-14) and stripe (2-6). In every other way, I thought he played a very strong game. He was excellent in the two-man game with Kobe (as it was last year, the team's best source of consistent offense), moved the ball well when the team ran through him (three assists), and used his length effectively inside, particularly in the second half. He was also part of a reasonably effective big-man defense pressuring Rose on the perimeter.
There were the aforementioned gaffes late, but overall there was much to like.
4. When Andrew Bynum comes back, L.A.'s forward rotation could be a major strength.
When the Lakers shelled out their mil-and-change for Troy Murphy, the big question was whether he was the productive double-double machine from earlier in his career, or the guy who couldn't get off the bench last season in New Jersey and Boston. The answer appears to be the former. In 22 minutes off the bench, Murphy had seven points and more importantly, eight rebounds, including five on the offensive end. Starting at power forward, McRoberts was exactly as billed, namely a boost of energy all over the floor. There were plenty of contributions outside the box score (floor burns!), but McRoberts also chipped in with the stuff people keep track of, too. Six points, along with eight rebounds, and a pair each of assists and blocks.
Yes, Lamar Odom is gone, but if this is the Murphy the Lakers get through the course of the season, once Bynum comes back L.A. could have a very strong rotation up front.
5. Steve Blake looks a lot more comfortable than Derek Fisher.
This isn't much of a surprise, but nonetheless proved true Sunday. Over the course of the season, there's every reason to believe Blake will eat into some of Fisher's playing time. He's just better suited for Mike Brown's offense, and if Blake hits his shots, there's just no reason not to play him. Give Fisher some time to adapt and get his game legs underneath him (he was a little busy this summer, if you didn't notice), but overall odds favor Blake playing more minutes regularly than D-Fish.