The Lakers ended 2011 on a winning note. The chance to kick off 2012 in that same positive fashion (against the same team, no, less) is immediately staring them in the face. On Saturday afternoon, the Lakers played host to the Nuggets. Tonight, Denver returns the favor. Here are four items to be mindful of once the ball is jumped:
1. Back-to-back, high-altitude style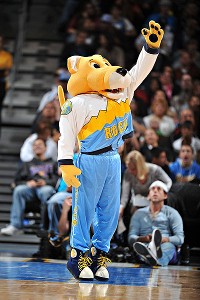 Garrett W. Ellwood/Getty Images
Rocky's lungs may even be burning this early in the season.
A trip to Denver's thin air can trip up a team collectively in game shape and sporting fresh legs, and there's no denying conditioning remains an issue for the Lakers. In particular, for the bigs. Andrew Bynum made no bones about being exhausted after his debut on Saturday, and he'll be playing his first back-to-back of the season. Pau Gasol looked dead-legged defensively on several second-half possessions against the Nuggets, especially when closing out on Al Harrington at the 3-point line. The Lakers will have about 24 hours to acclimate themselves to the lack of local oxygen against a squad that lives to run guests out of its building. There won't be much time to make the physical and mental adjustments.
Having said this, I do wonder if this particular advantage will be quite as strong for the Nuggets as in years past. After all, they were saddled with the same compressed training camp as everyone else, are on a back-to-back, and have played only one home game so far. It actually wouldn't shock me if several Nuggets also appeared to be sucking wind.
But that's George Karl's problem, not the Lakers', and it doesn't alleviate entirely whatever problems they still may experience.
2. Turnovers
The Lakers turned the ball over 19 times against the Nuggets, who turned those gaffes into 23 points. Cut down the mistakes, and a three-point victory likely gets pushed to double digits rather easily. One or two more possessions giving away the rock, however, and the Lakers may be sitting below .500 once again. It's imperative not to play with fire again, especially against a team so deadly in transition. The Lakers lucked out with the Nuggets missing a few shots at the rim Saturday on transition opportunities. I wouldn't count on that same good fortune two days in a row.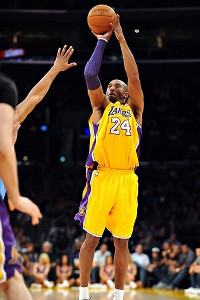 Andrew D. Bernstein/Getty Images
Kobe shot the ball poorly from deep against Denver, and had a LOT of company.
And speaking of fast-break opportunities for the Nuggets...
3. Three point shooting
The Lakers' 22 missed 3-pointers against Denver weren't problematic simply because they represented empty possessions and horrific efficiency. Long missed shots create long rebounds, the type a team like Denver lives to snatch, then sprint to the other side of the court. Again, you simply cannot allow the Nuggets the chance to capitalize in the open court.
Where this gets tricky, however, is the Lakers' shot selection on 3s wasn't all that bad. A few may have been forced, and a few were put up to beat the block, but by and large, these were clean, wide-open looks. The kind of shots NBA players with legitimate deep range are supposed to take. Of course, NBA players are also supposed to make those shots as well. And therein lies the rub.
The Lakers can't pass these shots up altogether, especially if they're going to create the necessary space for Gasol, Bynum, Kobe Bryant and Metta World Peace to do damage in the lane and on the elbow. The addition of Jason Kapono and Troy Murphy, plus some theoretically improved marksmanship from a more comfortable Steve Blake, should improve last season's middling clip. But over five games, albeit a very small sample size, they've actually been worse. It's too early to panic over these numbers, but definitely not too early to pick up the proficiency.
4. No backsliding from Metta World Peace
After three consecutive games wreaking havoc as bench boss and silencing those concerned a brutal 2010-11 season signaled the beginning of the end of his usefulness, Metta turned in a pretty lousy game. A goose egg littered the scoring column, the result of eight missed shots in as many tries. He also turned the ball over four times against just one assist. And if you're one of them metric eggheads who likes the fancy plus/minus stat, MWP was minus-10, the lowest of any Laker. That's not to say Metta was necessarily the worst Laker on the court, but I do think this figure accurately reflects his overall ineffectiveness.
Recent games have featured his stamp. This one? Not so much.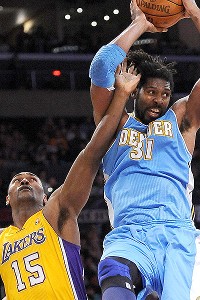 Jayne Kamin-Oncea/US Presswire
After a few strong performances, Metta World Peace appeared out of sorts against Denver.
To my eye, the biggest issue may have been an inordinate amount of time spent along the perimeter. At his best this season, MWP's been a beast in the paint, bullying defenders in single coverage and kicking out when the double arrives. At his worst last season, he mostly floated around the arc, unsure of what to do when he saw the ball, other than take more outside shots than preferable. Against Denver, one 3-pointer was hucked to avoid a 24-second violation, but Metta nonetheless spent an inordinate amount of time gunning from outside, which kept him from the spots where he does more damage as a passer. He also got greedy after his monster dunk against Utah and tried to take another drink from that fountain again. The result? A lefty clang.
He and Mike Brown have expressed excitement at the concept of MWP taking residence on the block this season. MWP strayed outside his neighborhood Saturday afternoon, and the results weren't as pretty. In every sense imaginable, it's best for Metta to stay in his lane.