The Los Angeles Lakers have yet to win a game in 2012. I imagine that trend will change. For that matter, it would be nice if some others from this loss followed suit. Here are five takeaways from the Lakers' 99-90 loss to the Denver Nuggets:
1. The lack of practices rear their ugly heads offensively for the Lakers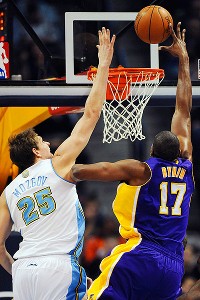 AP Photo/Chris Schneider
Shots this easy on a consistent basis may take time for the Lakers.
Among the zillions of popular cliches in sports is the saying that "defense wins championships." And it's a philosophy that's, in fact, tough to debate. However, I like to add my own personal caveat "assuming you can score" to that expression. Unless teams are capable of holding opponents consistently fewer than 80 points, putting the ball in the net is mandatory. Six games into the season, the Lakers, a team looking to re-establish championship credentials, remain a ragged bunch on the offensive end of the court. I have to imagine this issue is being exacerbated by the lack of regular practice.
No doubt, the problem isn't entirely a lack of communal knowledge about coach Mike Brown's playbook. In the first half alone, after doing a terrific job pushing the ball inside and getting Nene Hilario and Timofey Mozgov into fast foul trouble, they stopped working down low. In the meantime, Kobe Bryant was forcing the issue with his jumper, missing 9 of 10 shots, a few of which had no business being launched to begin with. (More on that later.) And a 1-for-11 clip from beyond the 3-point arc will undo any mastery of Brown's schemes.
But between the lack of repetition, plus the additional challenge of implementing Andrew Bynum into the mix, the Lakers don't appear jelled with the ball in their hands.
2. Despite the personal milestone, this won't be a game for Kobe's personal time capsule
First things first, congrats to Kobe on reaching the 28,000 career-point plateau. It's an absolutely mind-boggling achievement for the NBA's sixth-greatest (and rising) in career points. With those deserved kudos now offered, I couldn't help but wonder if Kobe was determined to reach 29,000 in the same evening. Simply put, dude was out of control.
With his shot clearly not cooperating, Kobe appeared on a mission to prove he could reverse his cold hand, rather than get others (particularly Bynum and Pau Gasol) involved. The result was a string of ill-advised jumpers, often early in the clock. Moreover, these misses had a tendency to put the Lakers' D on its heels as Denver was off to the races. I don't recall the last time I've seen Kobe hooping with less discretion. It's no coincidence the Lakers got back into this late in the third quarter once Kobe took a seat (while sitting at the time on a 3-for-18 clip). The ball moved considerably more, and better shot selection surfaced. Upon re-entering the game, Kobe's efficiency resembled a yo-yo and he suffered a critical late-game turnover to boot.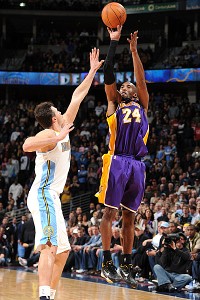 Win McNamee/Getty Images
Chances are, this shot didn't go down for Kobe.
By the time the game closed, he'd missed 22 of his 28 tries and you could absolutely make the case he shot them out of this game. The six turnovers didn't exactly help light up his stat line, either.
Every once in a while, these are the kinds of games you get from Kobe (albeit rarely such an extreme example) and the good outweighs the bad by a mile. Still, I hope the next stinker isn't penciled in for quite some time.
3. Fifteen turnovers hurt the Lakers a lot
If it's not abundantly obvious why coughing up the rock can kill you, especially against a running team like Denver, feel free to read my "What to watch" before Sunday's game. The reasons haven't changed one iota. The Nuggets scored 15 points off turnovers, and outscored the Lakers 26-5 on fast breaks.
4. Andrew Bynum looked strong in a back-to-back performance
He dealt with foul trouble and missed a pair at the free-throw line -- along with the chance to bring the game within four -- with 43 seconds left. But I was very pleasantly surprised to see Bynum remain so lively after opening his own season in consecutive games, particularly with the second taking place in Denver where players often huff and puff. Seven-of-12 from the floor, he notched 18 points to match 16 rebounds, and he played a big role in getting Denver's frontcourt in foul trouble of its own. Considering how important Drew is to this season's puzzle, this was a very positive development in the face of a loss.
5. Steve Blake had two layups in the same game
The basketball equivalent of seeing Haley's Comet twice in a month. Blake is not a man who makes a living at the rim, and his successful forays in the paint embodied an aggressive attitude throughout the game. That he scored 14 points on 6-for-9 shooting and dished three assists was nice on a statistical level. But that mindset is even more important for a player who looked continually unsure of himself last season. This year, not so much, and that confidence makes him a different, better player.