Tuesday night, the Lakers face a Houston Rockets squad that always seems to give them fits. While a few roles have been recast in Houston, starting with the coach -- Rick Adelman out, Kevin McHale in -- the basics of this year's team are similar. The Rockets remain an efficient offensive group with sneaky good weapons inside and out. At the point, Kyle Lowry (13.3 points, 11.5 assists, 6.3 rebounds, 2.5 steals) has been spectacular, and with Luis Scola (15.5 points) and Kevin Martin (19.3 points, 42 percent from beyond the arc), the Rockets are considered a potential playoff team out West, if things break in their direction.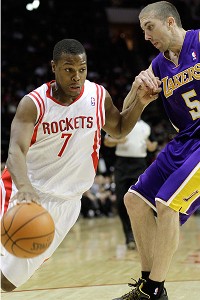 AP Photo/Pat Sullivan
Through four games, Kyle Lowry has been a special kind of good.
"They're extremely talented, and they're young and athletic," Mike Brown said Monday. "They're going to be tough. Lowry right now, is in my opinion the catalyst for them. Defensively he's the head of the snake, and then offensively he's got to be averaging something close to 12 assists a game. They're tough, from top to bottom."
On the other hand, Houston lost its two road games by nine (Orlando) and 20 (Memphis), so they haven't quite figured out that end of things, yet.
For a little more insight into the Rockets, we hit up Rahat Huq of TrueHoop's Red94 with some questions ...
1. What is different for the Rockets under Kevin McHale?
Hut: Terrence Williams is getting a chance but the biggest difference is the result of Chuck Hayes' departure. Without Hayes' passing, the Rockets aren't initiating their offense as much from the high post and instead are running a more traditional guard-facilitated offense. The outcome is Kyle Lowry's sparkling statistics.
2. Kyle Lowry has been great in the early going. Where does he fit in on the list of high-end NBA point guards?
Hut: Behind Chris Paul, Deron Williams, Derrick Rose and Rajon Rondo for sure. After that, I put him in the mix with anybody. The assist numbers speak for themselves, but beyond that, he defends and rebounds as well as any guard. Lowry's only major weakness is that he can't really create much for himself off the dribble in the way someone like Rose can. Because of that, his upside is capped from true elite status.
3. The vetoed CP3 trade threw the Lakers for a loop, but obviously had a huge impact on Houston, too. How have they reacted as a team? Has there been a hangover?
Hut: Kevin Martin initially did not take the news too well. Still, both he and Luis Scola have put up numbers in leading the Rockets to their respectable record. With that said, speculation abounds that one or both could be shipped out by the deadline.
4. Last season, the Rockets were short on length inside. How has the addition of Sam Dalembert changed that dynamic?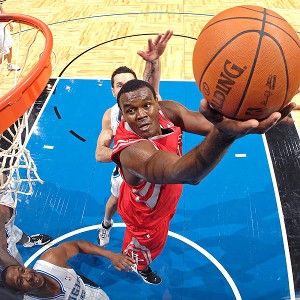 Fernando Medina/NBAE via Getty Images
Having Samuel Dalembert in the middle has changed the look Houston gives on both sides of the floor.
Hut: Dalembert has been a complete game-changer thus far for the Rockets and I'd even argue that had he been on the team last season, they would have made the playoffs. Look no further than the Rockets' home-opening thrashing of the San Antonio Spurs for evidence of Dalembert's impact. He held his ground against the Spurs' bigs, contested shots, and most importantly, just played "big." The Rockets' biggest problem last season was simply a lack of "presence." Chuck Hayes played tremendous defense, but it just alters the complexity of the game when a 7-footer is standing at the basket.
5. Looking at tonight's game, matched up with the Lakers, what do the Rockets need to do to win?
Hut: The key for the Rockets is defense. They'll always find ways to score, as evidenced by their near-league-leading efficiency last season. They must slow down Andrew Bynum and Pau Gasol and hope Courtney Lee can stay in front of Kobe Bryant.
Thanks to Rahat for kicking in.
A few more thoughts for tonight...
1. All eyes will be on Bryant.
It's easy to make too much out of Sunday's loss -- Kobe has had bad games before -- but nonetheless it's the first under Mike Brown in which Bryant's production and choices were easily questioned. Brown diffused any potential controversy Monday at practice, while Bryant said he's going to keep doing what he does. All stuff we've heard before. Consternation about his game aside, Bryant has suffered consecutive off games shooting the ball, and yesterday described the adjustments he's trying to make with his bum shooting wrist as "a pain in the ass."
Six games into the season, it's reasonable to wonder how long Kobe can play effectively through the pain and structural damage. While he tries to figure it out, the Lakers will at times be on parallel tracks, trying to coalesce as a group while Kobe simultaneously tries to figure out how to play with the wrist injury. It's easy to envision times where those goals clash. Will they Tuesday?
2. If possible, make Lowry shoot.
In the paint, he's effective not just as a distributor, but finishing at the rack (77.8 percent conversion rate) and getting to the line. When it comes to outside shooting, Lowry isn't merely mortal, he's actually been pretty bad: 40 percent from the floor overall, and only 25 percent from 3-point range. Basically half his shots are at the cup, the other half from downtown. The latter are preferable.
3. This is a game for Bynum and Gasol.
Despite the addition of a more traditional center in Dalembert, the Rockets still don't have much length to compete with the Lakers. And even Dalembert arrived at the expense of Hayes, who is one of the best post defenders in the game. The Lakers should have a huge advantage in the post, whether with their bigs, or Kobe. They need to use it, and in the process ought to create clean looks on the perimeter for their struggling shooters.
At some point, the ball has to start going in from distance, right?
Finally, a little video from Gasol on Houston's frontcourt...