NOTE: Below is information and statistics (along with some analysis, parts of which I agree with more than others) put together on Kobe Bryant by ESPN Stats & Information, centering heavily on his usage rate and related figures.
The objective in posting isn't to create another pro/anti-Kobe argument (most sane Lakers fans understand the team won't win if Kobe isn't a star), but continue the discussion of how best this team can succeed. Stats from 2011-12 reference a small sample size and should be taken with a grain of salt and shouldn't be assumed a long-term trend. There are nonetheless some interesting figures promoting good big-picture questions, equally appropriate after a nine-point loss as a 10-point win.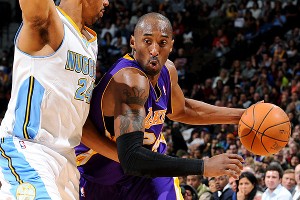 Garrett W. Ellwood/NBAE via Getty Images
He has been a busy man, Kobe Bryant.
Perhaps the most pressing is one of sustainability. In a stage of his career in which Kobe's game is naturally becoming less efficient and he faces more serious physical challenges, can he successfully navigate a season in which he is (as you'll see below) setting personal records for usage rate?
If Bryant continues at this rate, and he may not over the long term for a variety of reasons (team chemistry, coaching, injury, etc.), what does it mean for the Lakers? Having a supremely ball-dominant player isn't historically a good formula for title-winning teams, and readers of this space know my predisposition toward balance. With that in mind any discussion of Bryant's usage rate this season should note his current assist percentage (34.5) and assist rate (6.2 per 36 minutes) if carried through the season would be a career highs. By a mile. The notion Bryant is only shooting to the exclusion of facilitating is demonstrably false.
Moreover, if Kobe is going to lower his usage rate, the Lakers likely need to find ways to help him do it. Case in point: Via Synergy, Kobe has been the ball handler in 40 of the team's 59 pick-and-rolls. Without another effective alternative in those situations, it's tough to remove Kobe from the mix.
The question is less about ball-hogging and more of burden and efficiency. In a compressed season with a new coaching staff, a new system and a new injury Bryant absolutely must learn to play with if he plans to stay on the floor and be effective, what's the best formula?
It's a subject we have 59 more games (plus playoffs) to kick around. In the meantime, enjoy the numbers …
--BK
Via Stats & Info ...
ANGLE No. 1: Kobe Dominating the Basketball
One way to measure the degree to which a player is controlling the basketball is usage percentage. It is an estimate of the percentage of team plays used by a player while he is on the floor. Bryant's current usage rate not only leads the entire NBA, it would be a career-high, a remarkable feat for someone who has dominated the ball as much as Bryant has in his career.
Highest Usage Percentage
2011-12 season
Kobe Bryant, LAL -- 38.9<<
Carmelo Anthony, NYK -- 33.3
Russell Westbrook, OKC -- 32.7
Kevin Durant, OKC -- 31.8
Blake Griffin, LAC -- 31.5
<<Would be career-high
While most great players have high usage percentages -- particularly ball handlers -- Bryant is dominating the ball at a record pace despite not being at the top of his game.
What's additionally remarkable is that Bryant's current usage percentage would be the highest by any qualified player in the 3-point era (since 1979-80).
Highest Usage Percentages
3-point era (since 1979-80)
USG, Team
'05-06 Kobe Bryant 38.7, Lakers
'86-87 Michael Jordan 38.3, Bulls
'01-02 Allen Iverson 37.8, 76ers
'08-09 Dwyane Wade 36.2, Heat
'01-02 Michael Jordan 36.0, Wizards
>>'11-12 Kobe Bryant 38.9
That's right -- despite having two All-Star-caliber big men at his disposal, Bryant is posting higher usage percentages than LeBron James when he was on Cavaliers teams with little to no help, the '80s version of Jordan and everyone else in recent NBA history.
ANGLE No. 2: Most Shots by Least Efficient, Least by Most
This is not a blip on the radar, either. Bryant is dominating the ball more often as he becomes less effective. His usage percentage has increased each of the last three seasons while his effective field goal percentage -- which adjusts for the fact that a 3-point field goal is worth one more point than a 2-point field goal -- has declined each season over that period.
Kobe Bryant
since 2006-07
2006-09, 2009-12
USG 32.4, 33.9
eFG 50.2, 48.5
PER 24.9, 22.8
>>Usage rate over last three seasons: 32.3, 35.1, 38.9
Kobe Bryant
NBA ranks, last three seasons
USG rank, eFG rank
2009-10 4th, 137th
2010-11 1st, 131st
2011-12 1st, 170th<<
<<Would be career-worst mark
The biggest problem isn't so much that Bryant is shooting a great deal, it's that he's directly taking shots away from more efficient scorers such as Pau Gasol and Andrew Bynum. Even in a season in which Bryant has an injured wrist and is not shooting well, he's continuing to take shots that would be more efficiently distributed to Bynum.
Lakers 'Big 3'
2011-12 season
USG, eFG pct, FGA
Kobe Bryant 38.9, 43.9, 22.3
Andrew Bynum 29.3, 62.2, 15.0
Pau Gasol 20.6, 56.5, 12.1<<
<<Would be lowest mark of career
In other words, a player who almost couldn't be more efficient (Bynum) is taking seven fewer shots per game than Bryant. Bryant has been the team's least efficient of the three stars, yet is dominating the ball the most and shooting the most.
ANGLE No. 3: A Look at Stats Cube
A look at NBA Stats Cube can show us how effective the Lakers are when Kobe Bryant is on and off the court. While the Lakers have still been more effective with Bryant on the court than off it, the difference has decreased markedly since last season and pales in comparison to Bynum's marks.
Lakers Offensive Rating
With Kobe Bryant on and off court, last two seasons
ON, OFF, NET DIFF
2011-12 100.9, 100.2, plus-0.7
2010-11 110.5, 101.7, plus-8.8
>>Team assist rate: 16.5 percent with Bryant on court, 18.3 percent while on bench
It should also be noted that the team's rate of assists increases when Bryant leaves the court. In addition, the Lakers' offensive rating is 109.9 while Bynum is on the court and 96.7 while he's off it, a significant difference.