The Lakers are still seeking their first road victory, and tonight's venue -- Portland, Oregon -- hasn't been an easy place for the Lakers over the last decade. Still, there's been recent headway, with road series split over the last two seasons, despite playing without Kobe Bryant and (save nine minutes and 33 seconds of pre-injury run) Andrew Bynum in 2010. Perhaps the Lakers can carry that momentum and ruin the Blazers' unblemished home record during this young season.
For some perspective on the Blazers, I tracked down Andrew Tonry of Portland Roundball Society (True Hoop Network). Below are some thoughts from the Blazer blogger, along with a few of my own. And for those interested, here are my responses to his questions about the Lakers.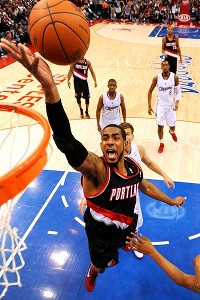 Andrew D. Bernstein/NBAE/Getty Images
The Blazers are now "LaMarcus Aldridge's team," whether ready or not.
Land O' Lakers: With Brandon Roy retired, the Blazers are truly now built LaMarcus Aldridge. His progress last season was pretty marked. Does he appear to be moving along the same path? Do you see him as a suitable centerpiece for a contending team?
Andrew Tonry: Right now LaMarcus Aldridge can be The Man on a team counted on to make the first round of the playoffs. He has yet to become, or even flash hints, that he'll be the best player on a team capable of winning the NBA Championship. As far as his progress is concerned, it's too early to say. Aldridge, because of a heart procedure during of training camp, is still rounding into game shape. Also, he's learning to work with a new point guard in Raymond Felton. Aldridge has said that his relationship with former Blazers guard Andre Miller was profound, and that Miller taught him as much as anyone.
(AK's note: True Hoop's Kevin Arnovitz recently wrote a nice piece about Aldridge-Miller relationship, for those interested.)
LO'L: How has Jamal Crawford fit in with the Blazers? Between him and Aldridge, who do the Blazers tend to go through for scoring down the stretch, acknowledging the sample size is small.
At the end of games both are getting shots. That part of Portland's offense hasn't quite solidified yet, for a number of reasons. First, there haven't been a lot of close games. Second, Crawford's shot has been rather cold. Still, it's just too early to say.
LO'L: Speaking of newbies, how has Ray Felton made the Blazers a different team than with Miller running the point, if at all? Assuming there are changes with Felton in the fold, have they been positive or negative?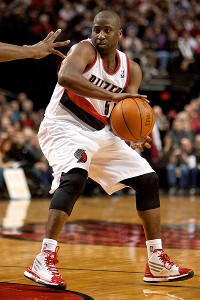 Craig Mitchelldyer/US Presswire
Felton has picked up the tempo for his new team.
AT: The addition of Ray Felton--and, perhaps more importantly, the subtraction of Brandon Roy--have made the Blazers a faster team. For the first time in years, Portland are not among the slowest paced teams in the league. But it's a work in progress. Coach McMillan says he's OK with playing fast, but not being in a hurry. Again, blame the adjustment process in adding a new point guard (and, in Crawford, a new backup point guard) but the Blazers have had problems with turnovers in this young season. And if there's one thing that drives Coach McMillan crazy, it's turnovers.
LO'L: Over the last few seasons, the Blazers have been outstanding at dealing with injuries, sudden change, a lack of star power, etc. to forge a sum greater than the overall parts. Is the roster strong enough to make this a non-issue in 2012, or will they need to tap into that resolve again? If yes, what's been the key to them doing so successfully each year?
AT: The Rock in Portland is Nate McMillan. The Blazers' coach has been just about the only constant in the team's most recent era. General managers, players and team staff have all shuffled. The only other thing that's remained steady is LaMarcus Aldridge. As much as he's a good guy and teammate, he's not a strong enough personality to act as the Blazers' rudder--that job is all McMillan's.
LO'L: As huge fans of Roy on and off the court, Brian and I were both saddened to see him forced to retire. What's been the Blazer community's reaction to this development?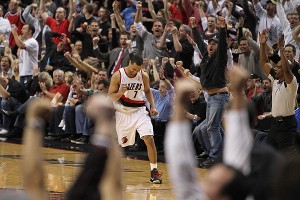 Craig Mitchelldyer/US Presswire
Blazer fans will miss cheering on Roy.
AT: Forced retirement couldn't have happened to a nicer guy with more potential than Brandon Roy. OK, I'd be remiss to forget Yao Ming. But still, Brandon is a marvelous, compassionate, nuanced and cultured human being. To a fan, Portland knows this. There have been signs and cheers in the arena to retire Roy's number and that happening is not inconceivable. It almost sounds just. I think Blazer fans also hope that Roy is able to rejoin the franchise at some later date, whether it's with the team, public relations, broadcasting or otherwise, he's got not only the cache but the belief by the city that he'd fit the part.
Good stuff from Tonry. And as promised, here are a few additional points I felt were worth a mention.
1) With Aldridge and Felton still feeling each other out as teammates and how to work in concert, it's very important the Laker D work hard to disrupt any flow. The key could be how Aldridge is played away from the ball, whether fronting him, pushing him off spots, etc. And like with any talented player, it never hurts to make him play defense and pick up fouls. (On a related note, Pau Gasol must be aggressive in this game.) But either way, the Lakers must make Aldridge's time on the court as fruitless as possible.
2) The Blazers have been excellent on the boards to start the season. In particular, they've owned the defensive glass. 34.6 defensive rebounds per game is just a shade off the league's best, and goes a long with towards a honking + 7.8 differential, making them the NBA's co-leader by a sizable margin. Andrew Bynum, however, has averaged a gaudy five offensive boards since his return from suspension, and 17 in all. Hopefully he can lead the charge to prevent Portland from controlling the boards, and maybe even the game.
3) It wouldn't surprise me to see Gerald Wallace guard Kobe Bryant in a cross-match, at the very least down the stretch of the game. Wallace is not just an excellent defender in space, but probably too big for Kobe to post up on a regular basis. But Kobe is, of course, Kobe, with more than a few tricks up his sleeve. I'm very curious to see how both players approach this matchup.