The Lakers again sit one game above .500 as their roller-coaster season pushes forward. Save for the home victory over Denver, they've yet to beat a team universally viewed as good, and it's hard to say that Sunday's opponent, the Memphis Grizzlies, qualifies as such. For many NBA scribes, including yours truly, this was the sexy pick for "dark horse contender." But myriad injuries -- most notably Zach Randolph's torn MCL -- have led to a 3-4 start.
Still, Rudy Gay, Marc Gasol, Mike Conley Jr. and O.J. Mayo can all do damage; Tony Allen (a must-follow on Twitter) is capable of making Kobe Bryant work hard; and Lionel Hollins is a good coach. Plus, I don't think it's going out on a limb to say -- or at least hope -- the Lakers aren't firing on all cylinders at the moment.
For more perspective on the Griz, we called upon Chip Crain, who runs the TrueHoop Network's 3 Shades of Blue blog. Here are his thoughts on five questions about the Grizzlies.
Land O'Lakers: How drastically has Zach Randolph's injury affected the Grizzlies, whether in production, presence, etc.? For that matter, the frontcourt is pretty thin, with Darrell Arthur also hurt. How has this changed the way the Griz operate?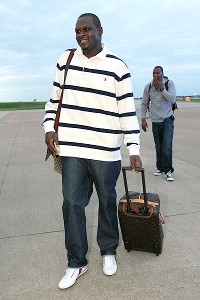 Joe Murphy/Getty Images
It's a nice ensemble, but Griz fans nonetheless don't like seeing Z-Bo in street clothes.
Chip Crain: Z-Bo's injury hasn't affected the Grizzlies any more than the Lakers' losing Kobe for at least six weeks would. It's a huge loss to lose your All-Star player and dominant paint player. Throwing his injury on top of losing Arthur, a key bench player for the Grizzlies, has left a huge hole at a position that was an area of strength heading into the season.
So far, the Grizzlies have responded by moving Gay and Sam Young to power forward at times and playing a faster tempo. It has worked so far because Mike Conley, who sprained his ankle against OKC in the second game, returned, and the team was able to push the tempo without dramatically increasing turnovers. It is not a long-term solution, however. Neither is Marreese Speights, for whom the Grizzlies traded after learning of Randolph's injury, but they had to have someone to put next to Gasol.
LO'L: Mike Conley made a pretty drastic leap forward last season after most people roundly mocked his contract. (He also had a habit of carving up the Lakers.) Has that evolution continued, and do you see him as a potential high-end PG in the making?
CC: As I said, Conley has been instrumental in keeping the Grizzlies' heads on tight and managing to win games (2-0 since Randolph's injury was revealed). Conley is not a big-stat point guard. He's not going to shoot a bunch of shots, nor does the Grizzlies' offense set up for huge assists, but he keeps everyone focused and on the same page. What Conley lacks in stats he more than makes up for in composure. It's difficult to measure composure in a box score, but the team is plus-40 when he is on the court since his return.
Conley actually may benefit statistically with Z-Bo being out. With teams not doubling down on Z-Bo and Gasol, the lane has opened up somewhat, making it easier for Conley to get in and create things. That's where the small-ball lineup really benefits a player like Conley, who's sneaky fast. Conley also improves the 3-point shooting, as he has hit about 40 percent of his attempts in the past few years. When he hits his outside shot, he is that much more difficult to stop. Conley does particularly well against bigger point guards who aren't so quick, like Derek Fisher.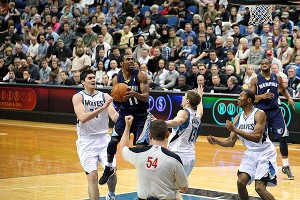 David Sherman/Getty Images
Conley is developing into a quality point guard for Memphis.
LO'L: Last season, the Griz averaged a shade under 100 points a game. This season, 92.8. What factors account for the scoring dip?
It's early in the season, and the team has dealt with a lot of turmoil. First, the training camp was abbreviated, and that benefits older, more experienced teams. Second, the Grizzlies didn't have a true center in camp. Gasol sprained his ankle working out in L.A. while waiting to see what offers he would get as a restricted free agent. He basically missed the entire training camp between holding out and injury. That really hurt team chemistry.
Add in Xavier Henry getting hurt, Arthur going down for the season, two rookie PGs (Jeremy Pargo, Josh Selby) having to run the offense while Conley was hurt and now Z-Bo going down, and it is amazing the team is .500 before heading to Utah this past Friday night. The team is waiting on Hamed Haddadi, the backup center, to get a work visa so he can play as well -- not that he would have that big of an impact scoring, but he would help with team chemistry.
The Grizzlies don't shoot well from outside, either. Gay, Mayo and Conley are capable of hitting from outside, but so far the shots haven't fallen. Finally, the Grizzlies have played at San Antonio, at Chicago and against Oklahoma City. They are very good defensive teams. The 64 points against Chicago after Z-Bo went down really hurt the seasonal scoring average as well.
LO'L: Who among the role players is most capable of swinging a game for the Griz, positively or negatively?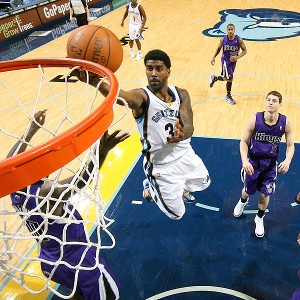 Joe Murphy/Getty Images
The Grizzlies need Mayo's scoring punch (and confidence).
CC: I don't think you can talk about the Grizzlies' bench without bringing up Mayo first. He is so important to the team's success this season. Without Z-Bo in the lineup the team will need his ability to score off the bench more than ever. Mayo is capable of playing good defense, making impressive passes and scoring, but the trade rumors seemed to have really hurt his confidence at first. It's not surprising that his play has improved since owner Mike Heisley ended trade speculation. He seemed to take another step up once the Grizzlies traded Henry.
After Mayo, the team is very pleased with the development of Pargo, a rookie PG who played in Europe the past two years. He brings energy off the bench but has to learn how to control that energy to cut down on the turnovers. Recently acquired Quincy Pondexter and Dante Cunningham have helped, but Young, who may have the best pump fake in the NBA, really has stepped up since Randolph went down. He scored 20 points against Sacramento and did a respectable job defending Kevin Love in Minnesota the next night. If Speights and Haddadi are in uniform, the Grizzlies will finally have at least some semblance of the team they want to enter the playoffs with -- minus Z-Bo of course.
LO'L: The Griz were a hot sleeper pick for a lot of media types. What sense do you get of the team's ability to handle the heightened expectations?
CC: So far it hasn't been the expectations as much as the injuries that have slowed the Grizzlies. The expectation issue will come later as they start fighting in the very tough Western Conference for playoff position, especially once Z-Bo returns. The team hoped for a quick start to the season, but obviously that hasn't happened, so we have to wait and see how they respond to the adversity moving forward. The team is in the midst of the hunt, but so are most of the teams in the conference. The Southwest division is brutal with Dallas, San Antonio, Houston and New Orleans, all solid franchises. Last season Houston missed the playoffs and finished last in the division despite 44 wins. Compressing the season hurts the Southwest division the most because its teams don't get four easy games against division cellar-dwellers.
The Grizzlies were a playoff darling last season, but people need to remember they were the eighth-place team in the conference, and it's not like teams are going to let the Griz pass them without a fight. Teams like Dallas, San Antonio and even the Lakers have done some tinkering with their lineups but are still veteran teams that expect to win games. It will be difficult with the injuries, but Hollins got the Grizzlies to the playoffs and into Game 7 of the conference semifinals last season without Gay. Hollins is a very underrated coach in that respect. The team has the desire to go a long way. It will be difficult, but if the Grizzlies don't make the playoffs, it won't be because the pressure got to them, in my opinion.