The first half was one of the worst I've ever seen covering the NBA. The second half was probably more entertaining than Lakers fans would have preferred. Still, it was enough to get the Lakers back in the win column, edging a scrappy Warriors bunch 97-90 Friday night at Staples.
Here are six takeaways...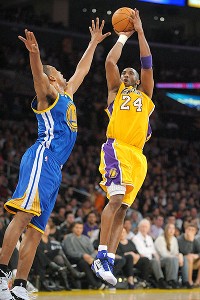 Kirby Lee/US Presswire
Kobe Bryant again showed how he can carry a team, but the Lakers had better hope they don't need him to do it frequently.
1. Like sharks, if the Lakers stop moving they die.
Coming into the game, according to the fine folks at Synergy the Lakers were 28th in the league in isolations, generating only .664 points per play. In the first half, it was as if the team was playing on a muddy football field, not NBA hardwood. There was very little movement of ball or player, and as a result the Lakers too often found themselves in what essentially amounted to the type of one-on-one looks with which they've struggled. The results were seen in the team's shooting percentage (36.6 percent), turnovers (12), and point total (35). Given how few players the Lakers have capable of breaking defenses down off the dribble (Kobe Bryant), they can't afford to stand still. Movement is the only way they're going to consistently generate clean opportunities.
Even getting up the floor and quickly into the offense was a chore.
Things got better in the third quarter and down the stretch -- though Mike Brown could still be seen trying to usher his team up the court with more urgency -- but Friday's game was more dependent on Kobe's hits and misses than was healthy. If the offense had a rhythm, it was staccato, not steady.
Blame it on legs (by my count, the Lakers have played nine games in 13 days) or lack of practice time, but Friday's game showed how much ground they need to make up offensively.
2. The Lakers don't currently have "that other guy," particularly off the bench.
Meaning if their Big Three aren't all putting points on the board, it's very hard to figure out where scoring is going to come from. Troy Murphy played a nice game off the bench, quietly chipping in with seven points and six boards, but Metta World Peace was totally ineffective, and appears to be regressing after a decent start in the sixth man role. Andrew Goudelock, in his first game action in a while, hit a nice floater on the baseline in the first half and a pair of clutch freebies late, but was -6 in seven minutes on the floor. Steve Blake had one field goal on only three attempts, and since Derek Fisher didn't score, Lakers point guards produced all of three points.
Fortunately for the Lakers, they found solid production tonight from Matt Barnes, who scored 16 points and did everything he could chasing Monta Ellis around the floor, preserving Bryant for the other end. All with a bum shoulder, by the way. He did his part, but there wasn't much else to work with. Andrew Bynum never really got going offensively, and Pau Gasol took a while. If those guys don't deliver, the Lakers might lead the league in lineups where you look at the TV asking where points are coming from.
3. Kobe Bryant is very good.
Seemingly endless debates about his shot selection notwithstanding, it's always good to remind people they take place in the context that Bryant is still really freakin' good. This was one of those nights where for significant stretches he rightly felt it necessary to get the job done himself, and delivered. 39 points, seven assists.
As the game went on, the Warriors threw more and more at Bryant (who understandably seemed to wear down), demanding other Lakers beat them. For a while, it worked. The Lakers had trouble getting out of Kobe mode, leaving them unbalanced offensively and scrambling at their end. But eventually Gasol hit a couple key jumpers, Barnes finished in transition, and the Lakers stretched out their lead just enough to create the necessary breathing room. Meanwhile, Bryant still found his way to the line.
Still, the heavy lifting required of Kobe for much of the game won't get the Lakers through the season.
4. Bynum struggled offensively, but still was big on the glass.
This is important. For a few seasons now, that's been the mantra. Win the glass, even if you don't score. Overall, he was 3-of-9 from the floor, seemed to have some lead legs (remember, he tired down the stretch last night in Portland), and never really found a flow, evidenced by four turnovers and continuing struggles (3-for-8) at the line. Throw some credit, too, towards Kwame Brown, who makes folks work in the post.
None of it limited Bynum's effectiveness in rebounding. Bynum finished with 16, meaning he played a key role despite a lack of point production.
POSTGAME UPDATE (11:03)- In the locker room, Bynum said he was tired. Not necessarily because of the back-to-back, either. Just dead legs. It's something he knows he'll have to work through going forward, but isn't a totally linear process.
5. Pau Gasol showed up when needed.
In the first half, despite piling up some rebounds, Gasol was the version Lakers fans don't like to see. He never seemed to have a solid base on either end of the floor, and missed six of his nine attempts from the floor. Ekpe Udoh hit a pair of shots over him. Unkind words on Twitter were abundant.
After the break, Gasol was better, and in the fourth he made key contributions, starting with the aforementioned jumpers in the fourth (the second prompting a big hug from Bryant), but also a blocked shot at the rack and a great hustle play late, getting back in transition to slow down Dorrell Wright, forcing an extra pass to the corner picked off by Derek Fisher.
He has a habit of figuring out how to contribute late, even when things aren't going well.
Overall, Gasol is in a tough spot. As Bynum has surged following his return, Pau is the one who has ceded territory in the offense, asked instead to play more of a facilitating role. Tonight, though, Bynum didn't have it and Gasol couldn't get going. Measuring where and how he needs to assert himself is going to take time... something generally in short supply this season.
6. Metta World Peace didn't play in the second half.
It'll be interesting to find out why...
POSTGAME UPDATE (11:05): Brown said following the game he felt the combinations he had on the floor, namely Bryant and Barnes working together, were effective, and didn't want to break that up. He didn't specifically say Metta didn't play well... but that's ok. We can say it for him.