In any scenario, I want the Lakers to win. It's "good for business," as the saying goes. It's good for my soul, too. There's just no downside to a purple and gold W, and I doubt the Laker Nation would disagree. But if extra incentive were ever needed for this fan base to cheer on the Lakers, try this on for size: Friday's opponents, the Cleveland Cavaliers, are owned by Dan Gilbert.
Gilbert was among the owners who took umbrage at the original deal sending Chris Paul to the Lakers, even going so far as to send David Stern an email urging him to block it. Unless you take the Commish at his word about acting independent of outside pressure -- and I don't -- Gilbert by extension had a hand in preventing Paul from wearing a Laker uni. And if you didn't get the memo, Paul now plays for a local team trying to steal the Lakers' thunder.
So there's that.
For further insight on the Cavs, I called upon John Krolik, keeper of the True Hoop network's Cavs:The Blog. Below are his answers to five questions, plus additional thoughts sprinkled in from yours truly:
1) Land O' Lakers: At the risk of offering a backhanded compliment, the Cavs are 5-5, much better than I expected. Even acknowledging some wins over weak teams, are they moving in a good direction?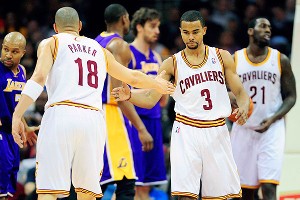 Jason Miller/US Presswire
Quicken Loans Arena played host to the Lakers' rock bottom moment of the 2011 regular season.
John Krolik: I've gone on record as saying that I was hoping the Cavs would be absolutely terrible this season while developing their young guys so that they could snag another high draft pick rather than get stuck in "we're in the hunt for the #8 seed!" purgatory. And I will say that the Cavs were off to a fairly nice start last season before the first time they hosted the Heat. But yes, they are moving in a good direction. They've gone from 29th to 13th in defensive efficiency, which is the biggest thing for me -- the frontcourt simply did not care about defense last season. This year, [Anderson] Varejao and [Tristan] Thompson have changed that, and even Antawn Jamison has looked decent on defense, which is a 2,000% improvement from last season.
The team looks like it's playing with a purpose this year, which is huge.
(AK's note: Lest we forget, the rudderless version managed to beat the Lakers in what may have been the worst loss of Phil Jackson's L.A. coaching career, much less last season. The Lakers are obviously more engaged in January 2012 than January 2011, but then again, so are the Cavs. In a shortened season of perpetually sloppy basketball, the "any team can beat any other team on any given night"cliche´ feels especially pertinent. The Lakers should win, but there are no guarantees.)
2) LO'L: "Rookie point guard" is never an easy role, particularly on a team without much talent. How's Kyrie Irving been handling the gig, and what are his biggest strengths and weaknesses?
JK: I'm happy with Irving's passing, and he's had some great scoring performances. However, he's still going through the typical growing pains of an NBA rookie, which are poor scoring efficiency and a high turnover rate. He's less NBA-ready as a scorer than I thought he'd be, but he's also shown more promise as a play-maker than I thought he would.
(AK's note: With Steve Blake either limited or out with a rib fracture, the odds of Darius Morris getting more run only increase. I'm curious to see how he looks compared to Irving. I don't mean how Morris "matches up" against Irving -- they may never share the floor -- or even how he "stacks up." Irving is a #1 overall pick, considerably more polished, and will have far more opportunities to excel. I expect him to look better than Darius. Still, the general consensus is Morris could have easily been a first rounder in the 2012 draft, maybe even a lottery pick. Irving offers an interesting comparison point for gauging glimpses of Morris' potential.)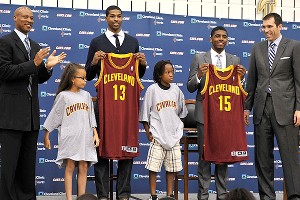 Liam Kyle/NBAE/Getty Images
Irving and Thompson have immediately helped the Cavs. Those two kids, however, need to step things up.
3) LO'L: Speaking of rooks, how's Tristan Thompson adjusting to the NBA game? In what ways would he provide problems for the Lakers?
JK: I've been pleasantly surprised by TT. Even though he's an awful free throw shooter, he's always attacking the basket with force, and he dunks in traffic as well as any Cavs big man I've ever seen. He also seems to be on springs, and he's always around the ball on the offensive glass or challenging shots on defense. His defensive rebounding is still an issue, and he's trying shots that aren't really in his bag of tricks yet. Although his shooting form and footwork are surprisingly decent on mid-post moves, he's simply not a threat outside the immediate basket area yet.
If the Lakers don't mind their P's and Q's on the defensive boards or get sluggish on their rotations, TT could get a few found money baskets against them. But if they crowd the paint and keep him boxed out, they should be fine.
(Krolik talked specifically about Thompson's work on the glass, but the Cavs as a team are pretty solid in this department: 11th overall in total rebounds, plus 9th and 10th respectively for offensive and defensive rebounding rates. Of course, the Lakers are arguably the league's best rebounders, and with Troy Murphy hopefully back in the fold, that advantage should hold. However, hustle remains a requirement.)
4) LO'L: Considering the guy seems likely to go off for 30-130 points at any given moment, who/how do you see the Cavs dealing with that Kobe Bryant character?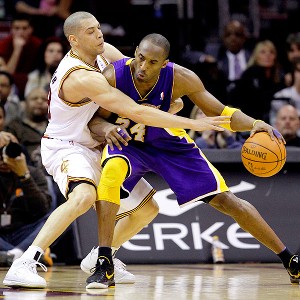 AP Photo/Amy Sancetta
This isn't fun.
JK: The game plan is what it is -- make him shoot jump shots and pray. Given the exact same looks, he could go 9-28 and shoot the team out of the game or shoot 18-28, destroy your team, and salt the earth where they once stood so that nothing can ever grow there again. If you're picking poisons, you'd probably rather have Kobe beating you from the outside than [Andrew] Bynum or [Pau] Gasol getting easy looks inside, but Kobe is definitely one of those players who can just destroy you if he has it going.
(AK's note: I have no thoughts to add other than to wish Anthony Parker luck, because I have a feeling he's really gonna need it.)
LO'L: 12 games into the Lakers season, what similarities have you seen in the 2012 Lakers and the Cavs under Mike Brown?
JK: Well, he's certainly letting his superstar have free reign, just like he did in Cleveland. Other than that, it's kind of an apples-and-oranges situation, since he never had a big man anywhere near as good as Bynum or Gasol in Cleveland. I'm impressed that he's kept the Lakers playing the same kind of defense they were last season (they were 6th in defensive efficiency last season and are 6th this year), but do wonder what he would have done with Lamar Odom, who's basically a more skilled version of Anderson Varejao -- Brown made Varejao into the Cavaliers' 2nd-best player during his time with Cleveland by using his length and speed on the perimeter to shut down opposing pick-and-rolls and make his defensive system work.
(AK's note: Aren't we all curious to see how LO would have looked under Mike Brown, Krolik? Aren't we all?)