Not quite a true return to the scene of the crime, since the Lakers officially surrendered their reign as back-to-back champions after a blowout loss in Dallas. But it's nonetheless a rematch and, for the Lakers, one with bitter feelings attached. Bowing out of the postseason is one thing. Getting swept is quite another. I don't imagine any Laker would even bother claiming this game is just another among 66 this season, if for no other reason than his nose would grow at least one foot.
For perspective on the defending champs, I recorded a podKast with Tim MacMahon, who covers the team for ESPN Dallas. The topics discussed included the presence of Delonte West, the absence of Tyson Chandler and the team's prospect for repeating as champs. You can hear the entire show by clicking here.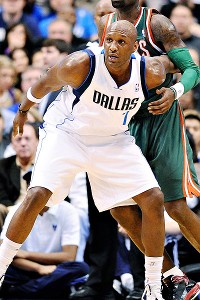 Jerome Miron/US Presswire
It has not been easy for Odom in Dallas so far.
But of course, from a Lakers fan's perspective, there's no talking point more intriguing than Lamar Odom now in Dallas. His exit was abrupt and controversial, and since arriving in Big D, LO's adjustment on and off the court has been a work in slow progress. Considering the incredible 2010-11 campaign, numbers like 6.8 ppg, 5 rebounds and a PER of 7.44 are pretty shocking. Below are some excerpts from MacMahon about Odom's transition.
MacMahon, on why Odom has struggled in Dallas:
"He's out of shape. He's out of sorts. And he's completely out of sync with what's going on here. He came in in poor conditioning. The primary goal is to get him in shape. He's not playing many minutes because he's not in good enough shape to do so, and the minutes he is playing, he's usually not playing very well. They've got to get him up to speed in the Mavericks' system and then a lot of this, mentally, he just has to come join the party here in Dallas. He obviously took it extremely hard that the Lakers wanted to trade him in the Chris Paul deal, and [when] that fell apart, he pretty much demanded to be traded. Now that that happened, he has to deal with it.
He also had an extremely difficult offseason from a personal perspective. He had a cousin that was murdered. He was in a car where there was an accident. He wasn't driving, but a young man was killed, who wasn't in that car, but was killed in that accident. So he's dealing with a lot of very difficult off-the-floor emotional baggage. He hasn't fit in with his new team and a lot of that is his own fault and some of it's situations that are out of his control."
MacMahon, on Odom's comments to Sports Illustrated's Chris Mannix that he's not "prepared to play" and that his game isn't adapting the way he thought it would:
"Really, I think he has to accept the fact that it's a new situation and he has to completely invest himself emotionally. That and his conditioning are the two main things. They don't want to run a bunch of set plays. They want to play a flow type of offense that he theoretically should fit in very well, but he doesn't know what he's doing on the defensive end of the floor. If you're not getting stops, it's hard to get into a flow type of offense, and that's part of the problem.
But what I really think, for the most part, he has to get into shape, and deal with the fact that he's in Dallas now. This is a team that obviously has a chance to contend. It won the championship last year. Stop moping around, start focusing on not what happened in the past, and the opportunity he has in front of him. I think he'd be surprised at how well he might fit in."
MacMahon, on whether there have been signs of that happening
"The one thing you hear is that he has a good attitude in terms of he's on his own conditioning program. They've got him running extra sprints, doing extra conditioning after practices, after shootarounds. ... But his body language on the floor is just awful. He looks like a guy who doesn't want to be here, who doesn't want much part of what's going on. They like the work ethic, but everything else really needs to improve and improve quickly."
On whether MacMahon thinks Odom even wants to play this game against the Lakers:
"That is a legitimate question. Like I said, he's been through a whole lot of emotional turmoil from a professional, and I think much more seriously, a personal standpoint. He mentioned the other night, he actually considered taking a hiatus after the tragedy he went through over the summer. This guy's head is not where it needs to be right now. The Mavericks do have a full-time team psychologist, and obviously, it would be strongly recommended for Lamar Odom to spend a whole lotta time with Dr. Don Kalkstein."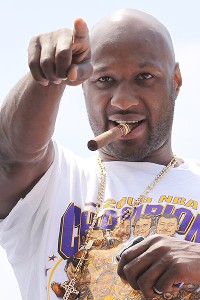 AP Photo/Richard Vogel
Best to remember Odom as the dude smoking a stogie during the parade.
In the meantime, ESPN's Marc Stein recently shared more details about Odom's serious consideration toward taking time away from the game. LO reveals how the offseason accident made him realize "how much I wasn't over some of the things that I went through [in life]," the most obvious being the 2006 death of his infant son Jayden. ESPN's Jeff Caplan also wrote about this situation.
It's always struck me as horribly twisted that so many bad things can happen to such a genuinely good person. I've always admired the way Odom's been able to maintain remarkable positivity in the face of so much tragedy and pain in his life, especially given how emotional a person he is. He typically wears what he's feeling on his sleeve, and for the most part, it served him well on the court as a Laker. His heart grew to become the team's heart and pulse. However, there are limits to what anybody can handle, particularly away from the hardwood, which can double as an outlet.
I can't help but wonder if, with the blessing of a less turbulent offseason, LO could have viewed being part of the thwarted Paul deal with less emotion. Perhaps those hurt feelings, particularly at the organization's failure to provide a heads up, would have been balanced by the bigger picture of what his Lakers career meant to him. Perhaps he might have remained more motivated to maintain his conditioning -- never Odom's traditional strength -- to build on a career-best season, whether in L.A. or in Dallas.
In any event, what's done is done, and Lamar is now a Maverick. I hope in time, assuming the point hasn't already been reached, LO can look back on his time with the Lakers with a smile. There's a lot for him to be proud of over those seven seasons, and he'll be remembered as an integral part of two championships. Conversely, I hope fans at Staples Center greet Odom with a nice reception. Lamar and the Lakers have been through a lot together, professionally and personally, with the Laker Nation as continual witnesses. Yes, Odom demanded to switch uniforms, but one bad reaction shouldn't overshadow everything leading up to that unfortunate point. Odom remains a Laker worthy of cheers from fans in his first game as an opponent.
Plus, it would be nice if he had a reason to smile these days, even for just a moment.
A few more points to watch ...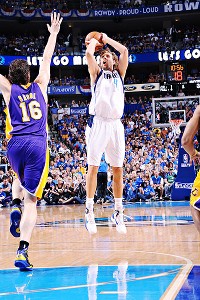 Andrew D. Bernstein/NBAE/Getty Images
Pau was late to close, just like every Laker guarding a Maverick during the playoffs.
1. Speaking of emotions, the Lakers' innards will resemble a hornets nest while doing battle against the team who snaked their trophy. Given the fatigue issues plaguing the team at the moment, a natural shot of adrenaline might do the team some good. However, taking the game too personally can lead to a brand new set of problems. Fiery motivation without focus can only take a team so far. During the 2009 season, the Lakers did a fantastic job of playing with purpose against the Celtics, despite the back story of an emasculating 2008 Finals disaster. The same mindset needs to be on display Monday against Dallas.
2. Bad as the Lakers may be at shooting 3s (25.7 percent, the NBA pits), the Mavericks are nearly as unsuccessful at defending the stripe: 36.5 percent of the shots fired from deep are dropping against Dallas, the seventh-highest clip in the league. Does that mean something is guaranteed to give? Not necessarily, but the Lakers desperately need a breakthrough. For all the talk about point guard weaknesses and the lack of perimeter creators (all legitimate concerns), I maintain this team's biggest hole remains the void of consistent outside threats. Until they start knocking down 3s with at least semi-regularity, the road to a championship is decidedly uphill.
3. How the Mavs decide to check Kobe will be interesting. In the most recent game, West started at shooting guard, but he'd be giving up an awful lot of size, especially if Kobe continues to make hay in the post. Jason Kidd is bigger, but also older and slower, both factors likely exacerbated by a recent ankle sprain. If you go with Shawn Marion shadowing 24 in a cross match, West is left surrendering even more size to Matt Barnes, who's become more of a scoring threat over the last few games. In the meantime, Vince Carter is the best shooting guard against Kobe for Dallas in terms of size, but also the worst defender.
Quite the pickle for Rick Carlisle.