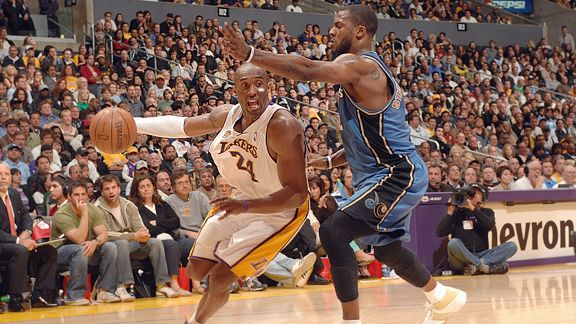 Noah Graham/NBAE via Getty Images
Kobe Bryant drives against DeShawn Stevenson, March 30, 2008.
"I've been watching his footwork. His footwork is great. The way he gets the ball and where he gets the ball with his footwork, it's tremendous. He's already "cheat code," because I think he's the best player in the NBA. But every year, I've never seen an NBA player besides him, every year, he brings something new to his game. One year it was ball handling. Next year, it was the "Michael Jordan" mid-range turn around jump shot. Then he had his knee surgery and he got his dunking back. Every year, he brings something back. It's exciting to see a player like that."
More Evolution of Kobe Bryant:
--DeShawn Stevenson has played in Utah, Orlando, and Washington over his 10 NBA seasons.